Total Amber's Thivanka Anuruddha hits whirlwind 203 n.o. in 81 balls
By Lakshman Ranasinghe
MCA 'F' division 25-Over League Tournament 2017
View(s):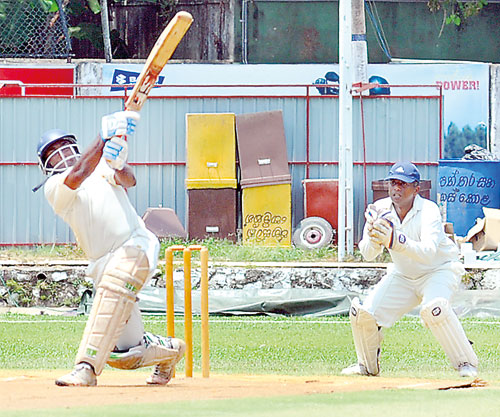 One drop batsman, Thivanka Anuruddha of Total Amber, hogged the limelight by becoming the first double centurion in the ongoing second Commercial Credit & Finance PLC sponsored, MCA 'F' Division 25-Over League Tournament 2017, continued last weekend.
Anuruddha hit a whirlwind 203 not out in 81 balls, inclusive of 20 sixes and 16 fours, in 100 minutes, against Barthi Airtel. He was engaged in two century partnerships of 196 runs for the 2nd wicket with opener, Saveen de Silva (78) and an unbroken 127 runs for the 3rd wicket with Anjana Ratnayake (10 not out), which propelled Total Amber to finish with 323 for 2 in 25 overs (RPO 12.92). Airtel finished with a face saving 171 for 7 in 25 overs.
Other notable performances came from Shazan Passela of Moody's Analytics, 100 in 59 balls inclusive of 10 sixes and eight fours vs HSBC 'C'; Left-arm leg-spinner, Kavindu Eranga of Hirdaramani's 4.3-0-22-6 vs Palliyaguruge Group; Arosh Sampath of Lion Brewery (77 Vs. Technomedics); Right arm medium fast bowler, Sandun Seneviratne from United Tractors (4.2-0-22-5 Vs. Siam City Cement); an unbroken 120-runs partnership for the fourth wicket between Chamara Silva (50 not out) and Sujeewa Sinnathamby (67 not out) of MJF Group vs Fairway Holdings, and a 105-runs partnership for the fourth wicket between Tharaka Silva (40) and Madushanka Ratnayake (64) of Brandix Essentials 'B' vs WNS Global .
The tournament will be continued this weekend with a card of 12 matches, which will be the last batch of matches in the League stage.
Weekend Match Results:
At MCA:
MJF Group beat Fairway Holdings by 7 wickets
Fairway 225/7 (25); MJF 228/3 (22)
Stafford Motors beat MAS Linea Aqua by 23 runs
Stafford 133/6 (25); Linea Aqua 110 (23.1)
Allianz Insurance (AI) beat MBSL Insurance by 4 wickets
MBSLI 143 (25); AI 144/6 (21.2)
Textured Jersey (TJ) 'B' beat Access Group by 5 wickets
Access 153/8 (25); TJ 'B' 157/5 (23.2)
At Mattegoda:
Akbar Brothers beat Ansell Textiles by 9 wickets
Ansell 118/9 (25); Akbar Brothers 119/1 (15.4)
Hirdaramani beat Palliyaguruge Group by 7 wickets
Palliyaguruge 146 (23.3); Hirdaramani 148/3 (21.5)
At Veyangoda:
Technomedics Int. beat Lion Brewery by 5 runs
Technomedics 163 (23.3); Lion Brewery 158/8 (25)
Hayleys Group 'C' beat MAS Kreeda by 101 runs
Hayleys 'C' 180/9 (25); MAS Kreeda 79 (20.4)
HSBC 'C' beat Moody's Analytics by 40 runs
HSBC 'C' 206/9 (25); Moody's 166/4 (25)
Total Amber beat Barthi Airtel by 152 runs
Total Amber 323/2 (25); Airtel 171/7 (25)
At Campbell Park:
Brandix Essentials 'B' beat WNS Global by 85 runs
Brandix 'B' 178/9 (25); WNSG 93 (18.1)
Asia Capital beat Jay Lanka by 8 wickets
Jay Lanka 96 (23.4); Asia Capital 99/2 (16.5) Moratuwa:
Janashakthi Insurance beat Union Bank by 3 wickets
UB 142/8 (25); Janashakthi 148/7 (18.3)
Siam City Cement beat United Tractors by 13 runs
Siam City 166 (24.2); UTE 153 (24.1 overs)