Millions of mouths run dry in drought without end
By Anushiya Sathisraja
View(s):
A drop of water to drink has become a rare luxury for more than a million Sri Lankans who are still struggling through a drought that has lasted for months since it intensified in November. There had been warnings many months ago of the impending drought.
The water shortage remains acute in 12 districts.
Farmer groups accuse the Government of mismanaging water resources and water supplies workers charge that rulers only wake up when a crisis is upon them. They are demanding funding for resources such as water tankers and storage.
The highest number of people suffering from the drought and water shortages are in the Gampaha district with 280,342, while in Jaffna, Mullativu and Trincomalee 121,049, 115,020 and 105,847 people are yearning for water. The data are from the Disaster Management Centre.
All districts in the north, Vavuniya, Mullaitivu, Mannar, Killinochchi and Jaffna are baking in the heat, with the most affected being the Jaffna district's Delft, Kayts, Maradankulam Karainagar, Velanai, Nallur and Karavaddi areas.
Government Agents (District Secretaries) and irrigation officials say they need clean drinking water as well containers, barrels and tanks for storage.
"It is challenging to supply water to 33,359 families with only 15 water tankers. We have requested a few more from the army. If the situation worsens we might have to seek the support of non-government organizations as well," Jaffna Government Agent, Suntharam Arumainayagam told the Sunday Times.
"Relief operations are not functioning in certain parts of the province,'' he said. Especially in Mannar town, Madhu and Maanthai west, where the drinking water supply is a concern, he added.
Gampaha, Assistant Government Agent P. Indika said there have been many private donations of plastic water tanks, water barrels and bottled water to be distributed in Divulapitiya (109,809 people), Minuwangoda (70,505), Katana (50,149) and Aththanagalla (5,740).
The Trincomalee district is the worst affected in the Eastern Province. Families had been asked to register. Water tankers are not adequate, while long-term solutions such as reconstruction and de-silting of tanks and construction of new tanks areneeded, an official in Trincomalee Government Agent's office said.
The National Organiser of All Ceylon Farmers Federation, Namal Karunaratne said that, water for cultivation is on the bottom of the list of needs following hydro power, drinking water and industrial activities.
At the moment, intermittent rains have helped cultivation of paddy lands except in Kawudulla and Girithale.
The supply of pipe-borne water is limited in several areas too.
This crisis was mainly due to inefficient water management. The authorities do not repair large-scale reservoirs, chairman of the National Water Supply and Drainage Board, K. A Ansar said. "Because of this, silt has deposited on the beds of the reservoirs such as Kala Wewa, Nuwara Wewa and Minneriya Wewa. Silt has reduced their full capacity.''
General Secretary of the NWSDB Employees Union Upali Ratnayake said the government wakes up only when the situation has become critical. And then there are excuses about the lack of money, labour, and facilities, he said.
"People suffer as a result. We ask that they immediately take action to allocate funds for water tankers, workers and other facilities, to prevent the suffering," he said.
Under the Department of Irrigation, there are 74 major tanks and 305 medium-sized tanks that are only up to 20 per cent of capacity, engineer Wasantha Palugawewa Director of Irrigation (Water Management and Training) said.
The Senanayake Samudraya in Ampara that has a capacity of 947 million cubic metres (MCM) currently holds only 262 mcm. In Trincomalee, the Kantale tank, which can hold up to 140mcm, has dropped to 38 mcm.
In Polonnaruwa, the Minneriya tank has only 50 mcm though the full capacity is 135mcm. Hambantota's Irrigation Lunugamvehera tank, which can hold up to 225mcm, has only 78 mcm.
In Anuradhapura, the Padaviya reservoir and Nuwara Wewa that can hold up to 104mcm has only 12 mcm and 44 mcm currently which 10 mcm respectively.
Since June last year there has been little rain. The Department of Meteorology says in some districts the average annual rainfall has dropped by 60 to 70 per cent.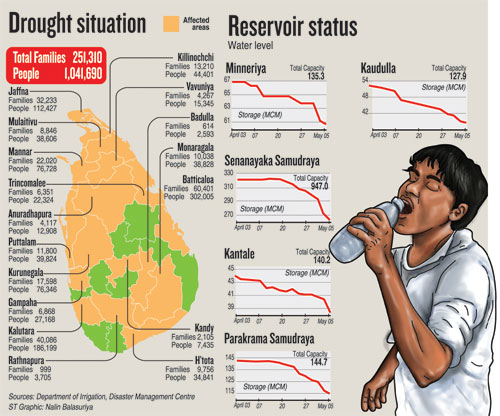 600,000 children yearn for food, waterMore than 600,000 Sri Lankan children are suffering in the drought that has baked 23 of the 25 provinces of the country, a UN survey has found.

In a survey that revealed the danger, Save the Children also warned the drought was also compounding Sri Lanka's unending struggle with malnutrition, which affects nearly a third of children and a quarter of women in the country. Many of the poorest families are struggling to feed their children, often choosing to eat fewer and smaller meals, and cut down on nutritious foods like meat and vegetables, Save the Children lamented.

In January the World Food Programme warned, that people in the affected regions are at risk of increasing indebtedness and reduced affordability as a result of increase in cost of diet.

In the Global Food Security Index of 2016, Sri Lanka ranks 65th out of 113 countries.

The 2016 drought was the worst in 40 years and the worst drought in the dry zone since 1973. The first inter-monsoon from March to April failed, as did the southwest monsoon and second inter-monsoon. While researchers advocate drought tolerant rice varieties such as BG250 to feed the suffering in the nation, foreign ministry politicians had boasted of providing "every person and every device of the island will be covered by 3G'' in a few months, through a deal with Google Loon project. The Loon balloons have figuratively burst.

The World Food Programme found in a survey that 900,000 Sri Lankans are facing acute food insecurity as a result of the drought.
Heat rises in north and eastEastern and Northern Provinces well as Western and Southern Provinces will experience high temperatures, especially at night time.

Department of Meterology Director General Lalith Chandrapala said heat waves will become more common and more intense. "The sky will remain partially cloudy with no chance of rainfall till the end of this month," he said adding that, temperatures over the next few days could surpass 40° Celsius over wide areas of western and central Sri Lanka.