Winds Behind the Willows
BOOK REVIEW
View(s):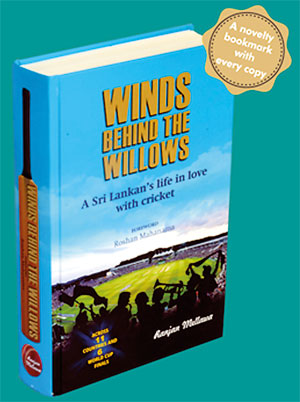 According to his friends, Ranjan Mellawa was never a cricketer per se, but that does not mean his love for the game was any less.
For Mellawa, Cricket was his journey in life. May be, as a vocation, he stuck to banking and other symbolic things in his life but, from the little that I fathomed him, the love of his life was the game of cricket.
Yes, for a reporter like me, pursuing a life of cricket was easier, because professionally, the doors opened for us. But, for Ranjan, every step of that journey was travail. Nothing came for nothing, you need a ticket, you better buy it on time, or else, buy it in the black market.
There were times when men in uniform questioned him and harassed him, just because he chose to wear something in green in India. Yet, those obstacles did not wean his love for the game.
In fact, it is a fascinating account of an extraordinary, five-decade journey across exotic landscapes in 11 countries.
Ranjan Mellawa put it across in his own words — Winds Behind The Willows- a cricket book like no other.
In every step of this journey there was labour of love. He did not just stop at watching matches. He made it a point to make friends with several cricketers of repute, even overseas, and cricketers such as Michael Tissera and Roshan Mahanama took time out to write tributes of acknowledgment about the book.
To cap it all, he even bowled like Lasith Malinga — square arm — and it was very difficult to take him on — they say. Years later, he was blessed with the good fortune to be present at virtually all epic moments in Sri Lanka's cricket, including 6 World Cup finals. The story encompasses interesting off-field anecdotes and mini-dramas, some involving famous cricketers, and entices the reader to join the author's sojourns, beyond live cricket scores on the card.
Mellawa's spell as the Secretary of Ragama CC, a first-class cricket club in Sri Lanka, enabled him to relate a hitherto unpublished, firsthand accounts of the country's chaotic latter-day cricket administration too.      -SRP