Why shouldn't Volleyball be the National Sport?
View(s):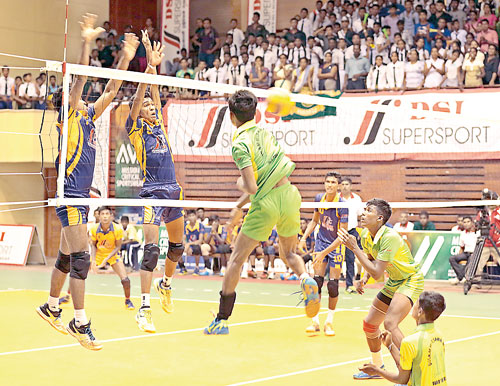 In the recent past, when the centenary of Volleyball in Sri Lanka was celebrated, there were strong views expressed against it being the National Sport of Sri Lanka, as it was introduced by an American. However, even though Volleyball is not an indigenous Sport, there is not an iota of doubt that, apart from its global popularity, in Sri Lanka too, Volleyball is not second to any other Sport played islandwide, and by all strata of society.
Nevertheless, there is a significant vocal opposition to Volleyball having been nominated a National Sport, while calling for Angampora or Elle to be nominated the National Sport instead.
In this regard, President of the Sri Lanka Volleyball Federation (SLVB), Erandika Valiange, is vehemently opposed to changing Volleyball from being the National Sport, and vows that, as long as he is SLVB President, Volleyball will remain the National Sport.
In his view, Volleyball was first nominated a National Sport in 1990 by the Prof Vinni Vitharana Committee appointed by then Minister of Sports. This Committee arrived at this decision from the Terms of Reference and Criteria stipulated, when it was appointed for the task of selecting a National Sport. However, the opposition to Volleyball being the National Sport is primarily due to its introduction by an American and on debatable legal technicalities.
If Volleyball's introduction by a foreigner disqualifies it from being the National Sport then, the same argument could be applied to Buddhism being the State Religion, and that of the majority community, as Buddhism was introduced to Sri Lanka from India. Furthermore, our National Flag which has a Lion as its primary symbol, is not an indigenous animal by any yardstick. Then, should the State Religion Buddhism and the National Flag suffer the same fate as Volleyball, and change? Â  Â - SP