Royal College Oarsmen make waves in Hong Kong
View(s):

The 2016 Royal College (RC) Rowing Crew participated in the 62nd annual Head of the Bay (HoB) Regatta held on April 22 at Middle Island in Hong Kong, organised by the Royal Hong Kong Yacht Club (RHKYC). There were 11 Clubs and representatives from 4 countries participating in this Regatta.

RC which entered in the Fine Course event, dominated the category, winning every event they entered. This included the Men's Under (U)-19 Fine 1x won by 2017 Captain Hashen Hettigoda. The Men's U-19 4x was won by the RC Crew of Waruna Hewamanne, Kaveen Rajapakshe, Hashen Hettigoda, Jatu Rockwood and Revata Karunasundera (Cox), with a timing of 11.09 min., which was ranked the best time in the Regatta for the Fine Boats category. The Men's Open 2x was won by Hashen Weerakkody and Praveen Weerakkody.

The Men's Fine Open 4+ was won by the RC 'A' crew stroked by Prathap Perera with Praveen Happugale (3), Charin Wijethilleka (2), Lasaru Kudaligama (Bow) and Avishka Jayaweera (Cox). The RC B4+ stroked by Kaveen Rajapaksha with Praveen Weerakkody (3), Kavinda Mathew (2), Lasindu Gamage (Bow), Revata Karunasundera (Cox) came 2nd to their 'A' crew, by just 2 sec. Both the 'A' and 'B' crews which timed 11:32 min. and 11:34 min. respectively, ranked as the 2nd and 3rd best timings in the Fine Boats category.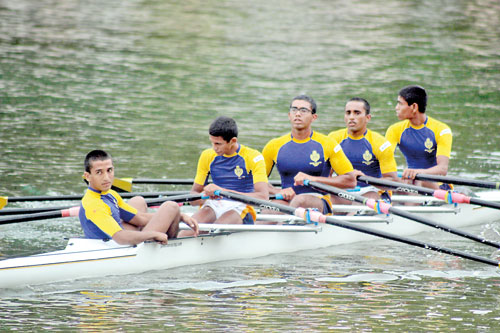 This was a significant achievement for the RC Crew which displayed class and skill to win gold medals in every category they entered in. It was a memorable tour, since it had been over a decade RC was represented internationally.
The HoB Regatta is a time trial race rowed over either,a 2.5 km Fine Rowing Course or, a 5 km Coastal Rowing Course. What makes this race different is that, it is held in open waters, instead of the flat, closed waters where most regattas are held. The RC oarsmen faced new challenges from water conditions and difficult navigation throughout the race. Unlike the common straight courses, the Deep Water Bay course requires coxswains to accurately steer past marker buoys and complete quick turns around them, which was a completely new experience.
The RHKYC is one of the oldest sports clubs in Hong Kong with a rich history of over 170 years. Â Â - NA