No question of home advantage, but Antonians have the edge
By Aubrey Kuruppu
View(s):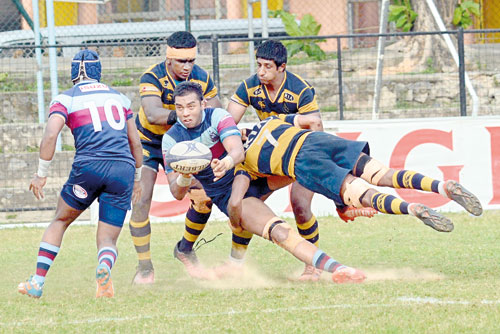 The Kandy leg of the Singer Schools Rugby League Plate Championship has four good teams from the Hill Capital fighting it out for the top spot. It sees the strong St. Anthony's team coming to grips with a Vidyartha team that acquitted itself with credit in their first round games, today at Nittawela. Ironically, both teams play their home matches at this venue. Accordingly, there will be no question of home advantage that invisible get significant factor.
The Anthonians are in a good place to call the shots in the Vidyartha game. They are a team that has ample scoring potential. Except for the Josiphian game, they scored 35 against Isipathana, 34 against Dharmaraja, 35 against Royal and 25 against St. Peter's – a match they lost by a mere two points.
In fact, Vidyartha's coach, the experienced Anil Jayasinghe, acknowledges the toughness of the task when he calls it an "Uphill Battle". Realistically speaking, there Anthonians are better primed, and prepared for this game. The exposure against good Division 'A' sides will surely stand them in good stead. To put it differently, they have been toughened up for the task.
The Dinuk Amerasinghe-led team touched down on 28 occasions in the first round. Surely, this shows that the attacking unit is in good order. Centre Amerasinghe, in tandem with his co-centre Jehan Sedagama have caused plenty of headaches to opposing defenses with their bold, incisive running. The big made skipper is difficult to bring down in full flight.
Another star in the making is the Anthonian No.8 Mohamed Shabeer. His excellent play is greatly admired. Together with the centres, Shabeer, too, stands out as being one of the leading players. Jitan Daulagala has served his team well. Theeksha Gunasinghe, the fly half, has been performing his basic tasks more than adequately. Full back Chamod Wanasinghe, who does the place kicking, has covered up quite well for the loss of Maduwantha.
Anthonian woes have been compounded by the mystery surrounding Samuel Maduwantha. He contributed well over a hundred points last season. He has been a flop this time. Latterly, he's had injury problems. If he had showed even a semblance of his old form, the Anthonians would certainly have been in the top tier.
Sachintha Kaluarachchi, an experienced lock, leads Vidyartha. He has led from the front on most occasions and, together with fellow lock Mohamed Sadhir, are the two stand out players in the team. No.8 Kavishka Bandara, centres Dileepa Tissa and D.T. Gunaratne, full back Anuranga Perera and winger Dushantha Atukorale are the players who have done well throughout the season.
Vidyartha overcame Ananda (20-18) and Maliyadeva (16-12) in close games. They were completely outplayed by Kingswood (12-53). The consolation is that they whipped their traditional rivals, the Sylvestrians 55-0.
The Vidyartha lads refer to themselves as the "Tigers". They may be facing tough odds today, but it is reasonable to expect a fighting performance.
Interestingly, both coaches Anil Jayasinghe and Lasantha Wijesuriya were outstanding when, they played for Kandy Sports Club. To Wijesuriya's credit, he went a step or two higher.