Garbage wars escalate in the hills
By Shelton Hettiarachchi
View(s):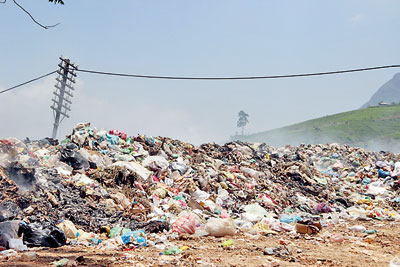 Nanu Oya residents and environmentalists are up in arms over the dumping of garbage from Hatton in Nanu Oya, situated 32 kilometres away.
A mountain of garbage had been building up at a spot along the Hatton-Thalawakelle road over many years as the authorities had been unable to find a suitable place for Hatton's garbage.
However, with concerns over garbage mountains coming into focus in the aftermath of the Meethotamulla tragedy, it has now emerged that the authorities have been moving garbage from this spot and transporting it at night to the garbage dump in Nanu Oya town.
The additional garbage has caused severe inconvenience to the people of Nanu Oya.
Given the level of outrage, the possibility of expanding the garbage dump at Pathana to accommodate garbage from Hatton was discussed at the Nuwara Eliya Divisional Coordinating Committee meeting held on April 27. Accordingly, a team of officials were appointed to undertake a field visit on May 4 to the spot to assess the situation.