Letters
View(s):

Shall we all do our bit to help ease the economic gloom?

There is no doubt that responsible citizens are quite aware of the gloomy economic situation in the country. It has become the most important issue for all communities ahead of ethnic conciliation.

The ruling politicians appear to want to resolve the situation by bringing in quick foreign investment at whatever terms and conditions to ensure there is no erosion of votes at the next general or presidential elections. They are afraid of considering any alternative solutions that will dishearten the masses. With heavy opposition from government ranks as well as opposition parties on the manner of getting investments things will drag on without a solution. Political parties in the opposition are trying to capitalise on the situation making things worse.

Responsible citizens with the help of media must see it as their duty to bring forward alternative solutions that could be discussed and adopted by the country's leadership. Every citizen must be made to understand the grave economic situation and do their best by sacrificing whatever possible.

Here are a few suggestions:

1. Making citizens (especially urban) adopt simple habits of living for a period of five years

-Â Â  Start with eating 10% less at meals with the target of making it 25%

-Â Â  Use only public transport once a week

-Â Â  Stop competing with others and reduce unnecessary expenses

-Â Â  Spend more time on useful and productive activities

-Â Â  Help the needy as much as possible

-Â Â  Substantially reduce usage of electricity, telecommunications and pipe-borne water

2. Pressuring the government to ensure that state institutions responsible for food, health and services are better managed

-Â Â  Impose targets for state institutions to make way for reduced cost of living and health risks

-Â Â  Get the trade unions to help society as a part of their obligations

-Â Â  Reduce capital and recurrent expenses by 10% yearly and promote sustainability

3. Pressuring the government to impose import restrictions on goods that do not add economic or social value

-Â Â  Bring in strict legislation on imports

-Â Â  Monitor imports regularly

4. Pressuring professional institutions to give their suggestions to improve the economy at micro and macro levels

-Â Â  Product innovations

-Â Â  Service innovations

5. Make use of the experience and expertise of professionals and senior citizens to help society

-Â Â  Educate masses on protecting the environment and sustainability

-Â Â  Educate masses on safe and healthy living

-Â Â  Educate amateurs on good practices at work

-Â Â  Educate masses on living in harmony

-Â Â  Educate masses on right use of scarce public services for the benefit of all

Hope the above would inspire many to help ease the situation.

Piyasiri Kalubowila
Rajagiriya
---
End this longstanding issue of quack veterinarians 
At a time when the Sri Lanka Veterinary Council is to elect eight new members to the council, is it not the duty of the Veterinary Council of Sri Lanka to put the concerns of the practising Veterinary Surgeons before any other issues.
Numerous letters have appeared in the newspapers with regards to the quack veterinarians who are supposed to be giving a "door step service" looking to make a fast buck and killing many innocent pets and farm animals. Unfortunately the Veterinary Council has not taken adequate measures to curb this issue. Recently a British veterinarian in the name of animal welfare personnel with the help of a fund raising institute had published a video on the animal welfare situation in Sri lanka.
Veterinary Councils globally allow only graduates from recognized universities to  practise veterinary medicine. But in Sri Lanka there are many  retired livestock  instructors, private technicians and retired veterinary labourers doing the job of our noble profession. Is it not the duty  of the Sri Lankan Veterinary Council  to insist that all foreign graduates  sit an  examination before registration with the  council to curb this longstanding issue of quack  veterinary  practitioners?
Dr. Allagamuthu Nandakumar
Hatton
---
Unahuruwa's gutsy women divers of colonial times
I am sure that none of the posh ladies  mouthing clichĂ©s about women's lib etc  on International Women's Day has ever heard of Ruhuna's women divers. Here is the story told by Leonard Woolf –
"At  Unahuruwa I saw a most interesting spectacle. The women of this village swim out about 100 yards from the shore and then dive down and fish up big coral stones.They swim back with these stones and stack them in heaps called fathoms 6'by 6'by 6'. They are sold for building purposes and for lime at Rs.4 to Rs.6. The output is about 300 fathoms a year and about 2,400 women work off and on. The stones lie in about 10 to 12 feet of water


(A few months later) I met a large deputation of women divers of Unahuruwa. The coral stones which they dive for, as much as 200 or 300 yards from the shore, had been seized by the Forest Department as 'forest produce'. Even the law, I think, can hardly include the sea in its definition of forest."
A fascinating story of dangerously employed women, with the guts to agitate for their rights with the Colonial government.
T.D.
---
Plea to people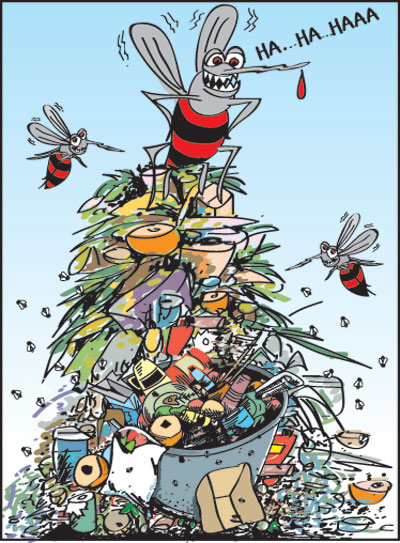 Dengue virus always instilling fear
To all those who are so dear
Prevention is easily possible
By a community highly responsible;
Oh! But we are so indifferent
A people with a head but a callous heart, so aberrant
Plastics and garbage all over
The mosquito feasting never over
Aedes and Dengue lifetime friends;
The wiles of Dengue never end
Morbidity and sadly mortality
We as doctors not given to sentimentality
But having wise heads and loving hearts, must show agility
To detect and treat patients with divine mentality
Saving many from agony
And making for happy dengue antagony
Sent by a Doctor serving at a government hospital
Letters to the Editor

'Letters to the Editor' should be brief and to the point.
Send them to:

'Letters to the Editor
'The Sunday Times,
P.O. Box 1136, Colombo.

or editor@sundaytimes.wnl.lk.
Please note that letters cannot be acknowledged or returned