Bittersweet kithul tale
Come Avurudu, treacle is one of the most sought after ingredients for all things sweet. Here Randima Attygalle ventures into kithul land
View(s):
Be it konda kevum, unduwel, peni aluwa or weli thalapa, kithul treacle or kithul peni is the signature sweetener in all our Avurudu delicacies on which the Lankan palate has feasted since time immemorial. No avurudu breakfast table is complete without a cup of ginger tea and kithul hakuru. And despite fancy desserts invading the traditional avurudu lunch, curd with kithul peni still reigns supreme.
Botanically termed Caryotaurens, kithul is referred to in many historical records including Ummagga Jathaka, Khumba Jaathaka Atuwawa and Niganu Teekawa. It is also believed that kithul leaves symbolised war victory during the time of local kings. Kithul delicacies at royal banquets had been galore, while history also mentions the famine of 1830 during which kithul piti or kithul flour was consumed in large quantities. As for the elephant, kithul leaves are a staple!
The lives woven around the tree which provides this traditional sweetener though, are bitter-sweet. Braving lightning, thunder storms and monkeys aplenty, the pot of thelijja (kithul sap) which is lowered by Hindurangala kithul tappers is a labour of love. Claiming the largest number of  kithul trees, Ratnapura District leads the kithul distribution spread across 12 districts in the island and is considered to provide the best quality kithul treacle and jaggery.
There was a feeling of festivity in the scenic hamlet of Hindurangala off Kiriella with the mature kithul flowers (peedunu kithul mal)  ready to offer a bountiful harvest. "December to end of April is our best harvesting period as this is generally the dry season," explained Secretary of the Hindurangala Kithul Farmers Association Gunasiri Jayakody. However, climatic changes have had their toll on tapping kithul flowers, at times disrupting the traditional cyclic harvesting patterns, he says. For a kithul tree to yield its maiden harvest it takes around 8-12 years and a healthy tree could have around three flowers a year to be tapped, explains Gunasiri. One flower could yield 10 litres of thelijja per day.
The harvesting period of a kithul tree is about five years after which its timber can be used for furniture and handicrafts. Moth-resistant, kithul timber was much sought after in the homes of our forefathers.
Tradition is upheld by these kithul tappers to whom the skill had been passed down by their forefathers. U. Gamini who has been doing it for the last 34 years, boasts about tapping his first kithul mala at the age of 14. However he laments that there is no one to keep the legacy alive after him. "Aluth paramparawa enne ne" (the new generation is hesitant to do this) bemoans Gamini who cites this as one of the major challenges faced by the industry.
Stimulating the kithul flower to excrete its sap is an art itself. Gashing the base of the flower, a herbal concoction made out of an assortment of herbs including kollam kola, keppettiya, kepumkiriya and dummerendu is applied.
When the flower is ready to be tapped, the flower clusters are tied together and their ends are cut off and a pot is placed beneath to collect the dripping sap known as thelijja. The tappers climb up with the aid of ladder made out of bamboo sticks tied to the kithul trunk.
Gamini climbs the tree before you can blink. His balancing act with a pot in hand entirely at the mercy of the bamboo ladder embracing the trunk, is not second to any circus or gymnastic turn! The pot, as the veteran tapper explains, is replaced twice a day. The thelijja fresh from the tree which Gamini offers us is a single creation of mother nature, its flavour arousing the taste buds. One pot of thelijja or sap which is boiled on a traditional clay stove for about 45 minutes can yield about three litres of treacle, we are told. Kithul toddy is produced when thelijja is allowed to ferment sans boiling.
The age-old beliefs associated with kithul tapping such as refraining from tapping when a pregnant woman is at home, avoiding the rahu kalaya and determining the chandrahorawa are now becoming obsolete, points out K.W. Premaratne who is reputed among Hindurangala kithul farmer community for still strictly adhering to tradition. Premaratne who shuns plastic containers which are now rapidly replacing the traditional clay pot, adds that the kolapath which covered the pot are now a vanishing sight, replaced by polythene sheets. The penimula made out of kolapath again are almost extinct says Premaratne showing us a sample.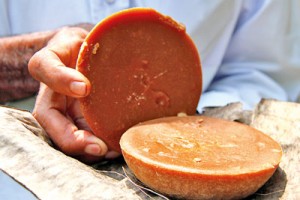 The dearth of kithul tappers and the diminishing number of trees remain the biggest hurdles facing this age-old industry. The common grievance shared by all farmers is the absence of state supported outlets to sell the best quality kithul products. "When the produce reaches the urban consumer, it has passed through several middle men who dilute the quality depriving it of the original flavour," observes Convener, National Kithul Industrialists Society L.K. Priyantha.Priyantha who also urges for a scheme to standardize kithul products, lamenting the absence of a Research Institute committed to this crop.
"Apart from traditional kithul products, a whole new range including kithul ice cream, cordial and jelly could be experimented to cater to the international market for which a streamlined research body is vital," he says.
Although a lucrative source of income as pointed out by Priyantha, kithul tapping has always remained an extra source of income for these farmers who are engaged in either farming or mining. "The attraction the industry offers the youth is minimal," remarks Priyantha who also urges for the revival of the annual Kithulaka Waruna exhibition which was initiated by the National Kithul Development Programme several years ago. This one-stop annual kithul exhibition which was a highlight in the calendar of many city dwellers is sadly no more says Priyantha who maintains that reviving the industry and finding an expanded market for our kithul industry through innovative new schemes such as establishing kithul villages should be a national priority. "In the wake of the boom in the tourist industry, such schemes are promised to promote community-based tourism as well," he notes.
A feast of boiled manioc, kochci sambol and keeramin beduma, followed by a saucer of the best kithul treacle as dessert, on which we feasted thanks to our hospitable hosts in Hindurangala, mirrored the flipside of the kithul romance as we prepare to usher in another New Year- the fact that we are still a nation rich enough to share our pot with any visitor, no matter how humble it is.
Empowering the tappersSpeaking to the Sunday Times, Director, Development, Ministry of Rural Economy, Pushpa Abeygunawardhana said that as a means of empowering the kithul tappers in 12 districts, the Kithul Development Programme in collaboration with provincial secretariats of these districts, is to launch a scheme where identity cards are provided."The aim of this scheme is two pronged: to give more recognition to these farmers and also to counter any red tape when transporting toddy." A special insurance scheme is also underway, she notes. "In order to bring best quality kithul products closer to consumers, the Ministry is also having discussions with MILCO for a possible collaboration," she added.