Appreciations
View(s):

Ven. Davuldena Gnanissara Mahanayaka Thera

An erudite monk of rare calibre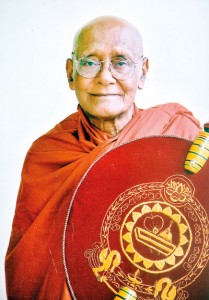 With the passing away of the Most Venerable Davuldena Gnanissara Mahanayaka Thera, Supreme Patriarch of the Amarapura Nikaya, Sri Lanka has lost an erudite scholar who was well versed in at least seven languages. In addition to the higher degrees he achieved he was also honoured with a number of titles in recognition of the vast knowledge he possessed. On formal occasions he was thus addressed as Rajakeeya Pandita, Grantha Visharada, Sanskrutha Bhasha Chakravarti, Sri Sumangala Vidyavansa, Dwibhasha Visharada, Sharbhasha Parameshvara, Jina-Shasana Kirti Sri, Sri Aggamahapandita Aacharya, Shastrashuri, Mahachardya Most Venerable Davuldena Gnanissara Mahanayaka Thera.
When I met the revered Mahanayaka Thera just before the opening of the Pagoda Meditation Centre at First Lane, Pagoda he told me "I am now in my last stages. The establishment of a Bhikkhu rest and meditation centre brings the solace and comfort that I have been able to achieve something useful." That was 14 years ago. He was then 88.
The much-travelled scholar who visited several countries on Dhammaduta work once spent six years in Taiwan teaching Pali and Buddhist Studies. He used the donations received from there to construct the spacious two-storeyed building for the Centre on a half-acre block of land donated by a philanthropist Seelawathie Konsalkorale. Due to his failing health regular meditation sessions were conducted by Ven. Olande Ananda – his pupil monk from Holland whom he ordained over 40 years ago and who has been right along with the Mahanayaka Thera except for brief intervals when he goes abroad on invitation to deliver Dhamma talks and conduct meditation retreats.
Having donned the robes as a 12-year old boy from the rather remote village of Davuldena in Uva Paranagama, he completed over 90 years as a monk of the Udarata Amarapura Samagri Sangha Sabha. In an era when large families were preferred, he was one of 11 children in the family of Aloka Mudiyanselage Kavurala and Gajanayake Mudiyanselage Kirimenike.
After being ordained, he excelled as a student of Vidyodaya Pirivena at Maligakanda and was soon a teacher in reputed Buddhist institutions including the  Sri Vajirajnana Dharmayatanaya at Maharagama, Gangaramaya at Hunupitiya, and Bhuvanekaba Pirivena, Gampola. Among the higher education institutions he taught at the Buddhist and Pali University.
Paying tribute to his guru, Ven. Olande Ananda recalled how the Mahanayaka Thera told his parents on a visit to Sri Lanka from Holland: "One day in May 1975 a young man dressed in white came to see me. He said his name was Rudy Hammelberg. As I saw him I had a feeling that he was nobody else but a son of mine from a previous life who had come back to me. My eyes were filled with tears. My heart melted due to the affection."
Ven. Ananda recalled how he came to the Pagoda temple on directions given by a person he met in Anuradhapura when he was visiting the ancient city and how the Mahanayaka Thera welcomed him warmly and told him to stay as long as he wanted. Being interested in meditation the young devotee went to Kanduboda Meditation Centre but always returned to the temple. The Mahanayaka Thera taught him the Dhamma and arranged for his ordination when he wanted to don robes. "Right through I have been with him and I respect him as a great teacher," he said.
Udarata Amarapura Samagri Sangha Sabha to which the Mahanayaka Thera belonged is one of 21 sub-sects of the Amarapura Nikaya. Having watched his progress, the Sangha Sabha appointed him first as a Nayaka Thera and later as the Mahanayaka Thera – head of the sub-sect. With the passing away of the Most Venerable Madihe Pannasiha Mahanayaka Thera in 2003, he was selected as the Supreme Patriarch of the Amarapura Nikaya. The exalted position was created as a symbol of recognition for the untiring efforts of Madihe Pannasiha Mahanayaka Thera in unifying the Amarapura Nikaya and succeeded in getting all sub-sects to agree to the appointment of a President to represent the Nikaya so that one representative could voice the opinion of the entire Nikaya. When he passed away, the Sangha Sabha not only elected Ven Davuldena Mahanayaka Thera as the President of the Nikaya but also conferred on him the title of 'Supreme Patriarch'.
I remember him saying at a commemorative meeting on Ven. Madihe Mahanayaka that he insisted that he should not be conferred the title  'Supreme Patriarch' since it was a special tribute paid to Madihe Mahanayaka Thera, but the Sangha Sabha maintained he should also be given the title.
Though he was over 100 years old, the Mahanayaka Thera was mentally alert though physically weak. He was indeed blessed with the ability to gain so much knowledge of the Dhamma and to author many books for the benefit of others. Among the books were several in Sanskrit.
May his path in Sansara be smooth to reach the final goal of attaining Nibbana with ease!
D. C. Ranatunga
---
 A.C.S. Hameed
He offered bouquets in exchange for the brickbats flung at him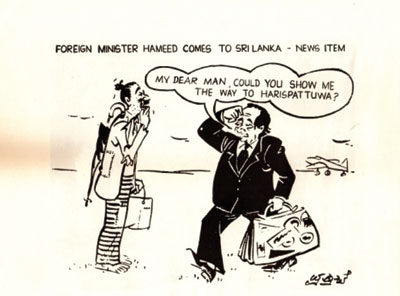 Dr. A. C. S. Hameed was born on April 10, 1928. He entered Parliament in March 1960 as a candidate of the United National Party (UNP) representing the Akurana electorate which was changed later to Harispattuwa.
I quote from an article from the "Encyclopedia of Sri Lanka" by C.A. Gunawardena.
Abdul Cader Shahul Hameed (1927-99):  The country's longest-serving Foreign Minister, he was also the longest-serving MP at the time of his death. A Muslim he was fluent in all three of the island's languages, and was committed to a united multi-ethnic Sri Lanka. First elected in 1960 to represent Akurana (later renamed Harispattu) he was re-elected at all subsequent elections.
He became Foreign Minister in 1977, after the combined portfolio of defence and external affairs, up to then held by the Prime Minister, was split by the new UNP administration. He served for 12 years and was again Foreign Minister from 1993 to 1994, having meanwhile served as Minister of Justice and Minister of Higher Education.
One of a few national leaders to have met LTTE leader Prabhakaran, he negotiated with the separatist group for over a year when President Premadasa initiated talks with it in 1989. He was active in the United Nations and the Non Aligned Movement and had an important role in the formation of SAARC. He served on the advisory board on Disarmament Studies for 10 years."
As minister of foreign affairs, he had to travel to various parts of the world very often. The local newspapers went to town with very humorous cartoons about the Foreign Minister's travel abroad though most of them were very corrosive. Still Dr. Hameed took them lightly and appreciated them for their humour.
The initials A.C.S. people interpreted as "All country Service", "All country Sailor", and in Tamil people called him "Ulakam suttrum valipan" or globe-trotting youth.
All the collections of cartoons were compiled into a booklet called 'Mr. Foreign Minister' for which he was asked by the publisher to write a foreword.
Mr.Hameed writes in the foreword " Call it what you may- to this collection of cartoons in which I am the sole 'victim' who is mauled and maligned, this request certainly adds insult to injury. As the reader turns over the pages he or she will find the whole book littered with brickbats.
And I am asked to offer bouquets in exchange for the brickbats flung at me. I do it gladly."
He continues "I am going to let Wijesoma, Yoonus, Gerryn, and Abeyesekara represented in this collection into a secret."
As Oscar Wilde has said: to be talked of is bad; but not to be talked of is worse. In the case of the politician it is a great help they do for his survival and success."
Amitha Abeyesekara writes- while many laugh at others, few can laugh at themselves  and the politicians who can do so are even fewer–vide the dire threats hurled at journalists, political commentators and satirists, humorists, writers and cartoonists from time to time by political VIPs (very important persons) and  VIP's (very insignificant persons). So it is all the more refreshing and even inspiring to see front-line politicians like Foreign Minister A.C.S. Hameed possessing this rare ability to laugh at himself and what's more demonstrating it in this novel manner by agreeing to bring out this book of cartoons drawn about him and against him. A sort of Hameed –Warts And All. (I wonder whether he has scored a first doing so) I for one haven't heard of a politician who has done it."
May Allah grant him a place in the Januathul Firdouse – Aameen.
A.C.A.Ghafoor
---
 THEODORE  MAURICE BRENDON DE SILVA
A multi-faceted banker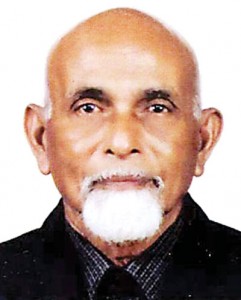 January 12, marked the first death anniversary of  the passing of Maurice, as he was known.
Hailing from Matale, he had his education at S. Thomas  College,  Matale  and made his mark in studies and in sports, going on to become Head Prefect. He excelled in cricket and hockey, and was active in the Scout Movement and Cadets .
He started work  at the Department of Immigration, and thereafter served the Bank of Ceylon  for nearly  40 years becoming  an Assistant General Manager.  He saw every opportunity as a challenge and accomplished his work leaving no room for criticism.  He was also active in the Ceylon Bank Employees' Union, and more especially in the Bank of Ceylon Sports Cub. His prowess as a slicer saw him elected as the Secretary of the Carrom Federation.
With his wit and humour Maurice was a popular figure. A  colleague once observed that if  he put on a cassock he could easily pass off as his brother a priest, if he walked in  Leningrad people would think  that he was a reincarnation of Lenin, and if he did a walk around Pettah at election time he could be mistaken for a well known politician!
He led a simple and useful life after retirement teaching English to needy children free of charge.
It is fitting to end these memories of a good friend in the words of the Psalmist,
"Return to thy rest  O my soul , for the Lord has dealt bountifully with thee."
Merril de Silva