Soaring temperatures raise risk of illnesses
By Anushiya Sathisraja
View(s):
Sri Lankans will experience uncomfortable afternoons and nights, throughout the remainder of the month. Temperatures will reach 41 degrees Celsius in certain areas, the Department of Meteorology predicted.
Until the 15 of this month, the sun will be directly above the island.
Today, the sun will be directly above Kochchikade, Ambepussa, Peradeniya, Dunuwila, Maduru-Oya, Bulupitiya, and Addalachenai at about 12 minutes past noon.
"This is the inter-monsoonal period and the heat would recede with the onset of the southwest monsoon next month,'' director (forecasting) of the department, Sarath Premalal said.
In May, daytime temperatures will be high and there will be thunderstorms or scattered showers at night.
"There are no strong winds blowing from the southwest direction, therefore coastal areas will experience humidity as well,'' Mr Premalal said.
"During this period the country may experience a rise in temperature.''
The annual temperature of the country fluctuatess between 26 and 29 degrees Celsius. El- Nino could be one of the reasons for the increase in the heat. Usually, the sun is directly over Sri Lanka during March and April.
He also said that, the worst affected areas will be Vavuniya, Anuradhapura, Polonnaruwa, Moneragala, Mannar, Puttalam and Kurunegala, where the temperature will range from 35-38 degrees Celsius. On Friday, Mattala recorded the highest temperature so far of 37.7 degrees Celsius.
Showers could be expected in the Western and Southern coastal areas during the morning. Heavy rainfall above 75 mm could be expected particularly in the Western, Sabaragamuwa, Central, Uva and Southern provinces.
Professor S. Anthony Norbert of the Department of Geography at Colombo University said as there were extreme weather changes which caused flooding earlier this year, during the inter-monsoon season there could be mini-cyclones, storms and changes in temperature.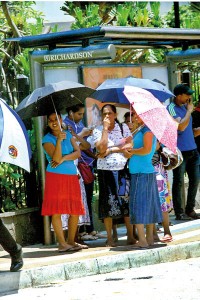 "When the landmass is warm there is excessive evaporation, resulting in a moisture saturated atmosphere. When the body produces sweat due to humidity, the sweat does not evaporate. This will cause dehydration, skin rashes, discomfort, depression, lack of sleep and increase in stress levels," he said.
Medical professionals, too, advise people to be wary of illnesses caused by the hot weather. Dr. Achala Balasuriya, consultant dermatologist at the National Hospital said, during the warm months miliria (prickly heat) was common among children.
"Children are more vulnerable to dehydration especially after being exposed to the sun during sport meets and holidays. Apart from liquids, their meals should include starchier food like rice and rice-based products, gram, potatoes and bread. It is important to take vitamins, potassium and minerals through fruit as excessive sweating results in loss of minerals," she said.
She suggests drinking more water, king coconut water, and fresh fruit juice especially juices made from citrus fruit such as lime and oranges.
"The intake of fruit such as watermelon as well as vegetables should be increased to help retain vitamins and minerals lost due to excessive sweating," she said.