Culinary journey at Cinnamon Lodge Habarana
View(s):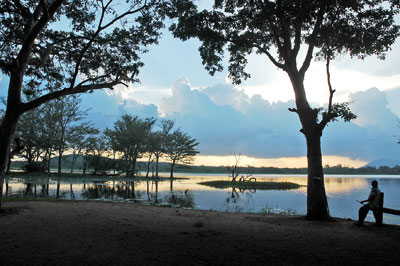 Cinnamon Lodge Habarana invites its guests to embark on a satiable gastronomic journey by exploring the delicious secrets of the resort's culinary maestros. This unique experience enables the visitor to engage with the executive chef and prepare a specially curated meal enriched with Sri Lankan culinary traditions.
The resort is revered for its state of the art kitchen, with ample space and equipment for the creation of decadent dishes. Guests will be given a complete feel of the magical practices of whipping up culinary masterpieces in the kitchen; the magic that validates the Cinnamon Resorts promise of serving spice infused scrumptious cuisines. The kitchen maintains stringent standards, in line with ISO standards.
The organic farm maintained by the resort provides an array of fresh vegetables, organic rice and fresh milk, which is utilised, in its fine dining restaurant, Lotus, to serve its guests the most nourishing and satisfying meals.
Commenting on the 'Dine with the Chef' experience, Executive Chef Sunanda Kumar states, 'We ensure that our guests receive a truly organic culinary experience here at Cinnamon Lodge. The organic farming techniques which translates into our cuisine possesses all the natural indicators necessary to beget the best organic produce, resulting in the freshest and tastiest of meals'.
Chef Sunanda, an award winning chef with his most recent triumph at the East Coast Salon International Culinary Arts Awards 2015 in Dubai,shall personally guide and curate the menu for the meal of 8 mouthwatering dishes or more. The culinary excursion is divided into three experiential courses.
During the day, guests are first given a tour of the resort's organic farm and invited to hand-pick up to 20 organic vegetables and herbs to be used in the meal. The guests are then asked to return in the evening for the actual preparation of the meal, during which time the chef shall curate the most exquisite and perfect menu including all the vegetables, meats and crabs chosen by the guests.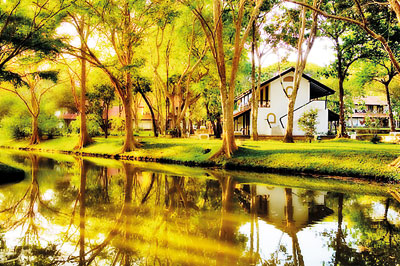 As the sun sets, a group of 8 guests or less will stream into the kitchen geared to learn and absorb the many avant-garde cooking techniques from the veteran Chef Sunanda, who shall impart his most precious skills that stem from over 25 years of experience. The guests guided by the chef will learn the professional art of preparing an organic meal, starting from how best to slice and dice the vegetables and herbs, what spices and seasoning perfectly complement the flavours of meats and seafood, the different methods of cooking, to the plating up of the food to look like a work of art. The entire aromatic and appetizing experience is expected to take a little over two hours.
Once the exquisite meal is prepared, a table will be set up for the guests within the confines of the open plan, fully functional kitchen, that venturing into it, is an experience in itself.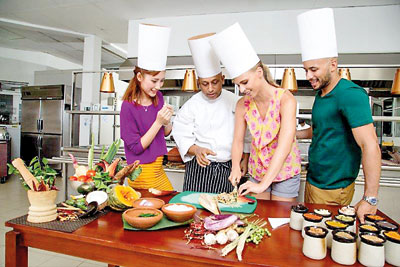 Call 0112 161 161 for more details.