MCA 'E' semi-finalists found
By Lakshman Ranasinghe
View(s):
Unbeaten, HNB Grameen and DFCC Bank, along with Mercantile Investments and Asia Asset Finance advanced to the semi-finals in the 15th David Pieris Group of Companies sponsored, 'DPGC' Challenge Trophy 'Äď MCA 'E' division, 30 Over League Tournament 2017.
In the quarter-finals played over last week-end, HNB Grameen scored a comfortable 81 runs win over John Keells 'C' and Mercantile Investments ended Virtusa'Äôs unbeaten run with an unexpected three wickets win. DFCC Bank defended a moderate total, as they beat HSBC 'A' by 50 runs and in a low scoring game, Asia Asset Finance crushed Commercial Bank 'B' by 65 runs.¬†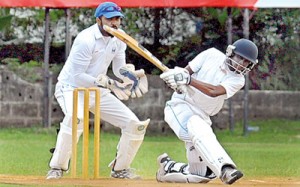 Notable performances guiding their respective institutes to the semis came from Damith Perera (58) and D. Sandaruwan (55) from HNB Grameen Vs. J. Keells 'C'; Sashrika Pussegolla from Asia Asset Finance (45 runs and 3 for 20 Vs. Commercial Bank 'B') and Charith Perera from J. Keells 'C' (90 runs in 43 balls, inclusive of eight sixes and equal number of fours) Vs. HNB Grameen.
The two semi-final matches will be played today are HNB Grameen Vs. Mercantile Investments at the MCA Grounds and at Mattegoda, DFCC Bank meets Asia Asset Finance.
Quarter-final scores
*1st QF: HNB Grameen beat John Keells 'C' by 81 runs
    HNB Grameen 262/8 (30)
    (Damith Perera 58, Janith Perera 35, D. Sandaruwan 55, Charith Perera 2/44, P.K. Abeygunasekera 2/36)
JK 'C' 181 (28.2) (Charith Perera 90, Dinusha Fernando 3/22, Chamara Ratnayake 3/32)
* 2nd QF: Mercantile Investments  beat Virtusa Polaris by 3 wickets 
Virtusa 126 (29.3) (C. Kumara 3/18 ,
D. Seneviratne 3/21)
MIL 127/7 (26.1) (N. Bandara 39 not out, C. Liyanage 3/30, Tharanga 2/14)
* 3rd QF: DFCC Bank beat HSBC 'A'
    by 50 runsDFCC 155 (29.2) (H. Cooray 31,S. Subasinghe 3/44, A. Kariyawasam
2/16, S. Wijetunga 2/20)
HSBC 'A' 105 (26.3) (N. de Silva 31,
L. Dias 2/13, D. Weerasinghe 2/30)
* 4th QF: Asia Asset Finance beat Commercial Bank 'B' by 65 runs
AAF 134 (27.4) (S. Pussegolla 45,
T. Nirmala 2/32, B.Chamara 2/8,
M. Liyanage 2/27, J. Athukorala 2/15)Commercial Bank 'B' 69 (21.3)
                (M. De Silva 3/7, S. Pussegolla 3/20)