Lankan Test player interviewed by ICC anti-corruption unit
By S.R. Pathiravithana
View(s):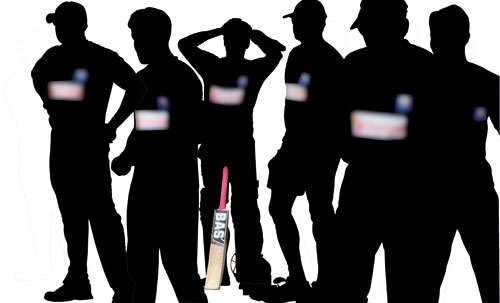 At least one Sri Lanka national cricketer was interviewed by the ICC's Anti-Corruption officials in the aftermath of Sri Lanka's defeat to Bangladesh in the second Test at the P. Sara Oval last Sunday.
It all began with an overseas telephone call that the player in question received. However. it has been still termed as a fan-call from someone living in the United States of America.
When inquired from Lakshman de Silva who is the ICC official handling anti-corruption matters in Sri Lanka, he said; "Yes, we did call up the player and questioned him about a telephone call that he had received from the United States. The player had promptly brought this to the notice of the authorities and ICC anti-corruption officials who were also present at that time interviewed the player as soon as the Test match was over.
"However, we have not come across anything that would implicate the player so far, but, we have to find out the real details of who this cricket fan is. However, since the monies involved in such dealings are colossal, we have take extreme precautions. At the same time we also have to establish the bone-fides of the caller from overseas."
De Silva said, "In Sri Lanka allegations of this nature are extremely rare where international cricket is concerned. However, we are kept busy by certain people who keep relaying clandestine ball by ball commentaries in cahoots with bookmakers who conduct ball-by-ball bets. Even during the just concluded series, we evicted several such people from the stadiums but the numbers are growing."
De Silva denied reports that there were more than one person involved in this incident.
The biggest scandal that rocked Sri Lanka cricket happened in 2010 when Sri Lanka off-spinner Suraj Randiv purposely delivered a no-ball to deprive Indian opener Virender Sehwag from scoring a certain century. The ball was hit for six, but the umpires signalled a no-ball.
Nevertheless Sri Lanka Cricket administration quickly intervened and doused the fire by imposing a one-match ban on Randiv and a heavy fine to senior player T.M. Dilshan who prompted the bowler to act in that manner. The then captain Kumar Sangakkara was also cautioned by the authorities.