Dangling the carrot
View(s):

DANGLING THE CARROT

During the last elected cricket body he played a pivotal role with figures. Besides that he also acted as match maker. When the most powerful secy crossed path with him he joined the hospital President and continued his thing. Then when it came to the election he and his hospital friend sought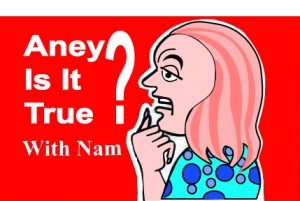 the assistance legend's son (So much so the legend's son calls the figure man uncle) and saw to that the interim thing was set up. In the aftermath he brought the age old enemies together to form a union and thwart the attempts of the former secy and his match winning brother. Soon the hospital man was put in charge of the international arm of that sport and made one of the pillars.
However the hospital man did not like what was going around him and decided to put up shutters. Now the figure man, who recently even cooked some fictitious figures and sold it to the public with huge advertisements, is on a mission to patch up differences.
He even had dangled a carrot in front of the hospital man. "If so and so is kicked upstairs to take up the big chair, you will be next in line". Can he sell this bat?
VAIN ATTEMPT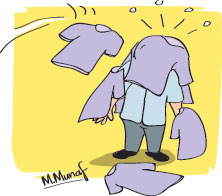 Pri — leader of the oval-ball was a player of repute. Recently he briefed the Anto high priest to get rid of the coach as they lost matches. He threatened to withdraw all support. The reply was stunning. "You may withdraw your support but the stinging one will continue. Matches were lost because the kicks were not kicked over." It was you who insisted that the kicking one must stay. He was told to withdraw his support and take the kicking one with him.
PUMPED UP MUSCLES
People with muscles have been accused earlier of taking drugs to pump up their muscles. This time a muscled type has been accused of producing false certificates. This was however exposed and he was even taken to courts. It has now surfaced that a cousin of his has been responsible for the false certificates.
T-SHIRTS GALORE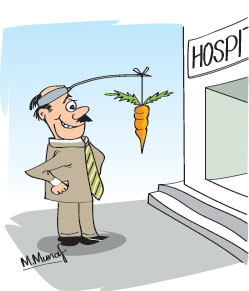 The talk of fast approaching AGMs is very much in the news these days. This time at the centre of the issue is a popular game played with a solitary ball. In order to attract voters this club has been dishing out T-Shirts to their supporters and friends in order to attract their votes. Will this move be successful?
TOUR MANIA
He likes to tour, who doesn't! This particular person has his fingers in the oval ball as well and he has just returned from such a tour. Now he has set his eyes on a tour Down Under with a junior team who is to play a series of matches there. Observers say that he has this mania to go on tours. In addition there will be five officials which make the tour top heavy.
TO SIT ON THE OFFICIAL CHAIR
There is this push to put someone in front at the AGM of this sports body in order to see that he sits on the official chair. This was quite evident when this official was called to give away awards when a foreign team pulled off a win against the local side. The present president plans to step down. It is said that this person is being groomed to take his place instead.