Appreciations
View(s):

MALATHI MARAWANAGODA (nee Attygalle)

You were and will always be a motif of love and warmth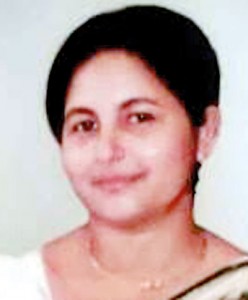 My sister Malathi, as her very name suggests was the Samanpichcha flower of the family- a woman of human fragrance and much more. Born as the third daughter after two more girls before herself followed by a boy, Mala as we called her yearned for attention which she was given lavishly. From an obstinate youngster, it was amazing to see her growing into a caring sister, wife, mother, aunt and grandmother with a magnanimous heart.
Malathi reached out to anyone in need. During her prolonged liver disease, it was amazing to see her worrying about fellow patients, never forgetting to personally thank the hospital staff who were part of her own battle for life. She was an epitome of what the world calls 'too good to be true'. A beauty true to her name, her love for her soul mate, Rathnapala, was one on first sight, whom she saw at the school gates of Girls' High School Kandy, when he visited his sister who was her school buddy at the time. Their love kept burning until her end. During her prolonged sickness, Rathnapala remained devoted to her, seeking the best medical care, even abroad, for his wife.
Although her early marriage hampered her higher education, Mala continued to master culinary arts, patchwork, knitting and all forms of domestic arts. The perfect hostess she was, doors of her Kandy home were open to anyone at any hour. Many a school vacation she made memorable for all her nieces and nephews who adored her as 'Mala mammi'. Her artistic faculties were at their best when she turned out a master piece of a bridal saree for me. The bead and pearl design with which she painstakingly adorned my bridal spoke volumes of her dexterity. Her nimble fingers continued to touch the lives of several more generations. It was Malathi who stitched my first born's 'home-coming' baby dress and it was she again who so lovingly stitched for my first grandchild, when she was brought home.
A woman of indomitable courage, she braved the avalanche of needles which were pricked on her and the battery of tests run on her at every hospital possible, both here and abroad, with an unfailing spirit. A woman who drowned all physical pains in her beautiful smile which sprang deep from her heart to make others around her feel better, my sister never envied us for the 'healthy life' we were blessed with. In the last few years of her life, she was compelled to make hospital beds her abode, yet made use of all high tech devices of communication to reach the needy near and far. She knew precisely when a nephew would land here or a friend would take off! Her unflinching mettle was at her best when her legs failed to take her upstairs of my house yet how she climbed despite greatest discomfort with aid, to see our own mother who was also invalid and bedridden.
A mentor to the younger siblings, Mala was at one time a mother to her two older sisters. For all our children and theirs, Mala mammi and Mala aththammi was a motif of love and warmth. A woman who was beautiful in countenance and heart, Malathi lives through her only daughter Uthpala with her unconditional love, after whom my daughter named her first doll and continues to cherish her. The void she left in the lives of her soul mate Rathnapala and three children- Uthpala, Pulasthi and Isuru cannot be filled. Grandsons, Kavith and Yevin will miss her warmth.
Maya Angelou once said, "if you have only one smile in you, give it to the people you love." My darling sister personified those words.

Loku Akka (Lakshmi Attygalle)
---
Sylvester J. Fernando   
 We will miss him but will cherish memories of this fine gentleman
Sylvester Fernando, who passed away suddenly on Sunday, March 19, was an active member of the Sri Lankan community in the Tri State metropolitan area since the early 1980s. He was a devout Catholic and faithful member of St. Thomas the Apostle R.C. Church, where he was a member of the Consolation Ministry and a Eucharistic Minister.
He was a devoted husband, a caring father and grandfather to his family. He was generous and kindhearted to all his extended family members' friends and members of the larger Sri Lankan community. He translated his deep faith into a life lived serving others in an exemplary way. His service extended far beyond the confines of his faith and community.
When the Sri Lanka NY Buddhist temple in New York was under construction, he participated in the hard labour, day in and day out, until it was completed. He had special kindness for children and was instrumental in organising children's sports events and award ceremonies for the annual sports festival of the Sri Lanka Association of New York (SLANY) for many years.
Along with his wife, Sylvester was an accomplished ballroom dancer and a shining star at all social events. Ladies at these gatherings dreaded Sylvester's invitation to join him on the floor as his many intricate steps and manoeuvres, twirling, twisting would be rather challenging for most dancers. They preferred to watch him perform his masterly techniques of the floor.
Born in Moratuwa, he was the son of the late Joseph and Elizabeth Fernando. The  loving husband of Rita Fernando, Sylvester is survived by his daughter Dr. Surani Fernando, son-in law Dr. Sanjay Fernando; grandchildren, Minoli, Mihiri and Devan. He also is survived by his brother, Christopher, and sister Therese.  He was predeceased by his brothers Emmanuel, Anthony and Lloyd.
We will miss him forever but will cherish memories of this kind and sweet -natured  gentleman  all our lives.
In lieu of flowers, memorial offerings were made to: St Thomas Apostle Church, West Hempstead, New York.
Sydney Silva
---
 Nanda Maitipe
This teacher deserves the nation's salute
'Teachers are visible Gods' the saying goes. The validity of this saying became veritably palpable not only to me, but also to all the numerous near and dear ones who flocked to empathise with our beloved friend  Gernal Mayakaduwa  on his wife's  unexpected demise.
The tranquility of the picturesque hamlet of Balagoda,  a few miles away  from Galle City, was veritably stirred when the versatile teacher Nanda Maitipe went on the flight of no return on January 25.
Her ladylike decorum won the laurels of all and sundry in the vicinity. Even the boughs of the trees saluted her bending towards her little abode; her feathered friends virtually sang a sorrowful tune as a token of gratitude for feeding them lovingly.The blue sky seemed to share a pact with the wind and the sun to bless her with quietitude on this day of profound mourning.
She graduated from the University of Colombo in 1975 and earned her post graduate qualifications of teaching from the same university. She cut her teeth as a well-qualified teacher immediately after her graduation. She was posted to  Balagoda Maha Vidyalaya  as a graduate teacher and many were the children who learnt under her and came off with flying colours. Teaching was her forte. What I realized from this great teacher is that like doctors, good teachers are not made, they are born so.  Her gait, dress-sense, witty utterances,  and to cap them all her preparation for lessons made her the epitome of a modern teacher.
Her specialty was Sinhala. She deserves the nation's salute for guiding many children in learning Sinhala. How she taught 'Selalihini Sandeshaya'  will always be a memorable experience.
I would fail in my duty if don't quote a few lines composed by one of her students.
' Selalihiniya hari rasata gayanna
Tawa ekaserayak evidin yanna'
Nanda was born with a silver spoon and generously helped out in projects that uplifted the village. The late M.L.Appuhamy  her businessman father and her mother  E.J.Kumarasiriwardene would have been proud to have seen what she had achieved.
When she bid adieu to her teaching  career at Sri Rathnasara College Baddegama, she was only two years shy of four decades of service.
I would like to end with the following:
'So long as men can breathe or eyes can see,
So long lives this and this gives life to thee.'
(William Shakespeare
[1564-1616]
Sonnet 18).
Piyadasa Rillagoda