Megapolis Ministry seeks cabinet approval to get wheels moving on bus lanes
View(s):

The Megapolis Ministry will seek cabinet approval to implement the bus-priority-lane system after a trial run confirmed the need to do so, Megapolis Minister Patali Champika Ranawaka said.

He said the 11-day trial period gave them ample proof that giving priority to public passenger transport could help ease traffic congestion in and around Colombo City. Â  The government will designate bus priority lanes in seven areas including Malabe, Battaramulla, Pettah, Piliyandala, Kottawa, Town Hall area in Colombo, and Borella.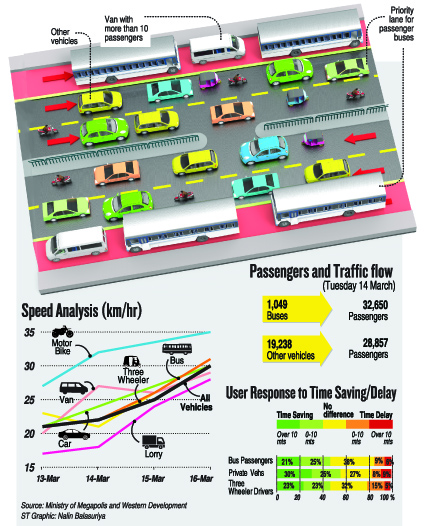 He said the trial revealed that more than 1000 buses that plied during that 11-day period transported over 40,000 passengers while other vehicles numbering 21,000 carried 32,000 passengers.
The minister said it is necessary to designate a bus priority lane system because the trial showed more people used public transport and making it a speedier and efficient service would make more people take to public transport and the use of private vehicles would be cut down , thereby reducing traffic congestion.
He said school vans and office transport vehicles would be allowed to ply these designated lanes during school hours and office peak times allowing speedier travel. Minster Ranawaka added that this would benefit the economy by cutting down expenditure on mega highway projects. Moratuwa University senior lecturer Professor Amal Kumarage, who was entrusted to look into the practicality of the programme, said the bus lane would be more towards the centre of the road with demarcated safe areas for passengers to board and alight from the buses.
"We will also have a central monitoring centre with CCTV cameras and ask for police support to identify and remove buses that are no longer roadworthy. Special overtaking points will also be demarcated, Prof. Kumarage said. He said the road would have to be widened in areas mapped out for special overtaking points.
Meanwhile the Sri Lanka Transport Board Buses' Income Generation Manager Nihal Kithsiri Hidellearachchi who oversaw the trial run on behalf of the state transport sector said he noticed a 50 percent speed increase in the buses that travelled on the priority lane.
Pointing out other plus points witnessed during the trial run, he said, buses were able to keep to scheduled times and private buses didn't have the opportunity to compete with state buses.
National Council for Road Safety Chairman Sisira Kodagoda said though the trial was a success one had to consider the point that the trial run was conducted on the left side lane in an area that had few by lanes.
Mr. Kodagoda pointed out the middle lane bus system had to be well thought out with special attention to safe pedestrian crossings and facilities for the differently abled.
He also added before the system is implemented awareness programmes should be conducted on strict lane discipline and allowing pedestrians to cross onto the middle lanes.
Meanwhile Private Bus associations and three wheeerl associations too expressed their views on the new move.
Private bus companies Federation's chief organiser Samantha Gamage said they were only able to allow a limited number of people to board their buses during the trial run as other bus drivers were tooting their horns from behind.
"Yet we extended our support because we were able to reach the destination half an hour earlier than other days," he said.
Southern Private Bus Owners Association Chairman Chandana de Zoysa said that centre island bus stop system was a good idea but may be difficult to implement.