Cookie Crumb
View(s):

By Manoshi de Silva

"What is that delicious smell?" thought Brown Ant, looking around. It was coming from nearby. Ah! There it was; a cookie crumb lying on the table. "And a big piece too!" clapped Brown Ant happily. "Too big to carry alone." Just then he saw a friend of his, another Ant, walking towards the piece of cookie. It was difficult to say who saw it first. They were both at an equal distance from the cookie crumb.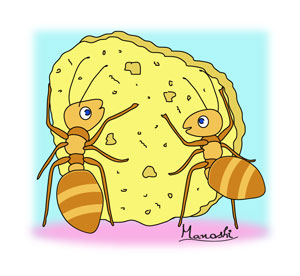 "I'll never be able to carry this alone!" decided Brown Ant. "Let's try and carry this together!" said his friend. There seemed no other option, so he agreed. It was much heavier than they thought. "If we call others to help, we will need at least ten more. Then we will have to give them a piece each!" said Brown Ant. "And then when we take it to our Ant-hill, we will have to share it with all the others!" sighed his friend.
"What should we do?" asked Brown Ant. His friend thought for a while and said. "Shall we keep this hidden somewhere? Then the two of us can come and slowly eat it without the others knowing!" So they both agreed to do so. They started pulling the crumb with great difficulty and hid it under a flower arrangement on the table. They agreed this was the best place to hide it because taking it down the table would require the help of others.
Soon after hiding the crumb, the two Ants came out. They were unhappy to see a few other Ants on the table. "We got a nice smell and thought there must be some food here to take back home," said one Ant from their Ant-hill. "Oh, there's nothing here!" lied Brown Ant and his friend. "Then where is that yummy smell coming from?" asked another Ant.
Brown Ant started to lie, "There was a piece of food here and the two of us tried to take it back to our Ant-hill!" Then he pointed at a Gecko on the wall at a distance and said, "But that animal quickly ate it before we could get it!" "Oh!" said the other Ants in disappointment and walked away busily. The Brown Ant and his friend sighed in relief, "Our cookie crumb is safe!" they whispered to each other.
"Let's go and take a bite from the crumb!" suggested Brown Ant's friend. "No, let's not!" disagreed Brown Ant, "let's wait till tomorrow, until they forget about this. More Ants might come this way following the smell.
Let's wait until they find something else to be excited about." "Okay," agreed his friend, "let's stay here and guard it then!" So they stayed near the crumb and lied to all the Ants who came following the smell. "There's nothing here. The Gecko ate the piece of food which was here!"
Soon it got dark. It was time to go to the Ant-hill and rest. "Don't worry about the cookie crumb," said Brown Ant, "It's not going to run away!" "But what if another Ant finds it?" asked his friend.
"It won't happen now. Because it's getting late all the Ants are heading towards the Ant-hill." "Yes," agreed his friend, "but we'll have to come early tomorrow morning and eat it, before anyone else wakes up!" "Yes, let's come early and quickly eat it!" agreed the Brown Ant.
So the next morning the two Ants hurried near the place where the crumb was hidden. "How do we divide this?" asked Brown Ant's friend. "You keep  watch while I eat my share.
I'll go in  first and then you can eat yours," replied Brown Ant. "No, then you'll eat more than your share. I'll go first!" protested his friend.
"How do I know that you won't eat from my share?" argued Brown Ant. Soon this grew into an argument between the two friends.
"Actually the whole piece should be mine!" shouted Brown Ant, "I am the one who saw it first!" "That's a lie. I am the one who saw it before you!" shouted his friend."
So their argument turned into a fight. Both Ants started shouting at each other, claiming the ownership of the cookie crumb. "I decided that I am not going to share this with you at all," shouted Brown Ant. "Well, it was never yours. You can't decide such a thing," shouted his friend and said, "I am going to take the entire piece and not give you any, just because you're being so nasty!" "You have no right to do that!" shouted Brown Ant and they started hitting each other.
They both felt very tired soon and sat on the ground angrily. They saw a few Ants running about at a distance. They both understood that if the other Ants discovered the cookie crumb, they won't get to have a half of the piece each. "Let's call a truce!" said Brown Ant. "Alright!" agreed his friend who was also tired of fighting and upset that the other Ants might discover their treasure.
"Let's break it into two equal pieces, like we agreed earlier!" said Brown Ant and his friend agreed. So they went under the flower arrangement to get the crumb. But they were both in for a nasty surprise. The cookie crumb was missing. "Did the others discover it?" That was not possible! The two Ants searched around in shock. But it was nowhere to be seen.
"Chuk! Chuk!" laughed the Gecko on the wall sticking out his tongue and then he ran away. The Ants sighed understanding what had happened. "If we were not so greedy and selfish and willing to share with others, we would have gotten at least a small piece each," sighed the two Ants.