EPF holds onto investments
View(s):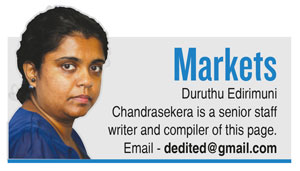 The Employee Provident Fund (EPF), the country's largest pension fund which was accused of improper investments during the former regime, is still on the top shareholders' list of investments in the stock market.
The EPF had 9.6 per cent stake in Amaya Leisure as at December 31, 2016. At Dialog Axiata, EPF remains the number two shareholder as at December last year. The EPF has 180,787,158 shares in Dialog which is a 2.2 per cent stake.
At Balangoda Plantations, EPF is the number two shareholder with 1.35 million shares or 5.7 per cent as at December. At DIMO, EPF remains the single largest shareholder with 19.9 per cent stake as at 31 December 2016. The EPF has upped its shares in DIMO's from 18.47 per cent as at 31.3.16.
At Cargills EPF has a 5 per cent stake and is the third largest shareholder. At Sri Lanka Telecom, the EPF is at number 3 with 1.4 per cent and 25.3 million shares. At Asian Hotels and Properties, the main buyers during 1Q17 include EPF with 10.2 per cent stake as at December against the 9.84 per cent as at March of that year.
EPF stopped investing in the Colombo Stock Exchange (CSE) following the bad blood during the pump and dump era two years ago, which pushed the CSE to lobby the Treasury to request the CB to permit EPF and Employees' Trust Fund (ETF) to restart their investments. The main buyer of Central Finance and Investments during 3Q17 was the ETF. ETF upped its stake in this company to 2,263,347 share as at last December from 1,371,995 shares as at September that year.  The two mandatory and state-managed superannuation funds dominate the pensions industry and about 92 per cent of these funds are invested in government securities. Only 6.5 per cent of the Rs. 3.1 trillion market capitalisation of the CSE is owned by institutional institutions such as EPF, ETF, insurance companies and Unit Trust.