From a transit compound for animals to the birth of our zoo
By Royston Ellis
View(s):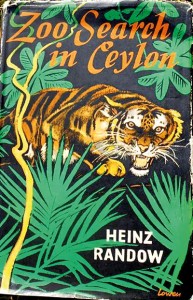 One of the most popular places in Sri Lanka with local as well as foreign tourists is the National Zoological Gardens at Dehiwala, known more simply as Colombo Zoo.
The fact that the Zoo exists is due to the curiosity of Europeans in the 19th century about the animals of tropical lands that they read about in explorers' and colonisers' accounts. Elephants, leopards, crocodiles, dragons 
 all sounded so incredible, they had to be seen to be believed. As some pioneer animal collectors discovered, there was money to be made in capturing wild animals in the tropics and sending them to Europe where people would pay to see them on display.
Sri Lanka became Europe's source of animals for zoos and circuses as a result of the efforts of two men, both German. This country was actually the leader in the conservation of natural resources, regarding them as assets. The world's first fauna and flora sanctuary was established at Mihintale in the 3rd century BC by King Devanampiyatissa (250-210 BC).
In modern times, the opening of National Parks at Yala in a protected area of 979 sq km and Wilpattu with an area of 1,316 sq km in February 1938 was a conscious effort to protect the many species, especially elephants and leopards, living within them. Up to then, jungle animals were considered as "game" to be shot, not as food but as trophies. The government-run National Zoological Gardens had been opened to the public two years earlier to give people a chance to see wild animals in a mock jungle habitat; to marvel at them just as people did at zoos in Europe.
However, the opening of the Zoo was not a deliberate plan of the government. It happened because of the bankruptcy of the private company that created and owned a depot in Dehiwala where wild animals from Sri Lanka, and in transit from India and East Asia to Europe, were caged.
The capture and collecting of wild animals in a professional way was begun in the island colony at the beginning of the last century by a settler from Germany, John Hagenbeck (1866-1940). He was the half-brother of Carl Hagenbeck (1844-1913) who became famous in Europe as an animal dealer and zoo creator.
John and Carl were the sons of Gotfried Claes Carl Hagenbeck (1810-1887), who was a fishmonger in Germany with a part time business in buying and selling exotic animals. John settled in Ceylon in 1891 when he was 25, attracted – like many Europeans -  to the island by the profits to be made from being a tea planter.However, he was persuaded by his brother Carl to capture animals in Ceylon and ship them to him in Germany.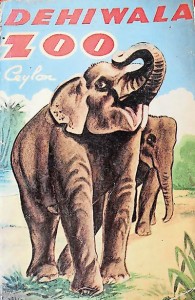 He did so enthusiastically sending an early shipment of wild animals that included 67 Ceylon elephants. This enabled Carl to start the world's first open-plan zoo at Stellingen, near Hamburg in 1907. Following the success of this, other countries wanted animals and John Hagenbeck obliged, finding a plentiful supply in this country where wild animals were considered an annoying impediment to the progress of colonisation. He also arranged to import animals from other countries and in the 1920s established a transit compound on 11 acres of land he bought in what was then jungle wilderness near Dehiwala.His success resulted in the start of various Hagenbeck circuses and zoos around the world, as well as being the beginning of the National Zoological Gardens.
The second German enters the scene then in the shape of a forgotten pioneer, a German zoologist called Heinz Randow. His activities only came to light when he wrote a book, published in English in 1958, about his adventures in this country 35 years before. It is an astonishing, as well as entertaining book called Zoo Search in Ceylon. It was published with a dramatic cover showing a snarling tiger.
Not much is known about Heinz Randow, apart from what he cares to reveal in his book which defines him as fearless in his pursuit and care of wild animals, while appreciating the luck that saved him many times from being killed by beasts, snakes or scorpions. The remarkable composure shown by the author in trying circumstances is evident from the book's beginning, when he states: "John Hagenbeck picked me out of the crowd of passengers leaving the ship, drove me by car from Colombo in a southerly direction towards Dehiwala.
"The plan was to set up there a collecting station for animals and later, perhaps, even a zoo
Beyond Wellawatte we went across broken country through coconut groves and areca estates into the bush. After driving through a small Sinhalese village we drew up in a large compound by a lake, on whose shores crocodiles were basking in the sun. On our right was a bungalow which looked as if it had been built in early pioneer days. Close by I saw some light, airy structures roofed with palm leaves, in the shelter of which were cages with tigers and leopards. In the shade of a coconut grove work-elephants dozed in their chains."
Hagenbeck took Randow to the bungalow. "He indicated the cluster of natives who stood there gaping at us, [and said] 'Pick yourself a boy to act as your personal servant from this crowd.  [You must] get to know Sinhala and Tamil, the two native languages.' Then he gave me a loaf of bread and half a pound of butter and drove back to Colombo."
Randow's book is a fascinating account of how he settled in and survived for several years, building up a team of local hunters who captured animals to be exported for Hagenbeck's enterprises, or to be put on display at the depot in Dehiwala. Randow also describes how he began clearing the area that was the beginning of today's Zoo.
"Four leopards, four tigers, two black panthers, about two hundred monkeys of various kinds, and a few deer were housed in makeshift cages in the large compound. This flat area, teeming with lizards, snakes and other creatures, was still only partially developed, so I made it one of my most urgent jobs to build paths and footways through the wilderness of plants.
"After a few days everything was going smoothly. Each morning at seven o'clock a chattering crowd of natives stood in front of my bungalow, the men on the left, the women on the right. Tasks were allotted and work began. Paths were built, stretches of scrubland burnt, and sheds put up, in the shelter of which cages were to stand. One working-party fenced the land in with barbed wire, another built enclosures for deer and other animals and slowly everything took shape
At last the stage was reached at which the capture and purchase of animals could begin."
The alert reader may wonder about the presence of tigers in Randow's cages. They were there in transit as the compound was used as a base for gathering animals from around the region for eventual shipment to the Hagenbeck headquarters in Germany. Randow tells of how one day caged animals were to arrive by steamer from Bangkok for transhipment. When the ship anchored, Randow discovered that the man in charge of the animals had been taken ill with malaria and hadn't fed or watered the animals for a few days. He writes: "My first duty, therefore, was to provide all the birds and mammals with fresh drinking water. When this had been done we attended to the malaria patient and had him taken to hospital."
Fortunately the animals survived the journey and Randow recounts his animal residents were increased by several monkeys, as well as "ten black panthers, six almost fully grown tigers
" He also mentions a tiger sent from Madras as a cub "packed in a basket lined with banana leaves."
He recalls that while transporting by ox cart from Colombo harbour crates containing ten Asiatic black bears that had arrived by steamer from Bombay, the convoy was attacked by a leopard as it approached Dehiwala. To save his life, Randow shot the animal dead. Usually he preferred to capture animals or to buy them from locals who caught them and brought them to his verandah. By his own account, he had dozens of cages of such a variety of animals, that the compound became an informal Zoo. Rendow hired a Eurasian who spoke English to act as guide to the tourists who began to visit the Zoo.
In a review of the book published in the Chicago Sunday Tribune in 1958, Randow is described as "a German zoologist" with the comment that "some of the outstanding denizens of European zoos were collected by Randow." This overlooks his informal foundation of the Dehiwala Zoo by collecting so many creatures, from tiny turtles to hulking elephants, and creating an amenable environment where they could be viewed by the curious.
Randow eventually returned to Germany and the company created by John Hagenbeck called the Ceylon Zoological Gardens Company went bankrupt. It was saved by being taken over by the government and a superintendent put in charge. When it was made an autonomous department in 1946, the main aim was to satisfy people's curiosity and thus the Zoo was more focused on entertainment rather than conservation.
In his foreword to the 1957 guide, "Dehiwela Zoo, Ceylon" the then Minister of Home Affairs, A. P. Jayasuriya, proudly claimed the zoo is "well in the forefront of the most beautiful zoos in the world." The 168-page guide was compiled by the Zoo's director, Major Aubrey N. Weinman, who wrote, "We rather have the predilection for a small friendly Zoo of about 40 acres
to display the animals to their best advantage
by giving them their natural environment as far a possible."
Writing about the Zoo as it was 60 years ago, he states: "The Zoo can point with pride to well conditioned, healthy and happy looking animals; beautiful and colourful settings abounding in brilliant foliage and flowers; absolute cleanliness and absence of odour." A photograph of the Zoo in the book makes it seem pastoral and idyllic.
As well as giving a description of the 2,000 animals then in the Zoo, Weinman adds fascinating notes about the daily diet of those animals, such as "A seven-foot elephant consumes a 1,000lb of food a day" and "A rattlesnake or cobra has a small rat once a week." He lists the daily food requirements of the Zoo as including 90lb of bananas, 48 grasshoppers, 24 frogs, eight rats and 250lb of beef or horsemeat.
While today's visitors to the Zoo have little idea of how it grew out of an independent animal-exporting depot in the wilderness, because of the extraordinary efforts of John Hagenbeck and Heinz Randow, they can enjoy seeing animals not just from Sri Lanka but from around the world.