National campaign should target perverts on buses and trains, says official
By Anushiya Sathisraja
View(s):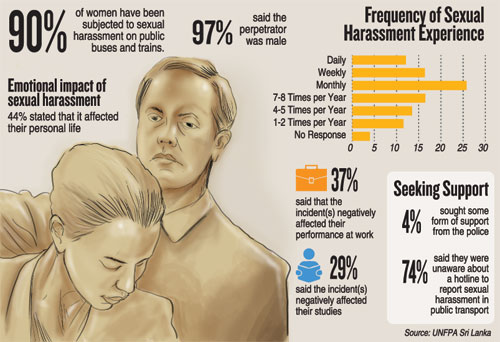 A national campaign is needed to tackle the pervasive culture of sexual harassment of women on public transport, an official says.
Such a campaign must include a national dialogue, efforts to raise awareness, and educating people on the consequences of sexual harassment.
Swarna Sumanasekera, who chairs the National Committee on Women under the Ministry of Women and Child Affairs, said campaigns must highlight that sexual harassment is a form of sexism and a criminal offence under Sri Lanka's Penal Code. Public service messages should emphasise "zero tolerance to sexual harassment".
Ms. Sumanasekera said sexual harassment in public transport, discriminates against women and girls, and affects them physically, psychologically, and economically.
Principles of gender equality should be taught to children early, she said.
A study by the United Nations Populations Fund, involving 2,500 people between 15 and 35 years of age, representing all administrative districts in the nine provinces of the country, show that more than 25 per cent of women are sexually harassed every month on public transport. Every day 12.1 per cent of women are reported being sexually harrassed. And every week, 16.4 per cent said they suffered.
But cases go largely unreported because women feel they would not be taken seriously, the Sunday Times learns.
The study also reveals that, 92 per cent of the respondents never sought help from law enforcement. It was also noted that 74 per cent were unaware about a hotline to report sexual harassment on public transport.
Ninety percent of women have been subjected to sexual harassment on buses and trains. But many were unaware that perpetrators can be punished because the offense is a crime.
The study identified 35 different actions that can be categorized as acts of sexual harassment, ranging from physical contact to verbal and visual actions of a sexual nature. The findings show that sexual harassment is largely physical.
The focus on sexual harassment conceals data that demonstrates that the largest proportion of violence against women take place in public places, usually on public transport.
Almost 30 per cent of students said their studies were negatively affected, while 37 per cent said that the incidents negatively-affected their performance at work.
The study also found that 82 per cent had noticed others being sexually harassed on public transport, but it is rare that other passengers in buses or trains intervene. The main reason for this, as noted in focus group discussions, was the 'unwillingness to take the risk of causing conflict' and 'fear of drawing attention to oneself'.
Kumudini Samuel, the Founder of Women and Media Collective, said the survey data were not a suprise. "The top most reason for the increase in sexual harassment, is the absence of fear of the law." She adds that laws and policies are needed in public transport and workplaces.
Police say perpetrators must be forced to change.
"We don't want anyone to change their behaviour to avoid being a victim," said the head of the Children and Women Bureau of the Sri Lanka Police L R Amarasena. "The only people who should change their behaviour are the perpetrators."