Central Bank briefs Cabinet on looming economic crisis
View(s):
Deputy Governor makes PowerPoint presentation on soaring domestic and foreign debt, Ravi more optimistic
Drought and mismanagement send CoL sky high; rice and coconut worst affected; grated coconut sold in grams in some areas
Special meeting of SLFP ministers and MPs at Negombo hotel with high security; CBK calls for expulsion of pro-Rajapaksa MPs
By Our Political Editor
Ministers on Tuesday discussed what portends to be a frightening economic situation unfolding in the country. With no substantial Direct Foreign Investment (FDI) coming in, despite numerous claims to the contrary by relevant ministers through media statements, the Government is facing a serious challenge in servicing its foreign and domestic debt. If all the projected plans to raise funds do not materialise on time, ministers have learnt that a crisis situation would become inevitable.
This comes amid a prolonged drought which. the Finance Ministry says, is the worst in four decades. It has affected agricultural production and pushed vegetable prices to a new high. Added to that is the shortage of locally grown rice forcing the introduction of an ineffective price control scheme. The inadequacy of the Government's machinery to cope with hoarders has led to them moving out from shops the varieties that are now more expensive. Like the Sinhala adage of being gored by a bull after a fall from the tree, the situation has been made worse by a sudden increase in the price of coconuts. These are commodities which are essentials in the day to day life of any Sri Lankan. The worst hit are poorer sections.
There have been credible allegations that a "rice mafia" has been controlling the market, hoarding stocks when prices drop and releasing them when they are high. At a recent ministerial meeting chaired by President Maithripala Sirisena, it was observed that some paddy mill owners who had bought stocks from the Paddy Marketing Board (PMB) had not released them to the market. The discussion came about following a briefing given by Rural Economy Minister P. Harrison, himself a paddy mill owner. Ministers noted that the Co-operative Wholesale Establishment (CWE) had taken action to mill the paddy stocks it had obtained from the PMB and sell it at a retail price of Rs 76 a kilogramme through its outlets. Yet, not all consumers go to CWE outlets. The Agriculture Ministry's silence over this major development has been deafening.
It was also observed at the ministerial meeting that after a request by President Sirisena, the Indonesia Government had consented to donate 10,000 metric tonnes of rice as "a relief measure to meet the existing drought situation." It has transpired that Sirisena had made appeals to several countries for help. Ministers noted that there is also the possibility of importing further stocks from Vietnam and Indonesia, if the need arose. This is in addition to rice being imported from India. Needless to say such imports will cost a large sum in foreign exchange, that too at a time when the Government is gearing itself to meet a debt servicing crisis.
It was decided by the ministers to appoint a three-member Cabinet Subcommittee to follow up on action on a number of issues. It is headed by Minister Sarath Amunugama and includes Ministers Rishad Bathiuddin and P. Harrison. Among the matters they will attend to are:
To sell the existing stock of 67,473 metric tonnes of paddy available with the PMB.
Take action against paddy mill owners who have bought paddy from the PMB and are hoarding such stocks without releasing them to the market. (Note: These terms do not specify what form of action could be taken against erring rice millers. Unless there is a State of Emergency, hoarded stocks cannot be confiscated).
To monitor the importation of a stock of 250,000 metric tonnes of rice by the private sector importers in terms of Cabinet approval already granted.
The sudden price hike in coconut has also been a cause for concern.
Plantation Industries Minister Navin Dissanayake told his ministerial colleagues in a memorandum, that coconut production from January to August 2017, compared to the same period last year, would see a drop of 13.9 per cent in terms of a warning from the Coconut Research Institute. According to the memorandum, desiccated coconuts contribute 16 per cent of the export income from that produce and earn about US$ 84,000 in foreign exchange.
The impact appears to be felt already with coconut prices which stood at an average of Rs 45 to Rs 55 for large fruits now rising to anything between Rs 75 and Rs 80. It was decided to lower commodity levies for palm and coconut oil for four months. Ministers believe this would mitigate the situation. In some areas, small time traders have begun to sell grated coconut by the gram. This will help lower income groups to make their regular pol sambol. Details of how coconuts and a variety of other commodities have gone up in price in the past three months appear in a story elsewhere in this newspaper.
It is amidst mounting prices and rising living costs that the ministers at their weekly meeting last Tuesday morning discussed the worrying economic situation. The presence of Central Bank Governor Indrajit Coomaraswamy and his deputy Nandalal Weerasinghe underscored the gravity of the situation. As Coomaraswamy gave his inputs, Weerasinghe made a PowerPoint presentation on Challenges in Managing Government Debt and the way forward.
Detailing out the Government's debt profile, Weerasinghe said that domestic debt has been sharply increasing over the years. In 2010 it stood at 4,590 billion, 2011 Rs 5,133 billion, 2012 Rs 6,000 billion, 2013 Rs 6,793 billion and 2014 Rs 7,391 billion. Provisional figures for 2015 had been placed at Rs 8,503 billion and 2016 Rs 9,429 billion. He said servicing of Treasury bonds in 2018 (Maturity and Proposed Issuances), which is challenging, will require Rs 945 billion though the feasible amount to be raised according to market sources is limited to Rs 720 billion. Servicing of Sri Lanka Development Bonds (SLDB), International Sovereign Bonds (ISB) and Project Loans which are US dollar denominated debt from 2017 to 2026 together with interest were also detailed out.
Finance Minister Ravi Karunanayake told his ministerial colleagues that there had been a considerable turnaround in the economy from the deplorable state that existed during the previous regime. He said even Fitch Ratings have declared that it was now stable after their earlier conclusion that it was unstable. He said that fiscal performance was on track in 2016.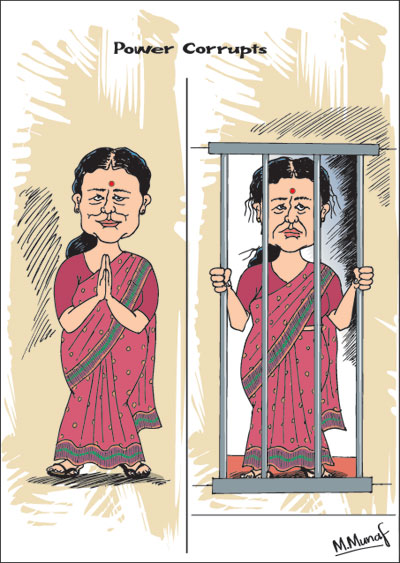 The International Monetary Fund (IMF) in Washington DC and the Ministry of Finance in Colombo have been in dialogue in the past many weeks over Sri Lanka's Net International Reserve (NIR) target, a matter over which the former is very concerned. The Finance Ministry has noted that the target was missed by US$ 411 million. This excluded the outflows from Government securities, the result of the US firm Franklin Templeton withdrawing funds. If that did not occur, the target would have been missed only by $ 38 million, the Ministry has pointed out. The IMF has suggested the purchase of $ 500 million from the market but the Finance Ministry fears that it would lead to a sharp depreciation of the rupee. The Finance Ministry has also made clear to the IMF that it would be imprudent to impose unjustified burdens on the people of Sri Lanka in the midst of the worst drought in four decades. A reluctance on the part of IMF to show flexibility could destabilise the Government, it has cautioned.
The IMF, it is learnt, has proposed an upward adjustment of interest rates to counter high credit growth; the normalisaion of US interest rates and the impact of the proposed exchange rate depreciation. The Finance Ministry has argued that both these measures are inappropriate now as there are no signs of over-heating in the economy. It has also pointed out that there is an output gap with growth below the potential rate, inflation within the prescribed band and the current account deficit has adjusted from 2.4 percent of GDP in 2015 to 2.2 in 2016. An IMF team was in Sri Lanka on a short visit this week. An expanded delegation is due soon, a Finance Ministry source said.
That mismanagement in some sectors has contributed in no small measure to the current economic situation is not in doubt. One such example is the management of the national carrier Srilankan Airlines which has been snapping up a substantial part of the country's financial resources. Just two weeks ago, it sought Treasury backing to raise US$ 125 million or more than Rs 18.8 billion. A sum of US$ 50 million has already been granted to the airline to offset revenue loss from the daytime closure of the Bandaranaike International Airport (BIA).
According to Srilankan Airlines, it had obtained a US$ 150 million credit facility from the Standard Chartered Bank in March 2014 after producing a Government of Sri Lanka guarantee for US$ 50 million. The last instalment has already been paid. Now, Srilankan has said it intends obtaining a new facility of US$ 125 million from the Consortium of Middle Eastern Banks (CMEB). The collateral for the loan, it has said, would be the revenue from operating Middle Eastern routes. Now CMEB is seeking a letter of guarantee from the Government. The proposed loan is being sought to "fund working capital and operational requirements" and "settlement of instalments of Aercap amounting to US$ 90.5 million." The money paid to the Dutch firm Aercap is compensation for the rejection of three Airbus A 350 aircraft which the previous Government had contracted to purchase. There has been no effort made so far to determine who was responsible for placing this massive order. Nor has the Srilankan management acted on different shortcomings highlighted in the Weliamuna Committee report. What is worrying financial experts is the periodic resort to Treasury for funds to operate a virtually bankrupt airline. The management has come in for severe criticism over delays in entering into a "public-private" partnership and for spending money on extraneous issues.
Last Tuesday's ministerial meeting was held in the absence of Prime Minister Ranil Wickremesinghe. He was away on a visit to Australia. At least seven different memoranda which he submitted were held back for the next meeting. They are:
The establishment of a Public Service Delivery Authority.
Signing of a loan facility with Hungarian Export-Import Authority Bank Pvt. Ltd. to finance Labugama and Kalatuwawa water treatment plants.
Improvement and rehabilitation of priority roads Project Two
Proposals for granting credit facilities for development of Small and Medium scale enterprises and generation of employment.
Signing of Letters of Exchange for grant aid from the Government of Japan to strengthen counter terrorism activity in Sri Lanka.
Obtaining a credit of Special Drawing Rights (SDRs) equivalent to US$ 75 million from the International Development Agency of the World Bank for financial sector modernisation project.
Procurement of Government securities trading infrastructure.
After the weekly ministerial meeting ended, President Maithripala Sirisena chaired a meeting of SLFP ministers and parliamentarians at the Presidential Secretariat. He announced that an apex body chaired by him would study and approve every other week proposals and recommendations made by the Cabinet Committee on Economic Management (CCEM). The CCEM is chaired by Prime Minister Ranil Wickremesinghe. The appointment of this apex body was revealed exclusively in these columns on February 12. He said the Prime Minister would be a member of this body besides other ministers whom he will nominate.
Until now, the CCEM forwarded the minutes of its decisions to the Cabinet of Ministers. It was incorporated in the minutes of the week's Cabinet meeting. These were brief accounts. For example, projects approved did not carry fuller details of costs including the terms under which they were being allowed. One such instance was how a radial tyre factory in Horana began construction work even before a contract had been signed by it with the Board of Investment. The project has now been put on hold. It has transpired that a minister involved in many a deal was responsible for this. Sirisena said the apex body will examine all details before granting final approval.
Sirisena then announced that former President Chandrika Bandaranaike Kumaratunga, who now heads the Office of National Unity and Reconciliation (ONUR) had arranged for a workshop. This was for Sri Lanka Freedom Party (SLFP) ministers and parliamentarians. It was to educate them on the state of the economy and the proposed Constitution. A bus was to pick them up from the Presidential Secretariat and take them to a hotel in an undisclosed location where the event would be held. It transpired that Central Bank Deputy Governor Nandalal Weerasinghe, who briefed ministers on Tuesday, was to give the briefing on the economy for SLFP ministers and parliamentarians. Jayampathy Wickremeratne, a UNP National List MP was to speak on the proposed Constitution.
There was a howl of protests over Wickremeratne's participation. One participant was to ask "why should we listen to a UNPer on Constitution making? We can get our own experts if necessary." The strongest critics were Ministers Susil Premajayantha and Faiszer Musthapha. Evidently Sirisena was unaware of the speakers when he agreed to Kumaratunga's request. Some participants pointed out that key ministers like Mahinda Amaraweera were abroad and another date would have to be fixed. Sirisena agreed that he would speak to Kumaratunga and revert. He said she was very useful and could not be allowed to be disappointed.
A compromise was then reached. The session will be confined entirely to the important subject, the country's economy and the worrying situation developing. It was decided that Jayampathy Wickremeratne will not be invited to speak. Even Deputy Governor Weerasinghe has spoken at a workshop organised by the UNP in a hotel in Beruwala. However, participants at the meeting said he was an official and did not represent a political party. There was also discussion at the meeting about the May Day rally. Sirisena said that the party's organisers in the districts should be summoned to Colombo for a meeting to plan for a greater May Day rally this year. He also directed that the party's Central Committee be summoned. This meeting is being regarded as significant since several issues including the party's position on the constitutional issues would be discussed and endorsed. Sirisena is also to brief them on the prevailing economic situation.
Sirisena spoke with Kumaratunga. Thereafter, arrangements were made for the ministers and MPs to travel to Heritance Hotel in Negombo for the event yesterday. Some had even arrived by Friday evening. The media were barred from entering the hotel premises. Security officials placed a barricade some two hundred metres outside to prevent them from entering.
Both the Governor of the Central Bank Indrajit Coomaraswamy and his deputy,. Nandalal Weerasinghe were present at the workshop. Weerasinghe gave three different presentations on – Fiscal Policy, Public Debt and a summary of the prevailing economic situation. The meeting that began at 9.30 a.m. went on till 2.15 p.m. at the crowded hotel ballroom.
Also taking part was former President Chandrika Bandaranaike Kumaratunga and SLFP Chief Ministers with the excetion of Mahipala Herath (Sabaragamuwa) who is away from Sri Lanka.
President Sirisena who wound up the meeting said that there were challenges that the Government had to overcome. Plans are underway for the two Central Bank officials to make a similar a presentation to UNP Ministers and MPs.
As for the SLFP, the decision made by its ministers with Sirisena in the chair last month, places them at great variance with the UNP over the proposed Constitution. They have decided that existing provisions with regard to the executive presidency should remain and Sirisena should be their candidate. They have also decided that the maximum form of devolution they stood for was the full implementation of the 13th Amendment to the Constitution. The UNP, on the other hand, is spearheading the process for a new Constitution in the Constitutional Assembly. Six different Steering Committees have brought out reports which were due for a three day debate in Parliament beginning January 9. This has been indefinitely put off in the light of the divergent views held by the two principal partners in the Government.
There was another major blow to the efforts when the "Joint Opposition" decided it would withdraw from the Constitutional Assembly. Its leader Dinesh Gunawardena told the Sunday Times "there is no purpose in our being there. The Government has not declared where it stands on the major issues." We are pulling out of all the six subcommittees. However, Gunawardena and Prasanna Ranatunga will remain. This is to monitor developments so they will know what is going on.
Bandula Gunawardena a front liner told the Sunday Times former President Mahinda Rajapaksa had agreed that they should quit. Gunawardena added "Our members will be informing the respective sub-Committees and start withdrawing in the next couple of weeks. The main cause for our withdrawal is the recommendation by the Subcommittee on Center-Periphery Relations. Recommendations by this committee chaired by Dharmalingam Siddarthan MP would pave the way of a Federal set up. We also see there are recommendations by this Subcommittee to make provision to obtain foreign assistance and even police powers, land and financial powers. This could lead to a federal set up. Therefore we feel there is a hidden agenda in making such recommendations.
"Eventually these recommendations will be brought together and the impression will be given that our members too were supportive of such proposals. That will reflect badly on us. Therefore we decided to withdraw. Before former President Rajapaksa left for Singapore, a meeting was held with the members of the parties in the Joint opposition. He was informed of the move. He too endorsed the decision. However, our representatives in the 21 member Steering Committee – Dinesh Gunawardene and Prasanna Ranatunga will remain. This is being done to make sure that we will be aware of the final proposals. Minister Lakshman Kiriella has said that he will obtain a two thirds support in Parliament for the new Constitution. We will create awareness among our SLFP members and prevent them getting a two thirds vote."
A two thirds vote for the passage of a new Constitution in Parliament, a precursor to a referendum, is now a clear impossibility with the departure of the "Joint Opposition" from the Constitution making process. This is notwithstanding efforts that are still being continued by some sections to bring about a rapprochement of the feuding factions of the SLFP, one backing Sirisena and the other Rajapaksa.
Amid this, onetime President Chandrika Bandaranaike Kumaratunga has called for the sacking of the SLFPers supporting Rajapaksa. She said barring a few, others were "murderers and crooks" and declared that the SLFP (pro Sirisena) should make a "clean break" from them. She was addressing the Foreign Correspondents Association this week. When asked whether such a move would not strengthen the UNP, she replied she did not think so. She opined that after sacking, if the SLFP carried out a campaign, the party would win the confidence of the people. She said there was no room for a third political party in Sri Lankan politics so they may draw crowds at meetings. This was the case even with the party of her late husband Vijaya Kumaratunga. Thus, she said, there would only be two major political parties, the SLFP and the UNP.
It will be an uphill task for the Government to reverse the rising trend in prices, particularly essentials that have a crippling effect on middle and low income groups. Their burdens, there is no gainsaying, would increase should the economic situation take a bad turn. Drought no doubt has dealt a striking blow. That is only half the story. The other half — it is the result of mismanagement, growing corruption and the absence of a hands-on approach to issues. One need hardly say that local council elections and even the Provincial Council elections that are due, if they are held, would be under cloudy circumstances for the ruling party. On the other hand, once the delimitation report is gazetted, there are groups waiting to go to courts to challenge some of the demarcations. This, no doubt, will be time consuming.
Added to that is another matter. The Legal Draftsman has formulated 27 diferent amendments to election laws relating to local councils. It was sent to the Elections Commission on February 7. Moving amendments in Parliament, no doubt, would entail more delays.