Colombo Blues outplay Kandy Reds 6 tries to 4
Capt. Arjuna Ekanayake Memorial Tag Rugby Championship
View(s):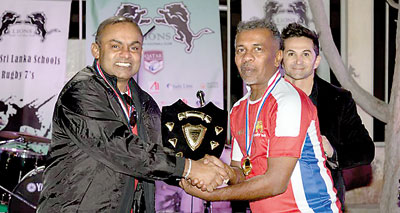 Colombo Blues outplayed Kandy Reds 6 tries to 4, to win the Capt. Arjuna Ekanayake Memorial Tag Rugby Championship Trophy in a thrilling final at the inaugural Tag Rugby Fiesta organised by Lions Rugby Football Club in Qatar. The eventful day with schoolboy and club Rugby players of Sri Lanka, now based in Doha, Qatar, participating, was held at the Iranian School pitch at Abu Hamur last Friday.
There were 3 games in all. In addition to the Kandy Reds vs Colombo Blues encounter, the Tag Rugby Fiesta also featured the much looked forward to battle between two of the toughest Sri Lankan Tag Rugby clubs in Qatar, the Hurricanes and the Blue Thunders. This was followed by a veterans' game for the Over-35s, between Kandy Reds and Colombo Blues, before the main encounter.
In the main game between Kandy Reds and Colombo Blues, both teams demonstrated even skills and the game turned out to be a thrilling battle. Kandy Reds drew first blood in the very 1st quarter. However, in the 2nd quarter, the Colombo Blues equalized. Eventually, with some scintillating moves and tactful play Colombo Blues won by 6 tries to 4.
The first game, though expected to be a tough contest, saw the Hurricanes win convincingly, thrashing Blue Thunders 4 tries to 1. In the second game, Kandy Veterans recorded a thrilling 4 tries to 3 victory over Colombo Veterans in a game that went down to the wire.
The organisers, Lions RFC, is a premier Rugby club in Qatar that participates in major competitions in the Gulf. The inaugural Tag Rugby Fiesta was organised to build camaraderie amongst the Sri Lankan Rugby playing community based in Qatar. The post-presentation celebrations commenced with live music followed by entertainment and dinner.