State sector manpower workers in limbo
View(s):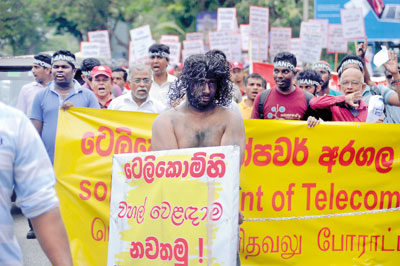 Despite political promises during elections and continuing protests and strikes, issues related to Manpower Workers (MW) stand still in the backdrop of Government efforts to create new job opportunities.
"The concept of MW that was started a few years back, is now well established in the country, especially in the Free Trade Zones. The lack of security in their jobs, salary anomalies, the inability to make long term plans and the lack of social recognition, are the key problems related to MW," social activists say.
"One of my friend's girlfriend changed her mind after she realised he was a MW driver, and not a permanent employee in the company", an MW of more than six years in a leading company said.
Although they work for well reputed companies, certain MWs are unaware that their employer, for all intents and purposes, is not their employer.
"It is true that, there are wage discrepancies between MWs and permanent workers doing the same job, but we fight for the social recognition we will gain by making us permanent, not the salary hike," said All Ceylon Telecommunication Employees Union President Nimantha Wijesuriya, commenting on society's lack of regard for them.
"There were instances when school authorities rejected Grade 1 admissions merely because the parents were manpower workers" said Mr Wijesuriya, expressing his concerns.
"The recent struggle started by the 2,100 Sri Lanka Telecom (SLT) MWs on December 26 last year, is still under way for more than 40 days, although they have had many rounds of discussions with the officials regarding the matter," the Union said.
MWs are recruited via recruitment agencies, usually called manpower agencies, not directly by the company itself, which is a strategy practised globally by businessmen, to cut cost in human resource management and to reduce the responsibility borne by the companies regarding the employees.
MWs were mainly hired by private companies for low-skilled jobs, but later spread to the public sector very quickly.
Manpower workers were mainly engaged at the Ceylon Electricity Board (CEB), SLT, Water Board, Sri Lanka Engineering Cooperation, Cultural Triangle and State Banks.
National Organiser of the Centre to Make Permanent, Manpower Workers (NCMPMW) Ranjan Jayalal said that, as a result of the collective campaigns organized by the trade unions, a significant number of MWs had been absorbed into the permanent cadre of some of the above institutes.
"The SLT trade unions work according to different political agendas. They should work together, forgetting political beliefs, like at the CEB, where 6,759 MWs were made permanent," Mr Jayalal emphasised.
He said that it is miserable to see even graduates work as MWs.
"We strongly believe the MW system should be abolished. It is no different to the slavery system that prevailed in ancient Rome," he noted.
All Ceylon Telecommunication Employees Union stated that 12.5% of an MW's monthly salary is deducted, which they believe is the commission given to the agency they were
recruited by.
"There's a huge salary anomaly. Permanent colleagues sharing the same work receive a salary 4 to 5 times of what we receive. This is totally unfair. Telecom is under a mafia of the officials," a manpower worker said.
He also levelled allegations against SLT officials, saying that, although it had an adequate number of workers, the authority had recruited workers on a contract basis, who were employed by engineers to make profits.
Meanwhile, a senior SLT officer involved in the discussions said, "These workers are under Human Capital Solution (HCS)- a fully owned subsidiary of SLT, where their jobs are secure. They are entitled to all the benefits including EPF and ETF. The workers are labelling themselves as MWs, but they are not," he said.
Commenting on the 12.5% deduction on the salary, he said, "It is for day-to-day management expenses and to provide other benefits such as for their medical expenses."
Minister of Telecommunication and Digital Infrastructure, Harin Fernando told the Sunday Times that, as the Minister, he can't directly interfere in Management level decisions.
"As the Management is responsible to the Company's shareholders, they take decisions in keeping with the financial position of the Company" he explained.
He further stated that these MWs would be absorbed gradually into the permanent cadre within the next three years.
"There are issues with the qualifications of some of these workers as well. Permanent staff will not be happy if we recruit these low qualified workers, violating standard procedure. So, SLT intends to give them the relevant training at SLT expense and make them qualified. We intend to finish absorbing these workers into SLT by 2020," he said.
Black for White to abduct in Yahapalanaya eraThe All Ceylon Telecommunication Employees Union Vice President Sujeewa Mangala who was reported missing since last Saturday, was found Wednesday early morning in Ingiriya.

Mr Mangala told the Sunday Times he was abducted by an unknown armed gang near Palanwatta, Maharagama, and was threatened to stop union activities and the ongoing strike.

"While I was returning home Saturday night, a black coloured van followed my motorbike and blocked my way. Three men carrying pistols came out and two of them forced me into the van. There were five men inside the van, with their heads covered with black cloth, and I couldn't identify anyone." he revealed.

He had been taken to a dilapidated house and was locked in a dark room alone for three days. "They provided my meals on time and I was not assaulted, but was warned against continuing with my Trade Union activities, he said

On Tuesday night he was again brought back near to Ingiriya in a vehicle and pushed out.

"The van sped off after pushing me out. I went to the Ingiriya Police Station to lodge a complaint at about 1 am, from where I was sent to the Piliyandala Police station and finally to Maharagama Police where for 4 hours my statement was recorded," he said.

"I have been working as a MW for 17 years. I was threatened to refrain from engaging in this union action, but until we get a proper solution I will fight," he stressed.

Further investigation on the abduction is being conducted by the Maharagama Police, who declined to comment on it.