Scorched earth: Farmer misery worsens
By Anushiya Sathisraja
View(s):
Hundered of farmer families have abandoned their lands seeking refuge in dirt camps, their financial debts have increased, and there is not much hope for heavy rains. Tales of crop failures abound as the drought continues to cause misery.
The low rainfall across the island has severly disrupted hydropower generation, domestic water supplies, and agriculture.
According to the Disaster Management Center, 581,110 people have been bady affected in the island. More than 45,000 alone are suffering in the Puttalam district.
Pallama, Puttalam, Karuwalagsawewa are the worst hit areas. In Pallama, 9,608 are suffering, Puttalam is home to 8,174 badly affected, and in Karuwalagaswewa there are 6,670 affected. In Moneragala, 38,828 people are suffering.
Irrigation Department Director-General, S S L Weerasinghe, said efforts are being made to create more water reserves, but that it was no easy undertaking because inundating forest land means wildlife habitat would be impacted.
The Water Board said demand for drinking water has increased by 15 per cent and 2 million cubic metres of water is provided every day in 200 water tankers.
Most of the main irrigation tanks are at 27 per cent of their capacity, while 220 medium sized tanks are at 30 per cent capacity.
Secretary of the Mahaweli Authority, Udaya R. Seneviratne, said water sources and irrigation tanks in the Mahaweli sector have shrunk below 50 per cent of capacity. As a result, distribution of drinking water gets priority instead of agriculture.
"As of now, only 45 per cent of the land used for agriculture has been cultivated in the Mahaweli sector. Of that, 35 per cent includes rice, while the remainder includes other organic food products. There areas will get priority with water from irrigation tanks in the Mahaweli sector and not new cultivations," he said.
Ceylon Electricity Board, Engineers Forum, president, Athula Wanniarchchi, said as an emergency measure, 60 per cent of electricity will be tapped from the private sector.
He reminded the public to conserve electricity through measures such as setting regulators of air-conditioners to 26 degrees Celsius.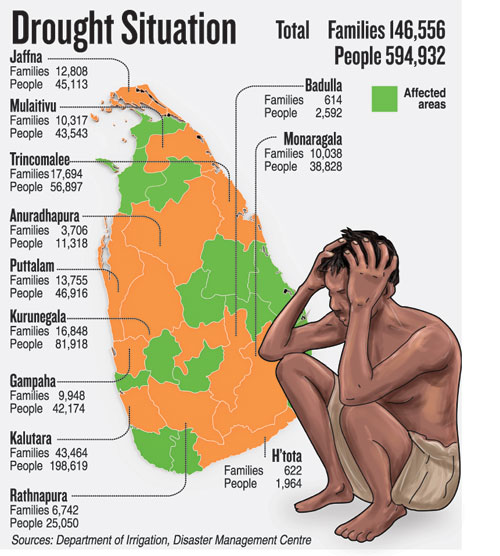 DMC spokesman, Pradeep Kodippili, said officials are "working together with the Ministry of Irrigation and Water Resources Management to provide drinking water to the affected families".
"Not surprisingly, the minor tanks have almost completely dried up, while the water levels of major tanks are receding fast. In Ampara, where there are eight major reservoirs, storage has dwindled to 20 per cent and has been declared to be at a critical level," he cautioned.
Farmer, S D Piyadasa, said growers "were supposed to receive water from the Maheweli River. But, we got water only for a day in the past two weeks and it's insufficient to save the paddy".
Dambulla farmer, S M Ratnayake, 63, complained: "There is no water back home. What are we farmers going to do? This is the worst situation I have experienced in at least 20 years. Nobody wants to leave their homes and sleep under the open sky in a city."
Balasooriya Sarath, a farmer from Polonnaruwa, alleged that there was sufficient water in some tanks, but what remained was being used for power generation. He said Mahaweli project officials were giving priority to electricity generation rather than for growing rice.
There is enough water in large reservoirs such as the Parakrama Samudraya, Minneriya and Kawdulla, but officials were preserving the water, he noted.
District Secretaries (Government Agents) in these areas are struggling to hire water tankers provide plastic barrels, and distribute dry rations and prepared food.
With more than, 45,000 people badly affected in the Jaffna district, an official at the District Secretary's office said water in major irrigation tanks had receded to 28 per cent of capacity.
He revealed that 35,500 hectares of rice had been cultivated out of an estimated one million hectares in the past rice-growing season. He said 49,258 hectares were to have been used for growing vegetables but only 30,900 hectares were cultivated.
"Every day, 35,000 litres of water is distributed by 14 water tankers. Unfortunately, villagers in rural areas do not have wide-mouthed 50-litre or 100-litre barrels to store water," said Hambantota District Secretary Sumanthi Edirisuriya.
Meteorology Department Director (Forecasting), Sarath Premalal, said heavy rains over catchment areas cannot be expected. There will be irregular, intermittent showers during the day and night.
Mainly fair weather with colder nights and mornings can be expected over most parts of the island he said, adding that, misty conditions can be expected in some places in the Western, Sabaragamuwa, Central and Southern provinces in the mornings.