Let us live in a simple way and thus be free!
View(s):

Those tied down by any affiliation cannot be free. Since Sri Lanka was subjugated by various colonial powers, a struggle was necessary for our independence. We who were beaten in war and by intrigue got our independence in 1948. We should be grateful to all who worked and struggled for this. The Lord Buddha has preached the value of a life that is free. In his sermon, he explains how to make life more meaningful. I need to thank those who helped me to publish my articles in the Sunday Lankadeepa, Deshaya and the Sunday Times to encourage good living. I know the readers showed interest in these articles, and I am thankful to them. My blessings are with them.
I believe my articles based on simple village life are widely read. I wish to thank the readers, all those who appreciated or even criticised them and all those who gave me new ideas. Till the next Independence Day I have decided not to write anything based on these lines. I wish to convey my blessings to all.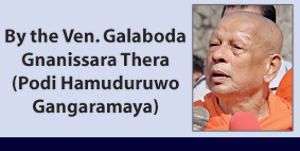 All those who took some trouble to rectify the economy and those who were brave enough to do so should have our blessings. The country's debt situation is hampering our development. It is like the local simile of drawing the water and breaking the pot while doing so. Though criticisms on these may be useful for the future, we have to solve our problems gradually without animosity or anger.
Simple living will always safeguard the future of the country. If we do not get used to a simple life we may not be able to prevent greater dangers in the future. In other countries, their economies differ from ours. Even our climate is different. We are still not accustomed to living according to our climate. We could wash our clothes by hand even on a rainy day and hang them inside to dry by morning. In other countries, they need washing machines to do this. From this example I want to stress the need for living without getting into debt.
From our philosophy, we have been educated to lead simple lives, without getting into debt. However, with our unwanted cravings and laziness, we have lost our liberty. We should sell even a valuable article that we possess, settle our debts and go for simple living. Otherwise our future would be bleak. Today most have forgotten how we survived eating Alocasia (Habarala) yams. We often want to eat foreign food, wear foreign clothes and buy vehicles unsuitable for our use. The time has come for us to get together even for a limited programme of work.
In 2004, we were hit by a tsunami. If those in power had wisdom instead of being guided by evil inclinations we could have got out of the debt trap then. We lost that opportunity. Even today we only go on arguing without realising what will happen to us in the future. According to the teachings of the Lord Buddha, the greatest wealth is good health.  There is another saying that those who take up the sword will die by the sword. This is another result that some experience. If we think of peace and unity and work with trust, we can achieve and live in a just and peaceful society.  If you require any help, an idea or even a blessing please write to: Sahana Sevaya, Gangaramaya, 61, Sri Jinarathana Road, Colombo 02. Telephones: 2435169, 23227084. Those who seek family unity and simple living, please be active.
Our plans are focused to propagate indigenous medicine and help in the cultivation of local varieties of rice, so that our people can have access to a plate of good wholesome rice. We can lay a new foundation for a united, tolerant, new generation of good people.
Unless I have to write something important, I wish to declare 2017 as my Year of Silence.  I was born in a far away village, entered the Sasana at 10 and had to take over the guardianship of Gangaramaya at 16. I was guided by my teacher and the Chief Incumbent, helped by the devotees of the temple and others from various faiths. I have escaped accidents and even the tsunami. I am committed now and will continue to be committed to my mission in life. I am completing 75 years of age and I am happy.
I only need a little rest and freedom now. I am happy that I have the opportunity to live in pleasant surroundings where anyone can meet me and I am able to help anyone and to bless them. I wish to thank the clergy and the devotees who help me. I am reminded of the saying of the great Guttila. He said that in old age he is not able to perform as he used to. This is a good advice to the elderly. The elderly people require good sleep and rest. We can look back at our past and be happy. If we are happy we can cast away darkness.  The Lord Buddha taught "Appamado Amata Padang". We must cast away all attachments, desires and live according to the teachings of the Great One. May the blessings of the Triple Gem be on you!