Twenty20 not for Schoolboy Cricketers: SLSCA
By Naushad Amit
View(s):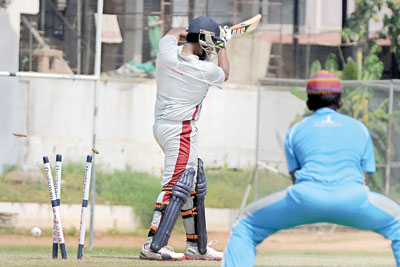 With the intention of easing on their heavy load of fixtures schoolboy Cricketers engage annually, the Sri Lanka Schools Cricket Association (SLSCA) has decided to scrap the Inter-School Twenty20 Tournament effective this season. SLSCA Secretary Kapila Jayalath confirmed to the Sunday Times that the SLSCA Executive Committee unanimously decided at a meeting held recently.
"We have understood that Twenty20 Cricket does not support the game in any way. It may provide excitement and thrills youngsters look forward to. But, in the long run, it's not the best for up and coming Cricketers, who are the future of Sri Lanka Cricket," Jayalath said.
The SLSCA started a Twenty20 competition 5 years ago, during the 2012/2013 season, to its already busy Under-19 Inter-School Tournament, which has a strong following, locally and globally. The SLSCA already runs, amidst obstacles, its ever growing Under-19 Inter-Schools 2-day competition with over 200 schools in the fray. In addition, the SLSCA conducts a 50-Over tournament according to Group standings of schools in the League Tournament.
"Hence, the number of games each school plays in all 3 formats is huge. Schoolchildren find it difficult to cope with such a big number of games during a season. In addition, Cricket is a co-curricular sport and has to be maintained accordingly, where schoolchildren will be able to engage in both– Studies and Cricket. We consulted Specialists before taking this decision," Jayalath added.
The SLSCA had discussions with senior officials of the Ministry of Education and Sri Lanka Cricket (SLC) prior to deciding to scrap the Twenty20 version from the Inter-School calendar. Both, the Ministry of Education and SLC, have raised similar concerns as the SLSCA, on the contribution Twenty20 Cricket makes towards school Cricketers. It's a rare instance where the Ministry of Education and SLC have firmly supported an SLSCA proposal.
"This is one topic where we all agreed. We clearly understood that Twenty20 cricket does not add quality to the youngsters' style of play. Already, the 2-day and Limited-Overs competitions give them a busy season, while the Twenty20 only brought their discipline on the game towards a disruptive level. It's not a healthy sign for the future of Cricket in Sri Lanka," Jayalath elaborated.
Of late, Sri Lanka Cricket has failed to harness promising schoolboy talent, despite overwhelming performances by schoolboy Cricketers at Inter-School competitions. According to Jayalath, a school team engages in a minimum of 12 and up to 20 plus games during a season. Most schools have traditional fixtures that have been played for ages. However, since the SLSCA adopted a tournament structure where 36 top teams compete in Division I in 4 Groups, and nearly 190 teams compete in Division II and III segments, the number of games were restricted. According to the tournament Groupings in Division I, a school is required to play 13 tournament games, which could go to 16, with the addition of 3 traditional matches. Yet, some top Cricket-playing schools engage in around 23 games, including their traditional 'Big Match', during a season.
However, according to a former office bearer, who is also a veteran in School Cricket administration, the Twenty20 competition was never considered official during the 4 seasons it was held. He further elaborated that the competition was conducted purely for camaraderie among youngsters.
"It was an accepted fact that Twenty20 Cricket is all about entertainment. The tournament was conducted by the SLSCA as a winding up to a School Cricket season with entertainment and excitement. There was nothing good or bad about it, but the schoolboys looked forward to the Twenty20 competition, because it was held within a few days in a carnival atmosphere. As there was no official recognition, it's high time the present SLSCA recognise it or drop it, rather than having an unrecognised competition annually," the source stated.