Pakistani, Indian, Bangladeshi Cyclists invited for the Tour
By Susil Premalal
Tour De Air Force
View(s):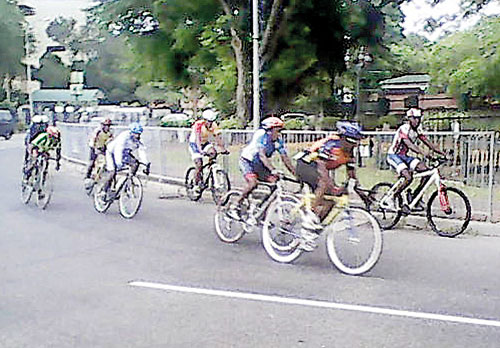 Three foreign teams- Pakistan, India and Bangladesh- have been invited for the first and main event of the Sri Lanka Cycling Calendar- Tour De Air Force- to be held from March 3-5, from Colombo to Jaffna in 3 Stages. The 3-day event, held for the 18th time, is organised by the Cycling Union of Sri Lanka Air Force (SLAF), to mark the 66th anniversary of the SLAF.
Entries close on February 15. This is another event for Cyclists to vie for the Sri Lanka National Cycling Pool to take part in the Commonwealth Games in the Gold Coast in Australia and the Asian Games in Jakarta, Indonesia, in 2018.
"The total distance of the Tour De Air Force is 202 km. Stage 1 of 129 km will be from Colombo to Puttalam on March 3. Stage 2 of 131 km on March 4, will be from Puttalam to Vavuniya. Final Stage 3 of 142 km on March 5, will be from from Vavuniya to Jaffna."
"The Women's event of 70 km on March 5, will be from Kilinochchi to Jaffna."
"The start will be from opposite SLAF Headquarters in Colombo, and will finish at the Duraiyappa Stadium in Jaffna. This is the second time an SLAF race is finishing in Jaffna."
"The Men's overall Champion will receive a cash award of Rs 400,000, with the 1st Runner-up receiving Rs 300,000, while the 2nd Runner-up will receive Rs 200,000."
"Cash awards will also be made to 3rd to 10th place. Stage winners too will receive cash awards." Secretary- Cycling Union of SLAF, Group Captain Kithsiri Leelaratne, told the Sunday Times.
"The Tour De Air Force was inaugurated in 1997. Except for 1 year and the years when the civil war was in progress, the competition has been held in all the other years.
"Last year, 184 local Cyclists and 18 foreign Cyclists took part in the event. This was the largest number of Cyclists to take part in a local event. As this is a Commonwealth Games and Asian Games trial, this time too a record participation is expected," concluded Group Captain Leelaratne.