Nipun, Miflal move ahead with good individual performances
School Cricket Rankings 2
View(s):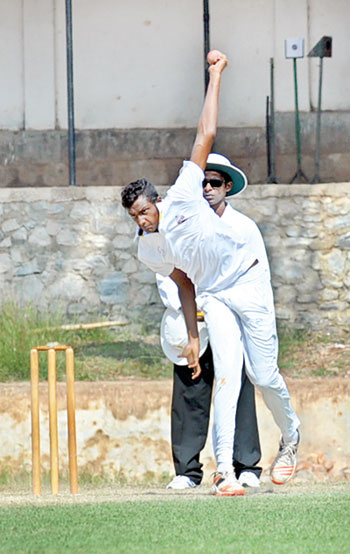 Nipun Dhananjaya of St. Joseph Vaz College Wennappuwa stole the limelight in batting while Ameen Miflal of St. Peter's College dominated the bowling in the updated version of the Sunday Times-Batsman.com Schoolboy Cricketer Rankings.
Both chart-toppers have managed to perform well during the ongoing Singer Inter-School Under-19 Division I Cricket Tournament and have managed to topple those who led the initial rankings from two weeks ago.
Dhananjaya a left-hand bat who was ranked second a fortnight ago raced to the top with a tally of 741 runs in eight matches and 14 innings. However his average has come down from 72.80 to 61.75 during this period. At second place is Pathum Nissanka, a right-hand batsman from Isipathana College.
Nishan Madushanka of Moratu Vidyalaya surges to the top from below and ends up at third with a tally of 592 runs in seven games and 12 innings. The right-hander maintains a healthy average of 49.33. St. Sebastian's College right-hand batsman Tharusha Fernando is another to reach the top 10. He settles down at fourth place with a tally of 588 runs in 10 games and 13 innings. His average reads as 49.00.
Dulaj Ranatunga, the right-hand batsman of Maliyadeva College is another inclusion to the top 10 as he takes up the fifth position easily. Ranatunga has accumulated 583 runs in eight games and 12 innings with an average of 53.00. Trinity College allrounder Sanogeeth Shanmuganathan moves up a slot to sixth position. The left-hand batsman has showed his versatility with a batting average of 38.07 after accumulating 571 runs in 11 matches and 16 innings. Hiruna Sigera of Presidents College is one of the few who has managed to safeguard his position in the top 10 batting rankings. The right-hander was placed third the last occasion rankings were released but presently he sits at seventh place. Udara Ravindu of Gurukula Maha Vidyalaya, Nipun Samarasinghe of St. Joseph's College and Lasith Croosepulle of Maris Stella College are the remaining names in the top 10.
Ameen Miflal, the left-arm leg-spinner of St. Peter's College toppled Hareen Buddhila from the top position of the bowling rankings. He moves up from third to first with a tally of 59 wickets while Buddhila, of St. Aloysius' College Galle, drops down to second position.
Chathura Obesekara, another Peterite, races from nowhere came to the third position with a tally of 47 wickets as Dyan Vimukthi of Lumbini College drops down two slots to fourth. Dhananjaya, who tops the batting rankings, comes in at fifth position with a tally of 40 wickets.
Harin Cooray of St. Joseph's and Pavith Ratnayake of S. Thomas' College are among those who manage to remain in the top 10 from the last reading. Cooray is placed at sixth ahead of newcomers Dellon Peiris of S. Thomas' and Lahiru Dilshan of Isipathana and ahead of Ratnayake, who is at tenth.
The ranking is an initiative of the Sunday Times in collaboration with Batsman.com to publish the Top 10 ranked players in batting and bowling in the ongoing Inter-School Under-19 Division I Cricket Tournament. The rankings, totally based on statistics released by the Sri Lanka School Cricket Association (SLSCA) to its official stats provider Batsman.com, will be published in the Sunday Times every fortnight. These rankings have the highest possibility of changing places before the next rankings come out in two weeks, as the official stats provider Batsman.com is updating its base with the up-to-date scorecards, flowing in from schools.