Havelocks takes a step closer
View(s):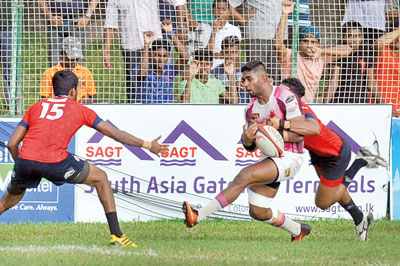 A second half burst by title contenders Havelocks SC set their path towards the crown intact with a robust 31-10 victory against a worn-out CR and FC unit in their second round fixture of the Dialog Division 'A' Inter-Club Rugby League Championship at Longdon Place yesterday.
The first half and the halftime scores would definitely give a contrasting picture of the whole affair but last week's 20-24 defeat at the hands of Army SC may have still in the back of the minds of the CR team. That outcome may have given them the grit to run full throttle, which did happen during the first half despite some scrappy moves. However the halftime was in favour of the Havelocks, who enjoyed a slender one point lead of 11-10.  But after the turnaround the visitors took the whole grip, to walk away easy winners.
Havies scored from three tries, two conversions and four penalties, where their placekicker Dulaj Perera turned out as the most valuable player of the day. His boots added 16 points from the Havies total. The Red Shirts did all their scoring during the first half off a converted try and a penalty.
CR started off a aggressively but missed out on a few scoring opportunities early when fullback Riza Mubarak failed a penalty kick in the midst when their lock Gayan Jayamanne was sitting out sin-binned. In spite of that, winger Kavindu Perera, managed to grab a clean offload from his blind Mohamed Sashan, who cleared over 35 metres with a good run before giving away the ball, and give CR the honour of scoring first. Mubarak added extra points.
The hosts could not enjoy their lead for long as Dulaj Perera put through two vital penalties within a span of ten minutes to cut the deficit by a point 6-7. Just a minute before CR had to play with a man less, when No.8 Omalka Gunaratne was sin-binned, Mubarak put through a penalty to put CR further in front by 10-6. But CR's desperation to penetrate their opponent's line turned on them when Havies made appropriate use of the advantage to score an unconverted through flanker Sudarshana Muthuthanthri and take the breather 11-10.
Almost ten minutes after the resumption was a total droop by both sides, until Perera got an opportunity to put Havies further in front through a couple of penalties within a short span. Their lead of 17-10 was further bolstered when substitute hooker Liston Flatney scored halfway through the second session. Perera's conversion ensured Havies lead go farther 24-10. The final nail of the coffin was put by Sudam Suriyabandara, who took a quick tap to land near the post as Perera added extra points to help Havies gain a convincing 31-10 win.