Dockyard bounce back with comfortable win over ComLeasing
MCA 'C' Division 50-Over League 2017
View(s):
Colombo Dockyard Ltd (CDL), who suffered a humiliating 294 runs defeat at the hands of LB Finance (LBF) 'B' on Thai Pongal day, got the wind back on their sails, as they overcame Commercial Leasing Co. (CLC) by 51 runs in the 'BMW /Hyundai' Trophy, MCA 'C' Division 50-Over League Tournament 2017, continued last weekend.
The match was a low-scoring affair, dominated by two bowlers from each side taking charge of proceedings. CLC leg-spinner Arjuna Perera (10-3-30-5) and CDL paceman, N.G.W. Ruwan Kumara (10-4-15-6)
Arjuna Perera's effort restricted CDL to 137 runs in 41.3 overs, while Ruwan Kumara did even better to skittle CLC for a paltry 86 runs in 27 overs.
LBF 'B', after 3 wins on the trot, crashed to their first defeat when Nations Trust Bank (NTB) 'A' beat them by 22 runs on the D&L Method.
Standard Chartered Bank (SCB) registered their 3rd successive win with a comprehensive 87 runs win over debutants, DHL Cement.
SCB's dependable all-rounder, Aruna Henrickson continued his brilliant form, as he cracked a 107-ball century, with 3 sixes and 12 fours.
Earlier on, Henrickson scored 98 not out against Airport & Aviation (A&A), and bagged 4 for 36 against JL Morrisons (JLM).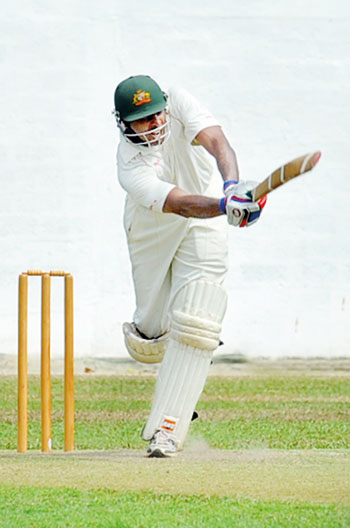 A remarkable bowling effort by Sachin Bandara (9.3-2-39-5) and a fighting half-century by S. de Silva (65) for Commercial Credit 'B', were overshadowed by LBF 'B's Gehan de Silva's 73 in 95 balls with 1 six and 6 fours and Ranitha Liyanarachchi (10-5-37-4), to give LBF 'B' a convincing 77 runs win.
The tournament will continue this weekend with a card of 5 matches. Â Â Â - LR
Weekend Results
LBF 'B' beat Commercial Credit 'B' by 77 runs
LBF 'B' 240 (48.3) (Gehan de Silva 73, P. Fernando 46, Ranitha Liyanarachchi 35; Sachin BAndara 5/39, T. Dayananda 2/33, A. Dias 2/37)
Com. Credit 'B' 163 (36) (S. de Silva 65, A. Dias 32; Ranitha Liyanarachchi 4/37, C. Gunasinghe 2/37, Y. Samarasinghe 2/33)
SCB beat DHT Cement by 87 runs
SCB 251 (49.5) (Aruna Henickson 100, S. Siriratne 50, H. Rajapaksa 32; S.U. Ishak 3/56, T.K.D. Bandara 3/46)
DHT Cement 164 (35) (T.K.D. Bandara 34; S. Jamion 3/30, R. Perumal 2/29, Aruna Henrickson 2/27)
NTB 'A' beat LBF 'B' by 22 runs on the D&L Method
NTB 'A' 241/8 (50) (L. Amaratunga 66, T. Ariyawansa 33, N. de Silva 31; Y. Samarasinghe 3/37, C. Ranasinghe 2/40)
LBF 'B' 153/6 (36) when rain halted play (S. Dalpadado 41, C. Wathuregama 30; N. de Silva 3/40)
CDL beat CLC by 51 runs
CDL 137 (41.3) (C.D.K. Atapattu 37; Arjuna Perera 5/30, M. Sanjaya 3/11)
CLC 86 (27) (N.G.W Ruwan Kumara 6/15)
JLM beat A&A by 6 wickets
A&A 142 (41.2) (M.E. Kodagoda 41, D.K. Sumanasekera 30; H. Kularatne 2/24, K. Abeysinghe 2/26, A. Rajakumara 2/28)
JLM 144/4 (32.2) (H. Kularatne 73 n.o.; N.E. Kodagoda 2/17)