Sri Lanka needs $1.5 bln to tackle impending drought crisis
By Quintus Perera
View(s):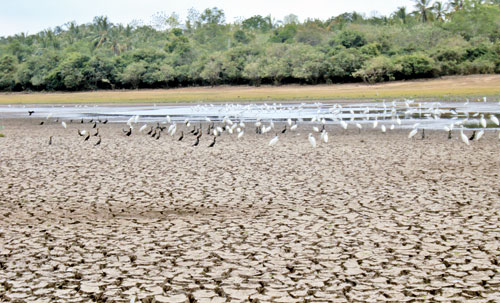 If the drought continues as predicted, it would be disastrous on the  economy with water for agriculture available only till March, creating problems of a scarcity of water, electricity and food shortages.
These alarm bells were sounded by Lakshman Yapa Abeywardena, State Minister of Finance when he addressed the launch of Construction Expo 2017 organised by the Ceylon Institute of Builders (CIOB) held last week in Colombo.
The exhibition will be held from June 2 to 4 at the BMICH.
Mr. Abeywardena said that it is estimated that the Government would need around US$1.5 billion to meet the contingencies attributed to this impending climatic disaster with  international organisations like the UN pledging around US$500 million, which is still short of the need.
In this situation, Government would have no option other than pull out the funds allocated for other activities. He said that the scarcity of water and electricity would also affect the construction industry.
Speaking of the construction industry, he asserted that the construction industry in Asia is heavily expanding and moving forward. Sri Lanka too is striving to keep pace with that trend, while the industry is adopting new environmental and safety trends. Specially, he said there was a big change in the construction industry in Sri Lanka after the war.
He pointed out that in 2014 the construction industry contributed 7.2 per cent to the GDP but it has declined to 6.4 per cent in 2015 due to the elections which is normal. However he pointed out that the industry has gathered momentum and during the first three quarters of 2016 it has increased to 6.9 per cent. The target for 2017, he indicated is 12 per cent.
Dr. Rohan Karunaratne, Chairman, CIOB said that they are working towards a 'Green Sri Lanka' – Green Concept in the construction industry.
The association is conducting 'Construction Expo' for the fifth consecutive year. He said that it gathers momentum year after year making it the country's premier building construction exhibition on machinery, technology supply and services. He said more and more companies are interested in obtaining the 'Green Marketing Concept' for recognition of their products and services.
This move, he pointed out is to take the construction industry in Sri Lanka to be in par with the most advanced countries in technology and other aspects with sustainable construction methodology with the intention of providing all the knowhow. He said that adapting to the 'Green Concept' would save up to 40 per cent of the expenditure as it reuses the waste resources.