Renault Kwid makes major impact in Sri Lanka
View(s):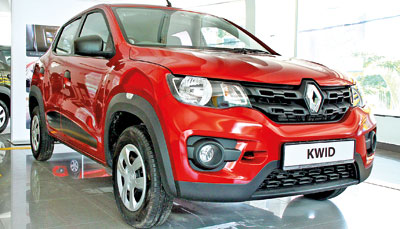 Since its launch in June 2016, Renault Kwid (800cc), the popular small car from the French automaker has made a major impact in the Sri Lankan car market, quickly becoming the second highest selling automotive brand in the country.
The Kwid has become a buyers favourite in Sri Lanka and has skyrocketed the brand's sales hitting the 4,000 unit mark within six months after its launch in June last year, Associated Motorways (AMW) Pvt Ltd Managing Director Samantha Rajapaksa told the Business Times.
AMW has linked up with Renault to introduce the Kwid and it has climbed up to the number two position in small car segment in the island with a SUV-inspired look attracting the attention of first time car buyers, he added.
He said it has a boot space of 300 litres extendable to 1115 litters, efficient drive train, low friction engine design and technology wise it includes blue tooth connectivity, satellite navigation etc.
Mr. Rajapaksa noted that the attractive line up of the Renault cars has made a bold impact on automotive landscape in Sri Lanka.
The AMW is gearing up for the introduction of the Automated Manual Transmission (AMT) equipped Kwid variant this year, he disclosed adding that the customer centric business philosophy of AMW, expects to give an unique experience to Sri Lankans.
The automatic transmission will be offered only on the top RXT trim in 1.0-litre engine. It will have a rotary unit that lets the driver choose between neutral, drive and reverse modes. The rotary knob will be positioned at centre bottom of the dashboard next to the control button for door lock.
Apart from Sri Lanka, the Kwid is being exported to Nepal, Bhutan and Bangladesh, with plans for a Brazilian based manufacturing plant, to target the South American market, is also in place.
The Kwid's growth in Sri Lanka has been triggered by the vehicle import tax hike which has resulted in the increase in prices for cars with engine capacity of over 1500cc.
The Kwid directly competes with Suzuki's small car brands such as the Celerio, Stingray, and Alto models. AMW is the official agent for both Suzuki and Renault, taking control of both the best-selling small car brands in the country.
He noted that the company Groupe Renault, which will deliver cars manufactured at the facility located in Chennai, India, also plans to open five Renault service outlets and five after-sales outlets in Sri Lanka this year.