A sport for every child to build a healthy nation
View(s):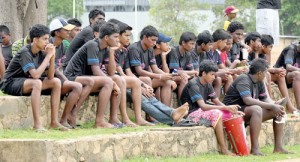 The increase in the number of overweight children in our society, may be a direct result of us not paying attention to their daily diet and to their physical activity. TV and computer games have replaced children's playtime. Today, they play Football in the computer, rather than on the grounds. If we choose to ignore these facts and let this trend continue, we would surely be end up with an unhealthy nation, soon.
Or else, if a child plays Cricket, they expect him to become a Kumar Sangakkara or a Muttiah Muralitharan. A strange but contemporary state of affairs.
Better late than never, and the Ministry of Education is now serious about combating this situation by taking the initiative for a healthier nation in the next generation.
Following are the views of some of those whose YARDSTICK was measured.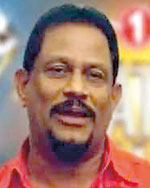 Sunil Gunawardena (National Level Athletic Coach)
As an Asian Gold Medal athlete and a coach who has produced international Gold Medal-winning athletes, I think this is a very good decision initiated by the Education Ministry and the Sports Ministry. This is a good investment for the future, as Sri Lanka badly needs top class sportsmen/women who could win international medals at major sporting events. It will also be a tremendous boost in their attempt to build a healthy nation in the future. I see this 'one sport for every student' programme as a National duty, and everyone should rally round to make it a success. As a National Level and school coach I have noticed a huge drop in schoolboys and schoolgirls participating in sports activities. But, I think, this programme will be a successful one, as points will be added to the students' report, and it will also be an advantage for university entrance. However, earlier, the points were added only when the students were in contention to enter university. This programme will also encourage students to take part in sports, build up their health, as well as to improve their overall education activities. I think, parents have a very important part to play in this programme, by encouraging their children to follow this programme in a proper manner. I am sure, Minister of Education Akila Viraj Kariyawasam and the Minister of Sports Dayasiri Jayasekera, have commenced this programme with a good understanding. They are also backed by a veteran sports administrator in Sunil Jayaweera as the Project Leader, and I think this trio has the expertise to make this project a reality.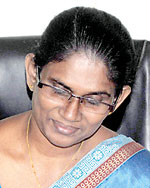 K.W.I. Manel (Principal,
Sri Sumangala Balika MMV, Weligama)
We have a proud history of nearly 90 years. This school functioned as a mixed school until 1978. Thereafter, the school was turned into a Girls' National School. In fact, this is the first and only Girls' National School in Sri Lanka. We have a good reputation in sports as well as in education. The school was severely affected by the 2004 tsunami. But now, we are back on track and are competing well against other schools, in both education and sports. We have a student population of over 2,000. Of these, more than 100 students are directly involved in sports, while a further 50 students are indirectly associated in various sports. We conduct a total of six sports currently at school. They are Cricket, Volleyball, Netball, Badminton, Athletics and Chess. This year, we also started Gymnastics and Karate. However, there are only two PTI teachers currently training students in these sports. This is indeed a huge setback for us, as we need more PTI teachers to conduct our sports activities. We have a number of top Athletes at school, but they are unable to make progress due to the lack of expert training. As a result, we are forced to recruit coaches from outside. Then, we are also faced with a financial crisis, as we need to pay salaries to these outside coaches. We also have a shortage within the academic staff. As a result, sometimes the Health Science teacher is compelled to teach Science to the students. The 'one sport for every student' is a very good move, but earlier, we were unable to follow this path due to various obstacles. However, nearby schools in Galle and Matara are successfully following this programme, as they have all the facilities to perform their task. They also recruit outside coaches for their training. Our main problem is that, most parents hesitate to leave their children at school after 1.30 pm, as they need to attend to private tuition classes. In addition, some of the teachers are also not in favour of their students participating in sports, as that could delay covering their respective syllabi. We should admire this programme initiated by the Ministry of Education and the Ministry of Sports. But currently, we are not in a position to carry out this project to the fullest satisfaction, due to many shortcomings. As a principal and a parent, I totally support this programme, and I hope the Ministry will also provide us the necessary assistance to achieve our goals,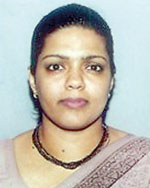 Sanjeewani Wanasinghe (Former Sri Lanka Netball player)
I am a person with a good sports background. I represented the Sri Lanka Netball Team in 1996. My husband is a Cricketer who has also played Rugby. My son currently represents Royal College at Rugby. My daughter plays Netball and Badminton at Visakha Vidyalaya. My two children are still under 17 years of age. The concept to have one sport for each student is a very good move by the Education Ministry.
Every student should be able to engage in sports activities. Those who do not compete in any sports are in danger of being discriminated by society. A sportsperson has many ideas to share, which will also help him/her to improve in his/her daily activities. Involvement in sports enables time management, and has the potential to move forward according to a plan. I think, parents should also provide as much encouragement to make this a reality. There is a belief among parents that involvement in sports could affect a students' education. This is a completely false belief among parents. Those who believe in this misconception are those without a proper vision in their careers. But those with a perfect vision are able to balance sports and education well and succeed in their careers. My experience is that, most parents today, encourage their children in their education more than in sports. These parents are determined to see their children reach the top in their chosen careers. They are not allowed to participate in sports, even for a short period. However, there are some parents, mainly the elite class in Colombo, who are keen to see their children take part in Cricket and Rugby.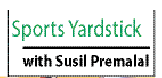 These parents are more interested in visiting playgrounds to see their children participate in sports more than their education. Their target is to make their children another 'Kumar Sangakkara' or a 'Mahela Jayawardena', even though their children do not have the talent for serious sports. As a result, we can see some parents are more towards education, while others are more towards sports. They are completely unaware that both sports and education should be balanced and given equal priority.
The Education system is also tough, with more activities based on exams. Earlier, only a few students had the luxury of coming to school in their own vehicle and many did not mind taking the long walk to school. But today, we see many students come to school in a van, three-wheeler or on a motorcycle, to allocate their valuable time for tuition. As a result, even the students in Colombo and those in rural areas do not have the time to get involved in physical activities. This is the reason why we see many students suffer from malnutrition. The 'one sport for every student' concept will help students become healthy persons, and to work in a good frame of mind. I can remember the Education Minister proposed this concept two years ago. But it turned out to be a failure from its inception. As parents, I still doubt whether this initiative could be made a reality. Even if this programme is possible among the top schools in Colombo, it will be a tough ask for rural schools, due to the lack of facilities. I think, eventually, what would take place is that, Colombo schools would succeed in both education and sports, while outstation schools will struggle in both departments.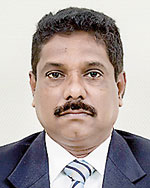 Colonel Sudath Madugalle (Former President – Athletic Coaches Association and Deputy Director General-
Sri Lanka Red Cross)
Sports can improve an individual and thereby the society he/she lives, in two major ways. It can make an individual more disciplined rewarding society with disciplined citizens. It improves the health of an individual. A society with healthy individuals would also benefit. It firmly motivates youth not to engage in activities with negative consequences, that is, mainly drug addiction. Society would benefit immensely from this. It can be said that sports builds the personality and character of an individual, to being disciplined. He/she is coached in teamwork and in being patient. He/she is encouraged to be courageous and to strengthen his/her determination. Most importantly, he/she is taught to treat victory or defeat in the same way. Education through books alone will not make an individual complete. It is through sports that one can build character, to acquire self-discipline, become confident and learn the art of living harmoniously with others. Instilling these qualities in an individual at an early age is undoubtedly very important. Health is equally important to one's life. Someone who is not healthy will suffer in both body and mind. It is indeed a concern that children these days are increasingly being diagnosed with diabetes and high blood pressure, while some are overweight. The increase in numbers of overweight children in our society, may be a direct result of us not paying attention to the daily diet of our young ones, and to their physical activity. TV and computer games have replaced children's playtime. Today, they indulge in playing Football in the computer, rather than on the grounds. If we choose to ignore these facts and let this trend continue, we would surely be left with an unhealthy nation, soon. It has been proven time and again that, when individuals, especially youth, engage in sports, they tend to look positively towards life. They will be motivated to avoid actions that have grave consequences, such as drug addiction. It has been well observed that youth who engage in sports and physical activity have not become drug addicts. It is also a fact that when drug addicts are being rehabilitated, one of the major tools used to give them a positive outlook on them and their lives is sports. But the feeling among some in our society is not too positive about sports. A fact that needs to change. There are several issues we need to address. One would be to make everyone concerned understand that studies or potential careers will not be affected if their children do sports. Also, people in our society should be educated on the benefits of engaging in sports. The misconception that sports and studies cannot be done together should be uprooted from society. A further step would be to include physical activities in the regular curriculum of schools, to encourage children to engage in sports. Children who are into sports already should be further motivated by regulating and improving physical education in schools. The educational authorities could appoint Physical Training Instructors (PTI) who genuinely love and are motivated towards sports. When we consider all advantages a person can gain by engaging in sports, and the disadvantages of not doing so, we can easily see that the benefits of sports outweigh any arguments against it. Even the usual 'inability to engage effectively in studies' statement does not withstand the argument for physical and mental health that would, in fact, improve the quality of studying. Discipline, determination, courage and self-confidence are attributes sportspersons will acquire, to face any possible challenge. Positivity and personality development are also gained through sports. We should therefore take strong steps to make sports a part of life of those in our society, especially the youth. It is hoped that the solutions suggested for some of these obstacles would prove to be a starting point for those whose actions and decisions in this regard are vital. Any further action towards this aim would be welcomed by all, as time progresses and the positive effects are witnessed. As such, it is not a moment too soon to begin now.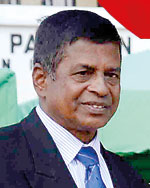 Sunil Jayaweera (Special Consultant, Sports – Ministry of Education)
There are over 7,000 Secondary Schools in Sri Lanka, with 2 million students in attendance. Of this, 20% overeat, while over 15% suffer from malnutrition, according to a recent Education Ministry survey.
In addition, the rest of the students are victims of non communicable diseases. Hence, this survey indicates that over 50% of this country's student population is undergoing some difficulties, for which the main cause is the lack of regular physical activity.
Minister of Education Akila Viraj Kariyawasam has proposed a 5-year special project from 2017, to overcome this crisis. As per this project, every student needs to participate in at least one sport. The Ministry intends to evaluate the physical condition of every student, twice a year, from next year. In addition, points will be added to the student's report books on the performance of his sports activities. As a result, his position in class and promotions will be also be based on his performances in sports.
With this project, our main idea is to encourage students to do sports, as well as to improve their education. In fact, this project was initially inaugurated two years ago, but was not successful as it was not monitored in properly. However, this time we will monitor the programme strictly and hope to establish a sports pool for each school. We will then expand these sports pools to education divisions, zones, districts and provincials. Hence, the Education Ministry will be able to identify and train talented athletes who could represent the country. With students competing in at least one sport, we will be able to eradicate malnutrition and overeating among students. We are also hoping to recruit school Sports Inspectors to monitor this programme. We need at least two or three Physical Training Instructors (PTI) per school. But, unfortunately, we have only about 4,000 PTIs in the country.
The Education Minister also intends to recruit 5,000 PTIs from next year. The last batch of PTIs was recruited between 1984 and 1994. Those between 20-35 years, with 6 Passes including 4 Credits at the GCE Ordinary Level (O/L), are eligible to apply for the post of PTI. Those who have failed in Maths could also apply, with an assurance they would get through the subject in due course. We have many National level coaches and athletes who cannot come forward due to shortcomings in their GCE O/L results. But, we have given these athletes another chance to serve the country by providing them with this facility. In addition, we have over 150 PTI teachers coming out every year from the College of Educations. The ultimate goal is to strengthen the PTI cadre and the coaching dept in schools. In the past, standard of sports in many schools dropped drastically due to negligence of their extracurricular activities. We hope to educate all heads of schools in the county with this project, and already had discussions with over 400 of them.