Lawmakers a law unto themselves when helping themselves
By Chandani Kirinde- Lobby Correspondent
View(s):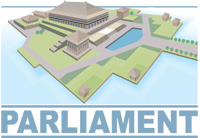 Any talk of a pay or allowance hike for Members of Parliament (MPs) is a contentious one, particularly, given the high level of public scepticism concerning the conduct of lawmakers and the general perception that they are overpaid, overly pampered and don't fully discharge their duties as elected representatives.
So, when Prime Minister Ranil Wickremesinghe proposed both a salary and allowance hike for MPs recently, as well as additional facilities, he knew it would draw strong criticism. "I know I will be attacked for saying this but, those who don't want the allowances can reject it," he said.
The Joint Opposition (JO) Group in turn, came out guns blazing, condemning the Government's move to enhance MPs allowance, saying, it ran contrary to the spirit of "yahapalanya". However, neither they, nor any other MP from any other Party has so far rejected the additional payments they will be entitled to from next year.
Cabinet, this week, swiftly followed up on the Prime Minister's suggestion by approving a proposal by Minister of Parliamentary Reforms and Mass Media, Gayantha Karunathilaka, to grant a monthly allowance of Rs 100,000 to maintain an office for each MP, as well as an increase in the 'Sitting" allowance from Rs 500 per day to Rs 2,500, from next January. The last substantial increase in payments for MPs was back in 2007 but, making a case for an enhancement in their payments and facilities is far more difficult than outright condemning it.
And lawmakers themselves are to blame for this situation, as they are yet to support measures such as the adoption of the Code of Conduct (CoC) for MPs, which could go a long way in improving their public image. The CoC was circulated among MPs in April this year and they were given two weeks to come back with their observations, but nine months down the line, this hasn't been adopted by Parliament.
The purpose of the CoC, among other things, is to ensure public confidence in the standards expected of all MPs and enable them to be more accountable and honest in their dealings, and in particular, declare sufficient information regarding their business relationships and financial interests, including information of family members with such links. In the absence of this kind of transparency, the belief that most lawmakers are engaged in business dealings, using their position as lawmakers to pursue personal interests, are reinforced, and justifying a pay increase is next to impossible.
Additionally, the behaviour of MPs, particularly, since the live telecast of proceedings began two weeks ago, has added to the cynicism among people who now get to see and hear real time unparliamentary behaviour of MPs. Their gimmicks to attract airtime on television and radio, which get highlighted, also adds to the growing mindset of the public is that, all that the MPs do in Parliament is engage in useless bantering and not in serious issues that are of importance to the public. And while all MPs are engaged in this kind of behaviour, the rowdy behaviour of some and the use of abusive language and exchange of personal insults, has added to the negative reflection on of all MPs.
The Prime Minister reasoned that, without additional payments and facilities, MPs will not be able to engage fully in the new Oversight Committee system that has been put in place to allow lawmakers- Government or Opposition- to contribute meaningfully towards legislative work. MPs do engage in Committee-work even at present, but their work is done behind closed doors and do not attract the attention of the media nor the public. The exception being the work of the Committee on Public Enterprises (COPE) and the Public Accounts Committee (PAC). The Committee on Public Petitions, for example, submitted its report to Parliament this week, giving details of the cases in which it intervened to resolve problems faced by members of the public, in their interactions with government institutions or, injustices faced by government servants. The work of this Committee went largely unreported, even though its members spent many hours looking into individual cases and managed to give relief to a large number of persons who petitioned Parliament through their local
legislator.
Unfortunately, what MPs are most associated with in the country, and that too with good reason, are duty-free luxury vehicles, abuse of power, nepotism, overseas tours etc., all of which draw the ire of the public, instead of building a positive public image of politicians in general and MPs in particular. Turning this around and assuring the citizens of the country that their real intention in entering Parliament is for public service and not for personal benefit, is something that is in the hands of the MPs themselves.