Such was the man- Doctor, scholar and so much more
29th K. N. Seneviratne Memorial Oration on November 25
View(s):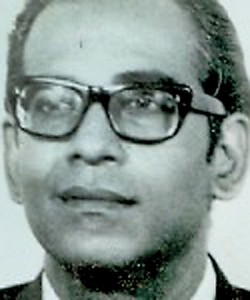 When the Heart and the Brain Disagree"is the intriguing title of the 29th K. N. Seneviratne Memorial Oration held by the Physiological Society of Sri Lanka in memory of Prof. K.N. Seneviratne, the greatest physiologist the Colombo Medical School ever had. The oration to be held at the Faculty of Medicine Colombo on November 25 at 6.30 p.m will be delivered by Dr. Rohan Gunawardena, Consultant Cardiac Electrophysiologist, National Hospital of Sri Lanka.
Endearingly called "Bull" by his universe of friends, K.N. Seneviratne at age 39, in 1969 succeeded Professor A.C.E. Koch as Professor of Physiology. The scientific study of how the human body works is the indispensable requisite for the study of Medicine. Why? Because Medicine is essentially disordered physiology. How the body works to keep itself alive and healthy and reproduce itself is an incredibly complex and intricate matter and medical students who found the challenge of understanding physiology daunting, disparaged physiology by calling it appropriately enough as a "Koch and Bull story". When I succeeded Prof. KNS in 1983, I gladly retold the "Koch and Bull story".
KNS was the second of the three children of Dr. Robert and Laura Seneviratne. In 1887 Don Robert Seneviratne qualified as a doctor in the Ceylon Medical College and proceeded to Edinburgh in Scotland for further studies. Some 50 years later, his son Kirthi Nissanka distinguished himself in postgraduate studies in the University of Edinburgh and found himself a Scottish partner – Alison Alexander, daughter of a senior physician and an MA of the University of Edinburgh.
His family was a distinguished one. His brother Nihal Seneviratne a law graduate of the University of Ceylon, still very much alive, was at one time the Clerk of the House of Representatives. For KNS himself, the end came when he was away from his loved ones at Bali in Indonesia on August 10, 1986. He was too young to die. The end came in the form of a massive heart attack which felled this large hearted, sharp-brained, giant of a man and jewel of a human being. When death came he was listening to the music of a composer he loved, Johann Sebastian Bach. As his heart-broken wife Alison later lamented in a letter to me… "listening to Bach was a lovely way to go but such a shock to those he left behind."
KNS graduated MBBS with honours in 1954 gaining a distinction in Medicine and the Gold Medal in Operative Surgery. Unsurprisingly in his time he gained a Distinction in Physiology. After KNS left Edinburgh in a blaze of glory in 1963, Prof. Koch in a letter to Prof. David Whitteridge who was KNS's supervisor said, "He was the first lecturer I appointed after I got the Chair in Physiology and he has lived up to expectations and certainly put Ceylon on the map in Edinburgh".
Such was the man—doctor, scholar, physiologist, scientist, educationist, administrator, volunteer army captain and university don—whose memory is celebrated in the 29th Oration on the 25th. I think it was Pascal who said that "the heart has it reasons that reason can take no account of. Heaven knows what Dr. Gunawardena is going to say on the subject he has chosen: "When the Heart and the Brain Disagree". I for one am eagerly awaiting to listen to him.
All are welcome.
- Carlo Fonseka