Rising smoothly, silently
Ravi Shankar feels he's on cloud nine as he beholds breathtaking views from a hot air balloon
View(s):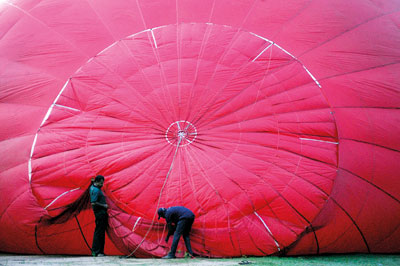 December signals the ballooning season in Sri Lanka. Flying up, up and away on a hot air balloon early in the morning will give you the immeasurable thrill of experiencing a bird's-eye view of how the rising sun paints the landscape with wonderful colours.
This year Cinnamon Hotels and Resorts opens their new attraction of hot air ballooning at Habarana in the Anuradhapura district. The ballooning experience is open for tourists who book the entire Cinnamon experience –one night at Cinnamon Lodge at Habarana and an early morning balloon flight.
It's a magical experience as the balloon rises smoothly and silently towards the clouds, amidst endless horizons of rugged mountains and green fields with only the burners to disturb the peace. There is unexpected closeness to nature too when the pilot lowers the balloon to inches above the trees, to bring you a good view of a bird or animal at daybreak.
The balloon flights begin at 5 a.m. and guests have the chance to witness the entire ballooning process.
Much depends upon the direction of the wind. So there is no specific single route for the flight. The balloon can travel at a maximum height of 150 metres and the two hour flight will cover a distance of about 20 km.
"We depend upon a private weather forecasting website for the weather predictions that happened to be almost correct. In case of any concern with the weather, we cancel the flight to avoid any danger to the passengers," pilot Justin P. Moore, said,
Moore has flown over the terrain of 40 countries and finds Sri Lanka a special place for ballooning because of the green views it offers when flying over the uneven topography.
But unexpected landings can also spell difficulty. "During a flight, I can't decide the landing position in advance as the total travel time and distance covered, everything depends upon the wind. Usually I prefer landing in wide open grounds, but there are instances when the landing happened in small places," Moore says.
This happens in every country, he adds. But it only adds to the adventurous element of the flight.
After an exhilarating flight over spreading green terrain, tourists are greeted on the ground by friendly villagers who are happy to pack away the balloon. While in the air you can watch village kids yelling for the balloon to land close to their homes.
After a safe landing, it's not all over until the traditional champagne toast is held to celebrate the wonderful adventure of hot air ballooning.
Book your hot air balloon flight with Cinnamon Hotels and Resorts at least seven days prior to the flight.
One flight has the capacity to take 16 passengers and it costs 150 Dollars for an adult and 125 Dollars for a child. For foreigners it costs 210 Dollars per person. For couples, a flight can be booked exclusively for 1500 Dollars.