A place to learn, laugh, and create
By Minushi Perera
It's a hive of activity at the CCSE, a home-cum-school away from home for special needs people, as they prepare for their very own exhibition
View(s):
Splashes of colour — a mix of reds and greens in one corner of a room, while in another bright purples and yellows!
Twos and threes in little knots concentrate on their tasks of producing brightly-coloured gift-wrapping paper exhibiting fir trees, candles and flowers, cloth rugs, mats and bags and even beautiful bead necklaces and bangles.
In-between, the hard workers take a tiny break, dancing or playing cricket or even putting a jig-saw puzzle with numerous pieces together.
For all those at the Colombo Centre for Special Education (CCSE) down Layards Road, Colombo 5, the preparations for the season have begun early and in earnest as they are working towards a deadline – their very own exhibition and sale where they not only showcase their talents but also sell them to collect some funds towards running the CCSE.
These students are always guided by one of the CCSE board members or volunteers, says Anna Rebert who is very much a part of the CCSE, explaining that the CCSE has a unique way of teaching and reaching out to people with special needs.
"We engage them in things they enjoy like art, dancing and crafts. They get better at it gradually and some are very accomplished. This is while we also have formal therapy sessions," she says.
Established over 40 years ago by Rev. Celestine Fernando and Nora Fernando of the Bible Society of Ceylon, this home-cum-school away from home for these special people was first in a small room at the Boys' Home of the Salvation Army at Rajagiriya.
There were only two students during its humble beginnings but now there are 32 on the register, ranging in age from 20 years to 65, all males with varying degrees of intellectual disabilities. As the numbers grew, the CCSE moved to Layards Road, the very last house set in a garden at the end of this tranquil lane though in the heart of Colombo 5. Of this number, 26 are full-time students who come in on all five days from Monday through to Friday, while the other six are part-time.
We function from 8 a.m. to 1 p.m. in a system very similar to a normal school although it is flexible, says Ms. Rebert, adding that they have fixed daily routines with various activities to identify talents and hidden abilities to help them lead a more meaningful and fulfilled life.
The CCSE also has a special section called 'Centre Hands', where throughout the year the items produced by the students are on sale. This centre is run by the students themselves, some of whom have been trained to do accounts.
The CCSE runs with contributions and donations from well-wishers and friends. This is supplemented by the monies raised by selling the articles crafted by the students.
The students are very excited about this annual fund-raiser as they get to do most of the preparations and they have a lot of visitors at the centre, says another CCSE board member, Angela Daniels.
She adds that students and members love visitors and requests anyone to come visit them.
Any generous person may support the CCSE by making a small donation. For more information, please call: 011-2591641, e-mail: ccse@sltnet.lk or visit the facebook page: https://www.facebook.com/Colombo-Centre-for-Special-Education-/
Pick up something for the season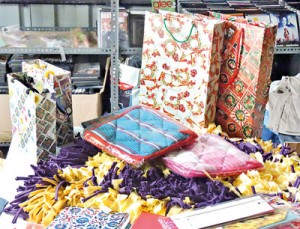 The annual sale will be held at the CCSE, 80/7, Layards Road, Colombo 5, from 9 a.m. to 2 p.m., next Saturday, November 26.
Please lend them a helping hand by purchasing the items the students themselves have made or recycled such as greeting cards, envelopes, wood work, Christmas items, hand-made cloth rugs, arts and crafts items and many more.
If you are unable to make it on November 26, 'Centre Hands', their very own handicraft shop, is open on weekdays from 8.30 a.m. to 12.30 p.m. during the national school term.