Travellers scared of running out of cash in India
By Ravi Shankar
Bookings ditched in wake of demonetisation
View(s):
The ramifications of scrapping Indian Rs 500 and Rs 1,000 notes are hurting not only the Indian economy but also Sri Lanka's travel sector, which conducts a large number of tours to India.
Normally, December sees a peak in business activity for travel agencies as families take holidays and bookings mount for pilgrimage tours to Buddhist sites in north India.
More than 200,000 Sri Lankans fly to India every year with more than 100 flights a week connecting Colombo with nine Indian cities.
This December, the number of Sri Lankans travelling to India is expected to decrease. Travel agencies say that over the past week many travellers had ditched their plans to go to India and there had been a significant decrease in new bookings.
The reason for this according to travel agents here is that the travellers are skeptical about the situation in India following media reports about the big crowds outside banks and ATMs to change their old currency notes.
The Government of India has also imposed restrictions on the amount of cash that a foreigner can change in foreign currency exchange counters.
"Many of our customers who are in India during the past week expressed difficulties in not having enough currency notes. Many who do not have the luxury of dining in five-star hotels and using their credit cards are finding it hard to pay their bills," said a spokesperson of a travel agency.
Another travel agent said many customers who had wanted to go to India in December on pilgrimage were now wary about proceeding. "Most of them are doubtful about what to do in case their Indian currency finishes," the agent said. "Though we cannot guarantee or provide them with enough currency reserves, we ask them not to worry as we expect things to settle down in India by end of December."
The Indian High Commission said any foreigner travelling to India can exchange "accepted" foreign currency equal to the value of Rs 5,000 (Indian) on arrival. If the foreigner needs more Indian currency, he/she could go again to a currency exchange centre.
Despite this assurance, reports from India state that even banks and ATMs are running out of currency so there is no guarantee that every foreign exchange agent would have sufficient stocks of notes.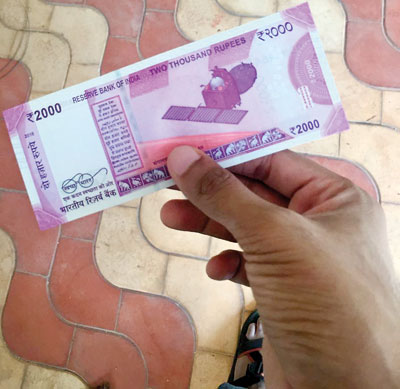 Denominations of Rs 500 and Rs 1,000, which the Indian government decided on November 8 were no longer legal tender, account for a whopping 86 per cent of all banknotes in circulation in the Indian economy.
Only the remaining currency reserve constitutes notes of lower denominations as Rs 100 and Rs 50.This creates a difficult situation for the small scale hotels and shops to give back the balance amount to a customer
Because of this issue, many economic activities have been stagnant in India for the past week.
"Tourists travelling to India do not have to face any difficulty with currency exchange, because they can use their debit and credit cards for purchases," Indian High Commission spokesperson Niteen Subhash Yeola said.
Shops and hotels near pilgrim centres do not, however, necessarily accept card payments, and using cards will cost tourists because cards incur service taxes.