Let us plant trees and pay our debt to Mother Nature
View(s):

As part of our duty to our country, we need to do some cultivation work or some other useful work. Whatever our religion or ethnicity maybe, planting some trees or herbs is important. Life is not possible on earth without water, sunlight and air. We are indebted to these gifts of nature. We need to pay this debt and also the debt for the food we eat.

We need to plant something for the nourishment of others. If more people thought of this and worked hard on it, Sri Lanka would have been much more developed by now. We need enrich this land because we are indebted to it. In our gardens, by the side of the road or in a bare land, let us grow something. No one will object. The poor people who do such cultivation need to be helped and encouraged. That is another duty.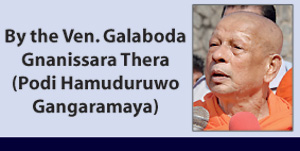 At one time, we moved from place to place on foot. Then we travelled on animals and carts. In those days, some generous people built ambalamas and kept receptacles for drinking water. This was to help other and a sign of good will. These ambalamas are still seen in countries such as Myanmar, Thailand and Vietnam. Since our transport facilities are good we do not need these here now. As bottles of water are available, receptacles for water are not necessary. In the olden days, mothers cooked extra so that a plate of rice could be given to an unexpected visitor. How and when did we give up these virtues? Now as the country and the people have got heavily into debt, we have become thrifty.
All of us, rich or poor, are indebted to this land. To get out of this debt we need to make this land fertile. All living beings need the land, sunlight, rain and wind. If we do something in return for the blessings from nature, we also will be blessed.
In agriculture, we have a situation where local seeds are becoming rare while imported sees are expensive. As a result, prices of locally produced items have gone up and the cost of living also.
A local papaw has hundreds of seeds, while our papaw tree has a life span of more than seven years. But when we use foreign seeds, we get fruits within months. The expenditure involved in buying seeds and the shorter period to bear fruit affect the mindset of the cultivator.
We also need to take steps to cut down on our expenditure by making good use of what we normally throw away. If items like polythene, plastic bottles and yoghurt cups are used at plant nurseries, it will solve the garbage problem while also helping cultivators. Those who are not involved in actual cultivation can help in having these supplied. In every house, we must grow something in the garden or even in pots. Or the rich people can buy seeds and give them to the poor for planting. In that way we can repay our debt to Mother Earth.
I would like to provide details of our movement which pioneered the distributing seeds, the growing of trees and plants. Mahogany is not a local tree. It is one of the sought after trees for its timber. It is our movement that made Mahogany popular. We cannot get a good price for Mahogany in Sri Lanka today. If permission is given to export Mahogany we can get a good price and also earn foreign exchange.
Though there is provision to export timber in plank form, it is not being done according to a standard. People must be allowed to export timber in the form of logs. Rubber timber is valuable worldwide. But it is mostly used as firewood in Sri Lanka. Even the production of latex rubber is dwindling here. Those who are making a living from the rubber industry could get involved in Agarwood production (Wallapatta). Within two years, people could earn a good living from it and also valuable foreign exchange. Our movement has planted hundreds of thousands of Agarwood trees and we are able to give advice on this.
Sri Lanka's agriculture appears to be in a mud hole. Our rice is below standard. It goes bad in a couple of weeks. There are rare rice varieties that are grown today. If rice is grown according to the accepted norms there will be a good demand. Instead of waiting for the government's initiative, if religious institutions take the lead it would not be difficult to grow good varieties of rice.
Today coconut water and water from Thambili are popular. There is is a big demand for them overseas. But we cannot meet the demand. Custard apples (Anoda) with leaves are in great demand abroad. So is it with drumsticks or murunga. Gotukola was known as a strong medicinal herb but now it is going to decay.
If you want to be healthier, we need to plant some Gotukola in our home garden. Thibbatu is good for cancer. Many world experts are aware of it, but unfortunately most of our people are unaware. Locally Thibbatu is sold at Rs. 750 a kilo. Not only as a food but it should be grown to earn an extra income. If the graduates who seek employment get involved in cultivation, it will help solve the employment problem also. Cinnamon and pepper yield a good income. Even if we have nursery plants, they will be profitable. There is a tendency to cut cinnamon plants before they are mature. Instead of being too greedy it is best to wait till the plants are mature, collect the seeds and cut the trees for sale.