Remedies for traffic congestion
View(s):

Roads are full with traffic congestion as an average 250,000 vehicles, made up of 15,000 buses, 10,000 trucks and 225,000 private vehicles, enter Colombo daily.

Around 2.7 million vehicles are on the roads, though the number of vehicles registered was over 4.4 million vehicles.

It is indeed frustrating to get stuck in traffic. It is a man-made menace that is detrimental for the development of a country. It kills productivity. It is a national waste and a major cause of stress.

Sri Lanka had seen the vehicle numbers increasing on the road, without a proper plan to expand road conditions and manage road discipline. Successive governments have indicated plans of taking corrective measures but only a few had been done to take control of the present road traffic.

According to latest statistics, there are 130 vehicles per 1,000 people, out of which 66 per cent would be motor cycles while three-wheelers and four-wheelers (small and large) make up 45 vehicles per 1,000 people.If there is no vehicle fleet management, like in the last 30 years, there will be problems regarding space.

The country needs fewer vehicles carrying more people. If we expect the economy to grow at 8 per cent, the country's vehicle population may increase to 5 million and there will be 250 vehicles per 1,000 people which are likely to be concentrated around the city.

Sri Lanka can impose different car restraint policies, but alternatives should be available. Park & Rides, bus lanes, cycle ways, improved transit, etc are options used by other cities very successfully This traffic, besides being annoying, actually costs  us billions of rupees incurring a massive financial and man-hour loss as a result of no proper vehicular traffic in Greater Colombo areas.

The increasing number of vehicles on the road contributes to long lines of vehicles on the road and no one seems to be interested in taking any positive and effective action, other than the Sri Lanka Police as they are responsible for controlling this mess.

At present traffic management becomes everyone's collective responsibility, including that of the relevant policymakers, the police, pedestrians and the motorists as a whole.

In order to manage this, it is time that the government takes some positive steps by appointing a special committee (with authority of course) and sub committees for each area to manage road traffic. Furthermore, it is also appropriate that they be given specific targets if we are to get some relief driving or travelling on the road. Although there are many ministers it may also be worthwhile that they even appoint a minister to take action as necessary on this national issue.

Following are some basic ideas for anyone who is keen to look at this seriously:
Study the traffic flow at peak times and make selected roads one-way at peak times. The most important thing is to manage the traffic flow. The traffic has to move even at 10km per hour continuously without disruption.
Educate drivers on the new road rules to improve discipline on the road. It is appropriate to appoint a separate set of police officers to identify and charge for traffic offences. Often traffic builds on a junction due to motorists being selfish and arrogant. We all have many instances where motorists (specially three wheelers and buses) pull away blocking a junction just because the traffic lights are green, although they can see very well that they will not be able to drive ahead. By doing this they block the whole road, and for few cycles of the traffic signals no vehicle can move. It is also common that many motorists do not follow lane discipline but move across from the wrong lane that slows down the entire traffic flow. There has to be a proper method to educate drivers on such instances in order to make them more disciplined.
Improve traffic flow on the road.
 Build overhead/ Underground pedestrian crossings.
 At peak times, on roads such as the Baseline road, around 500-800 vehicles pass a selected point on the road per minute. However, there are over 20 pedestrian crossings on Baseline Road from Borella to Peliyagoda. The average period for each pedestrian crossing is approximately 60 seconds. This means that if a motorist is to stop at these 20 crossings it would take him at least 20 minutes. It is a fact that at peak hours you have to face at least two cycles of a traffic light. This also means that it will queue around 2000 vehicles due to the crossings at peak times. Once the turnoffs gets blocked the whole set of sub roads will also get blocked making matters worse. This means that there is an urgent need to study this very carefully by those responsible and take action to improve the traffic flow.
 Manual traffic management at peak times without relying on the traffic lights or have an online system through cameras so that the traffic policemen can see the traffic build up and take appropriate decision based on the actual traffic situation.
 Build multi-storeyed car parks at the entry points to Colombo and have free shuttle services to the key points of Colombo.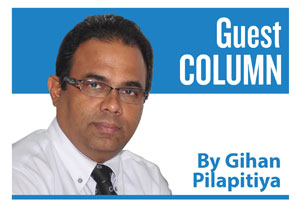 Circle Bus concept: This has to be planned with a proper programme and a convenient way to carry people around. Ideally deploy air-conditioned circle buses even free of cost to passengers. Entry points could be Peliyagoda, Ratmalana, Kolonnawa, Jayawardenapura, etc. The immediate use of the underutilised land already owned by the UDA in areas such as Peliyagoda (right next to the highway entrance), Dematagoda (at Dematagoda Junction) etc could be used for this purpose.
 Fix an automated offence detection system that will have automatic debit into a violators account and re-introduce the point system for traffic offences.
 Amend the relevant laws to impose strict penalties for traffic violations. Currently the fines for traffic offences are extremely low in terms of managing the overly crowded roads, with selfish motorists, and the bulk number of the three wheeler drivers who break the law every minute. Therefore, someone needs to study and increase the penalties for offences such as, not following lane discipline, unauthorised turning, and other relevant areas. This is the best way to manage this, so that disciplined  driving is encouraged and the government will earn significant income from this type of a plan. (This is better than restricting entry of three wheelers to Colombo)
 Increase parking fees in and around Colombo and increase the charges for parking offences.
 Convert underutilised land inside Colombo into few mega car parks where vehicle owners can park their vehicle at a low rate and commute by public transport.
 Set up subsidised taxi services only inside the Colombo city to get visitors to catch the habit of using taxis to travel inside the city rather than using their own vehicles.
 Shift the entry point to the Colombo port from the Thotalanga area to a less congested location as this is one major reason for congestion in the all-important Grandpass and Orugodawatta areas which are the entry-exit points to Colombo. As an immediate action the government could set up a yard in the Peliyagoda or Wattala area and allow these containers to  enter on the same priority basis by sending them in batches.
Restrict entry of containers to    Colombo at peak times.
 Use web uploading, so that traffic offences can be uploaded to the web for the whole population to see in order to use professional pressure on drivers.
Some of the above, if implemented will improve productivity overall by 10-20 per cent of the working population. People will have a better quality of life. There will be less polluted air to breathe and the outlook of the country will improve as a whole. However, it is up to the relevant authorities to take necessary action, as it seems that no one is taking any action other than cursing everyone around.
(The writer is immediate past
chairman Ceylon Motor Traders Association and General Manager at United Motors Lanka)