Sanga, Mahela bat to stop violence against women
View(s):

By Kaveesha Fernando
It has been estimated that more than 50% of women in Sri Lanka have experienced some form of gender-based violence, but this issue is not always discussed openly. It has also been found that many men believe that they have the right to be violent towards women in certain situations, while societal norms mean sometimes that women themselves believe that men have the right to be violent towards them.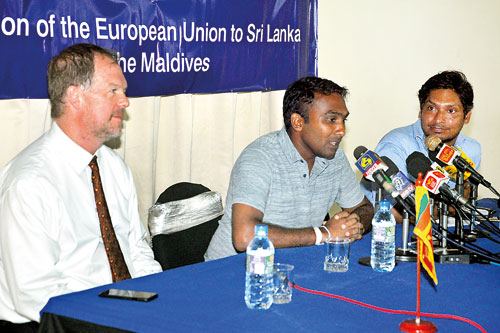 Bearing these appalling statistics in mind, the Delegation of the European Union to Sri Lanka and the Maldives is partnering with cricketing legends Mahela Jayawardena and Kumar Sangakkara to raise awareness on violence against women.
"We are delighted to partner with Mahela and Kumar on this issue. Unfortunately, this is something which is taboo in Sri Lanka but we need to raise awareness. It is a shameful issue, but it's not the victims who should be ashamed but the abusers," said the EU mission's Deputy Head Paul Godfrey at a news conference held to announce the partnership.
Having been influenced by strong women his entire life, Kumar Sangakkara felt that the current perceptions on gender differences needed to be changed. "In Sri Lanka, we have been conditioned to sweep this issue under the carpet but we need to talk about it," he said, adding that expecting boys not to express their emotions might be making the issue much worse by desensitising them instead of helping them cultivate compassion and empathy.
"We need to find solutions for this issue and see how we can create awareness and educate society," said Mahela Jayawardena, emphasising the fact that girls and boys must be taught to value both genders in school, whether or not it is a mixed school. He also added that current societal expectations of women to go to work and look after household affairs were unfair. Expecting women to singlehandedly make three meals a day every day could even be considered a form of mental abuse. "We have to make sure that people know that it's not right," he said.
Also discussed were issues faced by women in the workplace, where Mahela Jayawardena stated that mental and sexual harassment is rampant in some cases, an issue which needed to be addressed by women being given the opportunity to complain and appropriate action being taken, he said.
All comments made by Mahela and Kumar were recorded for the launch of the "Let's hit violence against women for a six" campaign that is scheduled to be launched on the International Day for the Elimination of Violence Against Women, November 25.