Annus mirabilis continues for Kandy
By Aubrey Kuruppu
View(s):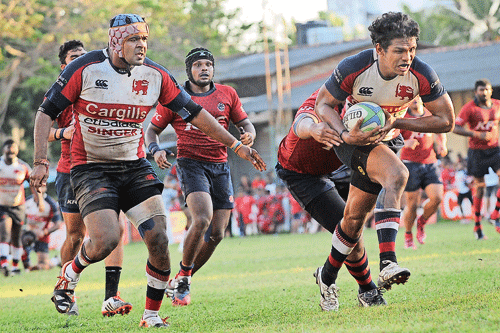 What Manchester United is to English football, Kandy SC is to Sri Lankan rugby. The former has fallen from the pinnacle in the past Sir Alex Ferguson era. But Kandy SC like Tennyson's Brook, flows on and on.
Despite the presence of many good players, Kandy SC was not a title-contender in the early nineties. 1992 was the annus mirabilis as far as the club is concerned, because in that year Maurice Joachim's team won the Clifford Cup. Priyantha Ekanayake's team repeated the feat the following year. Success breeds success. Indrajit Bandaranaike's 1994 team annexed the League title.
Come 1997, and a new resurgent, supremely confident team led by Lasantha Wijesuriya performed the triple. The club achieved similar success under the leadership of some tremendous players – Nalaka Weerakkody, Pradeep Basnayake, the late Sajith Mallikarachchi, Radhika Hettiarachchi and Sanjeeva Jayasinghe inter alia.
Latterly, Kandy SC has been inspired by that Rugby Icon Fazil Marija and success has continued in the wake of his outstanding play.
Continued success breeds jealousy and resentment. There is also a longing for a change at the top. That brings me to the question. Is the end near? The short answer is: Not by a long way.
Blessed with abundant resources, backed by the likes of Malik Samarawickrema and the late Dr. Sarath Kapuwatte, Kandy SC will continue to thrive and dislodging them from the number one spot will be easier said than done.
Not that the team really needed an infusion of talent from Colombo. But to make assurance doubly certain, the club has indulged in a few new signings. The most high profile signing is that of Dhanushka Ranjan, Sri Lanka's dashing skipper of the Sevens' team, Kanchana Ramanayake has come back to his roots, so to say. Another player with a Kandy background, one who made a terrific impact last season will also be signing on the dotted line.
An embarrassment of riches is surely an under-statement. For the four spots in the three quarter line, the Club can choose from Dayan, Jayasinghe, Dharmapala, Gayan Weeraratne, Dhanushka Ranjan, Ramanayake and the Pereras. Spoilt for choice indeed!
Ranjan and Dharmapala excelled at the Sevens. Ramanayake and Dayan enjoyed good outings. Given the nod, Jayasinghe has more often than not, left opposing defences behind. It is a shame that the dashing Wilwara hasn't recovered from his injury.
Arshad Jamaldeen and Nigel Ratwatte will occupy the number ten spot. The latter had several good performances even as full back. Two good players – Roshan Weeraratne and versatile Srinath Suriyabandara are in contention for the role of linkman.
Not many changes or fresh inclusions are anticipated among the forwards. Kishore Jehan, Bhavantha Udangmuse, Soyum Anthony, Heshan Kalhara, and Gayan Ratnayake will be prominent among the forwards.
The Squad:
Props – Kishore Jehan, Lasitha Attanagoda, Dhanuka Dissanaike, Dilipa Madushan, Heshan Fernando.
Hookers – Damith Dissanayake, Mohammed Ali.
Locks – Dimitri Wijetunga, Soyum Anthony, Gayan Ratnaike, Heshan Kalhara, Bharatha Udangamuwe.
Third Row – Asitha Ratnayake, Shehan Pathirana, Sashika Jayawardena, Tharindu Chaturanga.
Scrum Halves – Roshan Weeraratne, Srinath Suriyabandara.
Fly Halves – Arshad Jamaldeen, Nigel Ratwatte.
Centres – Gayan Weeraratne, Dhanushka Ranjan, Lavanga Perera,Kanchana Ramanayake.
Wingers – Richard Dharmapala, Vishvamitra Jayasinghe,Oshan Perera, Dhanushka Dayan.
Full Back – Tilina Wijesinghe.
Coach – Sean Wijesinghe.
Manager – Kapila de Silva.
Chairman, Rugby Committee – Lasantha Wijesuriya.