Drug price slash: A quick fix eyewash
View(s):

By Kumudini Hettiarachchi and Minushi Perera

The recent decision to slash prices of 48 medicinal drugs in Sri Lanka has unexpectedly triggered a barrage of criticism far more than praise from a cross-section of stakeholders including doctors, patients, drug-importers and pharmacists. Most of them who spoke to the Sunday Times on condition of anonymity, said the move steered by Health Minister Dr. Rajitha Senaratne, the National Medicines Regulatory Authority (NMRA) headed by Prof. Asita de Silva and other officials, was a "quick-fix" for a perennial problem, a "populist gimmick" or simply an "eye-wash".

Even patients – the ultimate beneficiaries of the October 21 announcement of cheaper drugs – were not convinced that they would get some relief.
"There has been no change in my monthly bill," lamented a woman patient who has been a long-term diabetic and has undergone stenting for two blocked arteries for heart disease and is also on hormonal medications.

Giving a little Sinhala tuition, whenever she is not in hospital, this 65-year-old woman-patient is weighed down by the cost of the eight drugs that she has to take daily. "I was hoping for some relief with the much-awaited price reduction, but there has been none," she told the Sunday Times, ticking off the medications on her fingers.

This was the same complaint that was echoed by numerous people that the Sunday Times spoke to including those on daily drugs for non-communicable diseases (NCDs), those with children and others who are caring for the elderly.

Many were quick to point out that with serious doubts about the quality and safety of 'generics', that is the pressing need the NMRA should address and this [the new pricing formula based on a Maximum Retail Price (MRP)] seemed like a half-hearted attempt to show the public that "something is being done". The MRP seems to have actually targeted 'original brands' and 'branded generics', what people perceive as usually reliable, because these are from companies which have a reputation to uphold.

The other category is 'generics', but in Sri Lanka, unlike in countries such as Malaysia and Singapore, the authorities have not been able to ensure their quality, with serious allegations of corruption, bribe-taking and pay-offs over the years for a long time being cited as contributory factors for sub-standard drugs flooding the market.

Many were of the view that a 'price ceiling' cannot be placed over drugs but a 'workable' price formula should be brought in, while drastically cutting down the large number of 'generics' in the market which is making it impossible to assure their quality.

Incidentally, 'original brands' or 'innovator drugs' are initially-marketed new chemical entities or the first versions sold by innovator-manufacturers. Thereafter, once the original patent expires, other pharmaceutical companies produce 'copies' but place their own brand names to enable a connection to their companies and these are known as 'branded generics'. The third category is 'generics', copies of branded drugs which should be identical to the brands produced by companies without any kind of branding.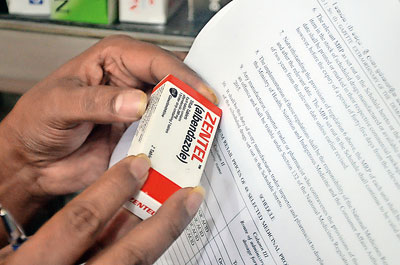 A common example is Panadol being the 'original brand'; Paracetol being the 'branded generic' and paracetamol being the 'generic', it is learnt.
A member of the public who is a close follower of the drug-pricing controversy and also the generics-brands battle was adamant that until and unless there is quality-assurance of generics, the men, women and children of Sri Lanka should have a choice, even a limited one, of not only 'generics' but also 'brands' and 'branded generics'.
He recalled the thyroxine fiasco in the recent past, when pharmaceutical companies went on a price war and high-quality products could not match those prices. The one that remained proved to be sub-standard. Luckily, for these patients, it was easy to pick up the signals that the thyroxine was sub-standard because they were being screened regularly in hospitals and there was evidence that this particular thyroxine was not doing what it was supposed to do, in addition to the adverse effects it was causing, which ultimately led to the drug authority of that time banning the product.
"However, with other medicinal products, it may not be that easy to pick up," he said, referring to antibiotics. If an antibiotic is of poor quality and does not work against an infection, there would be prolonged illness, longer stays off work, maybe even admission to hospital, all with an unseen cost, and also the spectre about which the whole world is very worried about — antimicrobial resistance.
Another patient who has been on lipid-lowering medication for a long time, grumbled how he had to try out many drugs which brought out side-effects, which he alleged were due to their poor quality. Finally he settled for a 'branded generic'. Now, he points out, that 'branded generic' has been targeted and the company forced to reduce the price to the MRP.
"I heard that the company is thinking of withdrawing this drug," he said, explaining that he would be left in the lurch if that happens. This is a "crazy move to play to the gallery", but ultimately it is the humble people who will be affected because the rich and mighty will find ways and means of getting the best drugs for themselves.
These comments came while the Sunday Times learnt that many politicians were rushing around buying up through the 'backdoor' all the 'branded' and 'branded generic' medications that they have to take and even lamenting that hereafter if these companies withdrew these drugs they would have to get their quota from abroad.
Then what of the majority of Sri Lankans who would want to give their children or patients quality drugs and without guarantees about the quality of the 'generics' turn to 'branded generics', asked a middle-class mother, recalling how a 'generic' did not work when given to her child, but the moment a 'branded generic' was administered, there was an improvement.
With howls of protest against the MRP enforcement, a young doctor who has analyzed the situation said that about 70% of people prefer to spend a little more and buy the 'branded generics' as opposed to the 'generics', while only a handful would go for the 'brands' themselves.
What has happened with the MRP is that there has been no change in the price structure of the 'branded generics', with only the brands being forced to drop down in price. This has led to no changes in the huge expenditure on drug bills of the large middle-class but brought down the amount spent by the small rich class which goes for the 'brands', he said.
"The issues that need to be addressed urgently are the provision of quality drugs in the 'generic' category and the drastic reduction in the vast number of 'generic' drugs in one family which are available in the market," he said.
Many other doctors also reiterated that they may not be able to take responsibility for their patients under the new drug-pricing policy, wondering whether it was a populist gimmick at the expense of good medical care.
"What was the mighty hurry," another questioned, thinking aloud whether there was adequate thought given to the process and extensive discussions held with different stakeholders. Who picked the 48 drugs and formulations for this price reduction, asked a paediatrician, pointing out that a major 'patient segment' who would be children has not been considered. Basic drugs have not been included. She draws up anti-worm treatment and queries why Albendazole has been singled out without including the more commonly-used Mebendazole.
Why, she asks. Why Clarithromycin but no Erythromycin? Why Paracetamol, Sodium Valproate and Carbamazepine, all in tablet form and no syrup is included? Why is insulin not included? Why is Domperidone, given to stop vomiting, in the list in tablet form and not also the suppository which usually would be the answer for someone who cannot take something by mouth due to the vomiting? Why have certain drugs given for gastritis such as Omeprazole, Pantoprazole, Esomeprazole and Rabeprazole been mentioned and given prominence and not all other similar drugs? According to scientific publications Omeprazole is deemed better than Rabeprazole, so why mention the latter at all?
Were there pressures by the pharmaceutical industry, she queries, underscoring the fact that rational and conventional prescribing would be affected due to the NMRA picking and choosing certain classes of drugs without tackling all the varieties of drugs in those classes. Doctors who scrupulously engage in rational and conventional prescribing would be found fault with because only upper-end drugs have been reduced in price. Patients may clamour for these upper-end drugs and these doctors may be forced into a corner.
There is a good and bad side to all this, an endocrinologist said, conceding that some pharmaceutical companies are making huge profits which should be cut down. Urging that there should have been a "more practical and pragmatic approach", he said that the new pricing formula has opened up a can of worms. There will be smuggling, with a black-market drug mafia coming into play and the poor patients will be the victims. "A majority of doctors do not write the most expensive drug for an ailment but prescribe an affordable but quality drug."
The tension, meanwhile, within several pharmacies that the Sunday Times visited on Friday in Colombo and the suburbs was palpable. A major concern was that with the way the MRP was introduced, literally overnight, many pharmacies would have to put up their shutters, paving the way for hole-in-the-wall illegal joints to operate at will.
"We cannot do anything with the stocks we already have until the respective pharmaceutical companies check them and re-mark the prices," said a pharmacy owner who has brisk business of about 50 prescriptions per day in Nugegoda. "We are expecting losses. If this continues, we will not be able to give discounts to regular customers, we will lose customers, our sales will drop, there will be severe shortages of drugs and we'll have to close down."
He also pointed out that the patients would have serious quality issues because the 'original brands' which are quality-ensured are usually from countries such as Germany, France and Switzerland and he has heard that these drugs would be withdrawn from the Sri Lankan market. Even though a price-reduction in some medications is a necessity, more thought should have been given when deciding on a formula, said another pharmacist, adding that the authorities should have also given at least a month for it to take effect.
This was the dirge repeated over and over again by pharmacies, big and small, in Town Hall, Colombo 5, Kohuwela, Nugegoda, Battaramulla, Jayewardenegama and many other locations.
Effective for two years: MRP on 48 drugs
The Health Minister in the Gazette Extraordinary issued on October 21, announced 'Regulations' cited as the 'National Medicines Regulatory Authority (NMRA) Ceiling on Prices' for 48 selected medicinal product formulations, setting down the Maximum Retail Price (MRP) for each which would be in effect for two years.

The drugs include oral suspensions, tablets, capsules, inhalations and one injection. They fall into the categories of antibiotics, anti-diabetes drugs, anti-hypertensive drugs, lipid-lowering drugs, anti-gastritis drugs, an anti-worming drug, neuro-psychiatric drugs, anti-epilepsy drugs and anti-osteoporosis drugs.
"Most of the criticisms may have an element of truth, but taken as a whole the current pricing mechanism is probably the best that could have been proposed under the circumstances," said an NMRA source when contacted by the Sunday Times, adding that there seems to be elements of truth but not the whole truth in all the information garnered about the issue.

Pointing out that whatever formula is adopted there would be one or two groups who would be unhappy which is "inevitable", the source said that the complaints of innovator drug companies were not very valid because now almost all 'innovator' (branded) drugs are off-patent because they have been produced 20 years ago. However, they are being dubbed 'innovator' drugs, fetching high prices, when most of them are obtainable from the region often at lower prices.

The source reiterated that for the NMRA, quality is of high importance and even though there have been a few quality issues with regard to drugs, the proof that a majority of 'generics' have a good quality comes from state hospitals which dispense 99% generics. No serious morbidity (disease) or mortality (death) issues have arisen due to quality failures.

There have been a few weaknesses in the quality assurance of 'generics', the source conceded, underscoring that while the dossier process and random-checking currently in place are being strengthened, there are moves to establish a good laboratory to carry out quality-checks.
The source said that the patients do not make the choice about what drugs are prescribed to them. The choice is made by the doctor who is often briefed by the drug companies. The others in the equation are the distributor and the pharmacist.

According to this source the Cost-Insurance-Freight (CIF)+upto 85% model will not work because there is no way that the CIF can be checked. A huge problem is that big pharmaceutical companies add all marketing and promotional costs — including incentives given to some doctors to prescribe a particular brand — at that end, making the CIF cost to skyrocket. Then what will happen is that the most expensive drug will get very expensive and at ground level they will be promoted as they bring in big profits. A good model could be CIF+regressive cost and like in the United Kingdom, the pharmacists being paid a 'dispensing fee' for each and every medication given, as opposed to incentives as provided in Sri Lanka.

With regard to fears that the expensive drugs will be pulled off the market, the source said that they hope that will not be the case. But it is unlikely that there will be shortages because Sri Lanka has around 1,000 drugs and 100 moving out will not have an impact. There is a wide range of drugs at the median range and the 'branded' drugs will hopefully come down slowly or adjust to meet the pricing policy.
"Yes, there will be some hiccups in the transition process, people will get upset, but it is workable. This is price control and not a drastic price reduction," the source said, assuring that the process will be watched and adjustments made gradually.

New formula recipe for chaos
The fallout of the new pricing formula is chaos, with many 'innovator' (original brand) drugs being possibly withdrawn, sub-standard 'generics' flooding the market and baggage-carriers having a heyday bringing in spurious drugs, the Sunday Times is told by many sources in the pharmaceutical industry.
The Indian model of a Maximum Retail Price or Median Price is not suitable for Sri Lanka, a source pointed out, explaining that India manufactures all its drugs, while Sri Lanka is dependent on imports. The variables in India are more or less similar and the exchange rate does not play a role. But the imports to Sri Lanka are not from just one country but from across the world and the operational parameters such as labour costs, quality standards etc are totally different.

Stressing that the price structure has been developed after taking into account a private sector audit based on a sample, rather than on absolute figures, another industry source was unhappy that a proper survey had not been done or negotiations held before this crucial decision was taken.
Probably, 'original brands' will move out after the currently available stocks are sold out, as there are regional pricing agreements that big pharmaceutical companies adhere to. If, meanwhile, as it has been happening, no proper checking is done, sub-standard generics will flood the market, said a source.
Why can't we work on the earlier agreed Cost-Insurance-Freight (CIF) plus a maximum addition of 85%, asked another source, adding that if this formula is implemented, the prices of more than 100 drugs would come down immediately, benefiting patients. If any member of the pharmaceutical industry does not adhere to it or gives bogus rates, he/she should be blacklisted. The argument that the CIF cannot be verified is not acceptable.

Conceding that some drugs are over-priced, a source also said that working out the median price was not the answer. The median knocks off the top and bottom prices and allows the middle to remain. This may work for Asian products but not for quality research-based drugs.
Another source was concerned over the existing stocks as no grace period had been given to dispose of them, while many were also worried that the new pricing formula will pave the way for baggage carriers to bring in heaps of spurious drugs. Who will be the victim? It will be the patient.
The ceiling price is like a bolt from the blue, said a source, adding that people need a choice. Will they pay similar prices for a BMW from Germany and one from Thailand?

(See for list of drugs and statement by the Sri Lanka Chamber of Pharmaceutical Industry (SLCPI))