Fairy-tale ending for island beauties
View(s):

When after weeks of travel and excitement, her name was announced as the winner, the slender 19-year-old was overcome with emotion. Indeed in keeping with the Miss Intercontinental pageant's theme, it was a fairy-tale win over beauty queens from 60 countries for 19-year-old Heilynar Rosario Velazquez, Miss Puerto Rico when she was crowned the Dulux Ambiance Miss Intercontinental 2016 at the grand finale. Miss Sri Lanka Tracy Anne de Zilva, a crowd favourite, was adjudged the first runner-up, as the audience cheered wildly.

Earlier in the interview round, Miss Puerto Rico had spoken with passion and conviction when asked about the greatest environmental problem the world faces. "The greatest environmental problem we face today is contamination. We need to deal with it because God's greatest creation is one of the most important things that we have in our life and we need to deal with this issue," she said.

The finale of the Miss Intercontinental Pageant held at Stein Studios last Sunday, marked a first for the host country in staging a reputed global pageant and the stage was set for a glittering show with a fairytale theme. The event was conceptualized by Cinnamon Hotels and Resorts and sponsored by EGB and Litro Gas Lanka.

The Top 15 were chosen from among 60 contestants according to a quota of five European, four Asian, two African, two North American and two South American contestants respectively. Then it was down to a Top Five -one contestant from each continent before the winner and runners-up were announced.

The customary national costume round saw some exotic outfits inspired by myth, legend and history and it was Miss Thailand Atitaya Kunnalaphat who carried away the prize for best costume. The swimsuit round, with the beauties parading in swimsuits patterned on Sri Lankan wildlife was won by Miss Costa Rica Maria Amalaia Matamoros.

The fairy-tale theme came alive when the contestants appeared in evening gowns – looking very much like Disney Princesses with dancers introducing them to the themes of Cinderella, Aladdin and Alice in Wonderland. Dazzling they were but only 15 could qualify for the next round.

The top fifteen comprised of Miss Puerto Rico and Miss Costa Rica from North America, Miss Venezuela and Miss Colombia from South America, Miss Ghana and Miss Seychelles from Africa, Miss Thailand, Miss Philippines, Miss Sri Lanka and Miss China from Asia, Miss Italy, Miss Czech Republic, Miss Scotland, Miss Poland and Miss Ukraine from Europe.

Stepping onto the catwalk again, this time in dazzling white dresses and red capes, they were introduced by oriental dancers dressed as wolves to fit the theme of Little Red Riding Hood.

As the excitement built up, the Top 5 were announced. Miss Puerto Rico Heilynar Rosario Velazquez was chosen from North America while Miss Venezuela Amal Karina Nemer represented South America. From Africa came Miss Ghana Sylvia Commodore, while Miss Sri Lanka Tracy Anne de Zilwa was chosen from Asia, and Miss Italy Florraine Russo was chosen from Europe to complete the top five.

At the interview round, Miss Ghana asked what sacrifices she had made for the pageant said she had used her school fees to cover the cost of the costumes, flight – the biggest sacrifice she had ever made. Miss Sri Lanka's question  was if there was one thing in the world she could change. "There is nothing I would like to change about this world. As imperfect as it is, it is beautiful the way it is with the amazing people that we have, the different cultures that we have in our country and the best part is the culture we have in Sri Lanka and all over the world," she replied.

Both Miss Italy and Miss Venezuela however ran into translation issues and so the audience was disappointingly left without their full answers.

As the judges deliberated, Apache Indian entertained the audience with his vibrant fusion of Indian, Jamaican and English music, ably supported by an army of dancers.

The mini pageant winners are often a sign of things to come. Miss Bangladesh Fatimatu Zohra won the award for Miss Congeniality, while Miss Puerto Rico won the title of Miss Photogenic. Miss Venezuela Amal Karina Nemer won the coveted title of Miss Beautiful and was awarded a brooch made in the shape of the manel flower. Miss Myanmar Ni Ni Naing Vin was awarded Miss Popularity, while Miss Seychelles Isabel Lavigne was named Miss Hospitality.

Finally, it was the moment. Miss Venezuela was crowned the fourth runner-up. When Miss Italy and Miss Ghana tied for the second runner-up slot, the judges were asked to stand up to vote for their favourite and it was Miss Ghana Sylvia Commodore who was voted second runner-up by six out of the ten judges, automatically making Miss Italy Florraine Russo the third runner up.

Hosts Stephanie Siriwardena and Fahad Farook kept the suspense high, building up the excitement for the announcement that Miss Puerto Rico was the winner and Miss Sri Lanka the first runner-up. Showered with confetti, the new Miss Intercontinental was crowned with the glittering crown named Oriental Holy Water made of 720 diamonds and solid platinum.

The panel of judges for the pageant consisted of CEO of Europe for the Miss Intercontinental Organization Detlef Tursies, Miss Intercontinental 2010 Maydelise Columna, author and Chief Surgeon of the Aesthetic Beauty Clinic Lacomed in Berlin Dr. Yasar Sariguel, Miss Intercontinental 2016 Valentina Rasulova,  TV host and actor Carlos McConnie, Miss East Germany 2000 Sabrina Schepmann, Miss World 1995 Jacqueline Aguilera, musician, and producer Jim Beanz, reggae artist, DJ Apache Indian and General Manager for Sales & Marketing for Akzo Nobel Paints Lanka (Dulux)Wasantha Heenatigala.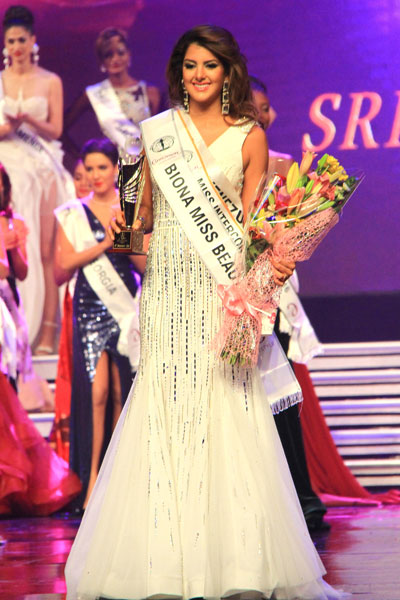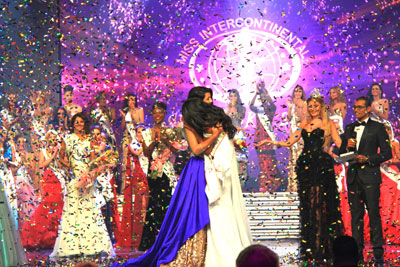 A packed audience witnessed the crowning of the new Miss Intercontinental– pictured here are some of the guests