Appreciations
View(s):

L.K.Karunaratne  

A genius in his field

A few weeks ago L.K.Karunaratne passed away after almost a century of a life well spent. I may be the only person alive who can speak of his beginnings as an extraordinary teenage artist at Sri Rahula College, Katugastota in the early 1940s. I now quote from an account in my book "A Fiery Finale" of Karu's artistic beginnings and his mentor Principal Arlin Perera

"We (the D.T.Devendra family) often visited him (Arlin Perera] … and were fascinated with the painting, handicraft and music his students were doing. During this period Sri Rahula was a miniature Shantiniketan…..His most outstanding artist was L.K.Karunarane, now over ninety years old, who went on to become Assistant Archaeological Commissioner. Arlin encouraged him to roam around old temples and study their wall paintings. The frescoes at Degaldoruwa became his favourite subject. Arlin understood the boy's unique genius and encouraged him by providing Karunaratne all the materials he needed for painting  -at Arlin's own expense.. His superb copy of the Vessantara Jataka (from Degaldoruwa) which graced our family home for many decades now honours my walls. Not long ago the artist came home to take a nostalgic look at this painting of his youth."

This where it all began.

- Tissa Devendra
---
TONY PERIES
A multi-faceted personality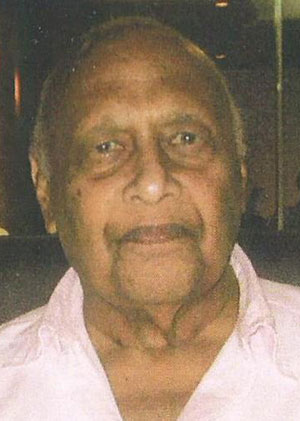 Born in Colombo on January 15, 1931 into a family  who were pioneer settlers in the then  salubrious suburb of Havelock Town, Tony received his education first at St. Peter's College, and later at St. Joseph's College Colombo. His father Wilfred Peries was already in the top echelons of Colombo's corporate world of the 1950s when Tony decided to cut his teeth also in the commercial sector.
He joined George Steuart and Co. as an apprentice tea taster at a time when it was the leading  company in the island. He excelled in his chosen occupation and soon acquired a reputation as an outstanding tea taster.  Stories about his skills were legendary in Sri Lanka's tea industry.  Endowed with a sharp intellect, and an intellectual curiosity that knew no bounds, he was moving up the corporate ladder at great  speed. It was no surprise when he was appointed to the Board of George Steuarts when he was in his early thirties.
In 1968 when  he was 37, he was appointed  Chairman and Managing Director of the Company. An incredible feat indeed which shook the Boardrooms of Colombo's  leading companies,  especially at a time when commerce  in Colombo was dominated  by British interests, and  when all the  other members   on the Board of Directors of George Steuarts were
expatriate Britishers.
His most engaging personal memoir George Steuart and Co. published in 2001 is ample testimony both to his extraordinary memory and to his capacity for observation  and analysis, as indeed to the lucidity of his written word.
The persona that was Tony Peries however, had many other facets to it. There was hardly anything in life that did not interest him. A classic gourmand who enjoyed his food and wine, he was also a reliable authority on scotch whisky which he once  described as the "nectar that comes from Scotland".  Talk to him about cameras or guns and he would provide encyclopaedic information.An early photographic enthusiast armed with a Kodak 116 and later with a Rollei Automat, he has recorded some of his visits around Sri Lanka for posterity. These include some ringside shots taken at the Independence Day.
As a young man he served as a Volunteer Officer  in the Ceylon Army and  if that  was not enough he learnt to fly  and obtained a fully fledged  pilot's licence. A talented water polo player who was a familiar figure at the Otters Pool in Colombo he took to swimming like a duck to water. His daily one hour swim that was part of his daily morning ritual, was religiously performed right through his adult life until his recent illness denied him the pleasure. The essence of the man was also in his abiding interest in travel to exotic destinations, and in the lives of people. Conversation with him was a delightful experience as  he either  knew or knew of  everybody that mattered.  A voracious  reader  up to the very end, his reading interests were extraordinarily wide and included both creative writing and non-fiction.
Tony left Sri Lanka  at 42 years of age seeking fresh pastures and lived in Australia ever since. He retired after a very successful career in Melbourne and in Sydney. That was Tony, the exemplary business executive. The wind beneath his wings was of course, his wife Srini  who he married  nearly 60 years ago and who has been the perfect  foil  to  Tony's  outstanding career. They were then a dashing young couple in Sri Lanka with Tony at the wheel of his red MG convertible and Srini the lass born with the proverbial silver spoon in her mouth, beside him.The two of them enjoyed  a happy  wedded life spending much time travelling to countries near and far  but always keeping themselves  well informed of  events taking place around the globe.
As an acknowledgment of his abiding interest in the land of his birth Tony was elected President of the Ceylon Society of Australia in 2003 and provided capable leadership to the Society during a three-year stint. His wise counsel helped the Society through some of the many issues it faced over the years. The Ceylankan, the journal of CSA has through the years carried many excellent contributions from him- all classy outpourings from an erudite and alert mind.
On a personal note let me say that it has been a great pleasure to have known and enjoyed Tony's  company through the years, spending  much time  chatting, sharing meals, visiting each other's homes, tasting the fare in various restaurants, and exchanging emails  on a variety of topics. I will miss his delightful company immensely. In the words of the song:
"We had joy, we had fun, we had seasons in the sun
But the hills that we climbed were just seasons out of time"
A most unforgettable man has gone to his maker. May he rest in eternal peace.
( Based on the eulogy delivered at his funeral on October 17)
-  Hugh Karunanayake
---
Edwin Jeya Raj 
My father, the quiet intellectual
Tomorrow marks 30 years since my father left us to reap his heavenly reward. Some days this seems a lifetime ago, while on others, it seems just yesterday that his strong, quiet presence filled our home and shielded us from the uncertainties of the world outside. I remember a close friend, Bishop Abeynaike, remarking at his funeral, 'God must be in urgent need of Edwin's advice on scientific and theological matters, so, of course, His needs took precedence over ours.' Dadda's untimely passing left us bereft and forlorn, he left with work unfinished, on the threshold of new worlds yet unconquered.
We had just moved into our dream house in Talawatugoda, and he was looking forward to retirement, to pottering around and adding the finishing touches that would make it a home. He enjoyed being home, and took an impish delight in watching others go to work if he was home on leave. He was a competent handyman. I don't remember a plumber or electrician crossing our threshold during my father's lifetime. My grandmother and aunts would also await his visits, to have a leaky pipe or a broken light fixture mended.A restful retirement was doubtful, though, as there was already talk of numerous consultancies that awaited him.
Dadda was a visionary. He chose the location of our dream home because he said it would, in time, be one of the most picturesque and expensive suburbs, and he was proved right. He decided that my primary and secondary education should be in the Sinhala medium because a good knowledge of the language of the majority community would be essential for my future career, and he was right again.
He had an active and inquiring mind, and as a member of Mensa International, enjoyed the intellectual stimulation of their quizzes. I wish he had lived to experience the information age and the worlds of opportunity opened by the Internet.
He won a scholarship to MIT (Massachusetts Institute of Technology), USA, to do his postgraduate studies in Microbiology, and returned to pioneer industrial microbiology in Sri Lanka.At the CISIR (Ceylon Institute of Scientific and Industrial Research),where he spent the prime of his life, he made discoveries in food technology and patented inventions that solved problems in various industries. He later joined the CEA (Central Environment Authority) to continue his work in environment pollution. Now the buzzword of the 21st century, my father's work on pollution control was hailed as being a watershed on the subject.
He believed that a solid education was key to a fulfilled life, a belief he instilled not only in me, but also in his staff. He would provide his staff with the certifications necessary to pursue post-graduate studies in reputed universities overseas, and many of Dadda's 'boys' and 'girls' went on to occupy senior chairs in science around the world, having received their grounding from him.
He was an enigma to some. His reserved manner and reputation for a high intellect made some acquaintances rather uncomfortable in his presence. But those who knew him well enjoyed his intelligent conversation and subtle humour. His quiet strength inspired confidence, and he was unanimously elected to lead the trade union at the CISIR.
Small talk didn't interest him. I remember, at a particularly boring gathering during which he maintained his customary silence, my mother turning to him and imploring him to 'say something, dear,' to which he deadpanned, 'something.'
They say that fathers and daughters share a special bond, this is indeed true.
We shared many precious father-daughter times. One of my favourite memories is of star-gazing with him as we sat on the lawn of our home in Thimbirigasyaya, on warm, clear nights. He had bought an illustrated book on the constellations and together we'd plot their paths, staring intently up at Orion, Sagittarius, or some other mythical figure, depending on the time of year. He would point out 'betelgeuse' to make me giggle at the funny, yet apt name for the red star, which reminded me of an old woman squirting her spittle, red from chewed betel leaves, up into the skies.
But science was not my forte. Dadda would point out a tree or flower by its scientific name, and I'd respond, 'what a horrid name for such beauty,' and he would say to Mum, 'this child will never be a scientist!' He accepted me for what I was, though, and was proud when I entered the University of Peradeniya to specialise in the Arts, with some gentle coercion from him, which involved driving me to University himself.
My mother was the ying to his yang. Science was a closed book to her, but she excelled in the arts. Charming hostess, accomplished cook and seamstress, she was by his side, sharing his triumphs and sorrows. Those were the days of entertaining at home, home-sewn clothes and home-cooked meals, and I say, as a seasoned traveller, that Mum's talents in these departments were well above par. Dadda was a strong believer in fostering team spirit, and we hosted his staff at home on many occasions, during which Mum's grace and charm would win over the most timid intern, most of who were rather in awe of my father.
My every birthday was celebrated with a lavish party complete with a delicious, exquisitely designed cake, courtesy of Mum, its complicated structure hand-made by Dadda. He would mingle with the guests, camera in hand. He was an amateur photographer and chronicled family moments relentlessly.
He believed that science and theology complemented each other, and his deep faith in the Lord was woven into the fabric of our daily lives. He introduced the wisdom of God's word to everyday situations by quoting the appropriate Bible verse of instruction or comfort. Researching the liturgies of the Anglican Church was his hobby, and he wrote the liturgies and lectionary of the Church of Ceylon. This made him a sought-after resource of senior clerics on ecclesiastical matters.
When told that my father had gone to his eternal rest, the lyrics of Marty Robins, 'All the world is lonely now' kept echoing in my mind. The world is still lonely without him.
Au revoir, my beloved Dadda. I thank God that He chose me to be your daughter.
- Renuka