Flame in concert for DBU charity work
View(s):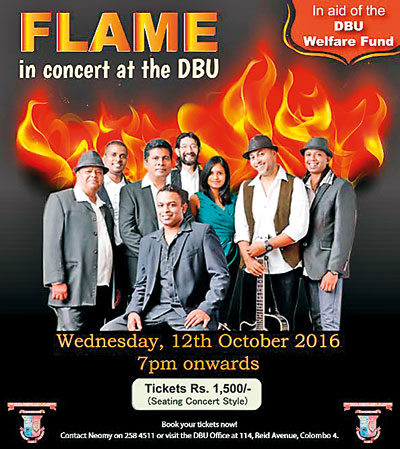 'Flame in concert' at the DBU is a concert for a cause. The popular band known for their wonderful harmonies are lending a hand to the Dutch Burgher Union, which has been sponsoring children for their education for many years.  They will perform this concert for this very special cause on Wednesday, October 12 at the DBU at 7p.m.
Founded in 1908, the DBU has always been active in charitable efforts. A press release from their management states, "We have found that many of these children, who achieve very good results at O/L and A/L  are compelled to restrict their studies as their parents do not have the funds to support them to achieve their dreams.  With this in mind we organized this concert with FLAME in order to raise funds for these young adults who wish to pursue their higher studies."
Last year too the DBU held a similar concert and with the funds raised were able to sponsor a few very deserving young adults, some of whom have almost completed their studies.
Tickets priced at Rs. 1,500 are available at the DBU office, 114, Reid Avenue, Colombo 4 or call Neomy on 2584511.