Declare October and November as Grow-More-Trees months
View(s):

In September we mark the birth anniversary of the Anagarika Dharmapala and former President J R Jayewardene while commemorating the death anniversary of former Prime Minister S.W.R.D. Bandaranaike. These personalities understood the importance of rain and general fertility of the land. Ranasinghe Premadasa, when he was prime minister, declared September as the Grow-More-Trees month. He wanted it observed in the whole country and had the main event at the Viharamaha Devi Park. I attended this ceremony and presided over the religious rites.

We were instrumental in introducing to the late Prime Minister the idea of the 'Tree Bank' as practised in India. People were encouraged to plant a tree, with seeds and young plants being made available through our efforts. At Gam Udawa events, there was a plant exhibition. We made such progress that we came close to a world record in tree planting.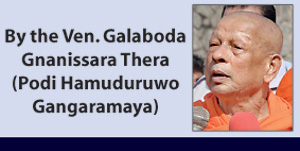 The world famous Mahogany plant was introduced to Sri Lanka during the government of D.S. Senanayake. We have so many Mahogany trees now. Schools and religious Institutions co-operated with us.
Many local companies also joined. But some ignorant village people who were unaware of the value of these trees cut the young plants to make broom sticks and props for construction. Though we have laws against this, they are not implemented. If permits are issued we can export Mahogany timber abroad and earn valuable foreign exchange.
Nedun is a local tree. One of the rooms in the royal palace in England has furniture made of Nedun. I was fortunate to see this. The furniture turned out by Don Carolis Company is valuable today. We turned out such valuable furniture, but what is our status today?
I am sad that government leaders have not looked into this. I hope the new police chief Pujith Jayasundera, who stopped the indecent behaviour of three wheeler drivers at the Kataragama sacred city, will take effective steps to implement laws on timber. It will give him many blessings.
I am proud to say that I am a bhikku who endeavoured to grow most of the trees in this country after observing the Tree Bank in India. If you want to see the result, come to the plantation developed under the Bhadravati Fernando Fund at Urumutta in Akuressa. Make a visit there and see the Samadhi statue of the Buddha made out of rock. The Rajjurubandara Shrine gives great blessings to all.
As terrorism raged, Mr. Premadasa became the President and declared that there was only Rs. 5 million at the Central Bank. But he was smart and with the help of the flour subsidy from the United States, he developed the country. From our concept of Janasawiya, he collected foreign aid. Later on, this became 'Samurdhi' and the Samurdhi Bank became as prosperous as other banks.
The Media should spend some time in researching our immediate past. Many who knew of that time are no longer with us. I say this because there are lessons to be learnt and a proper understanding of the present is possible if we knew what happened then. For instance, in my view Dr. N.M. Perera as Finance Minister during Sirimavo Bandaranaike's Government brought our foreign debt under control. But his LSSP being a Marxist party apparently targeted power centres opposed to the government.
The takeover of Lake House was a key objective. This threat to press freedom brought many sturdy warriors into the field to oppose the nationalisation of the Lake House Newspapers. I recollect the former Chief Justice Hema Basnayake and Lalith Hewavitarana, a close relative of the Anagarika Dharmapala, assisting in the fight against the takeover in 1964. The Ven. Medagoda Dhammajothi Thera, Chief Incumbent of the Sri Sumangalarama in Punchi Borella, and I worked to unseat NM in his Yatiyantota electorate. Lake House was in the forefront of our struggle for Independence from Colonial rule. Much later, our first TV Station, ITN, was taken over by President Jayewardene. ITN was started by members of Ranil Wickremesinghe's family. This action, I believe, was prompted by mere hearsay. Both institutions remain in Government control, but we could forget history.
In 1987, the then Prime Minister Premadasa and Minister Wickremesinghe arrived in Sri Lanka after their tour of China, the day before the peace accord was signed with Prime Minister Rajiv Gandhi. That night the whole country was on fire and a Pirith Ceremony was to be conducted at the Prime Minister's residence.
The Gangaramaya was the only temple that hoisted black flags that day. President Jayewardene was also expected at the Pirith Ceremony at Temple Trees. We had hoisted the black flags by then. The Prime Minister sent minister Ranil Wickremesinghe to our temple to inform us not to say anything that might hurt the President Jayewardene who was expected that day. I informed him that we do not create problems in others' houses. I went to the Pirith ceremony, met and spoke to the President on friendly terms and came back to the temple. The next day when the Peace Accord was signed I did not attend the Dana at Temple Trees, since I was fasting that day. A naval rating attacked Prime Minister Rajiv Gandhi and some years later an LTTE suicide bomber killed him. Even today India wishes to exert its influence over neighbouring countries. We are under its close scrutiny.
India and Sri Lanka are preparing to sign a trade agreement. Former President Mahinda Rajapakse evaded this. As the country of the Lord Buddha we honour India. But the government should be vigilant to protect our country. We must not be a puppet of India. We must be united to preserve our freedom and for trade. In the 1990s, the Indian Oil Company wanted 100 petrol sheds but now it has some 500. Even if we have to eat grass, we must not give in to foreign powers. Sinhala, Tamil, Muslim and other communities must unite to live in peace and harmony.
Since this is a period of drought and the Government has forgotten about the grow more trees month of September, let October, November be declared as Grow more trees months and have the people plant at least a Kottamba or a rubber tree along the road for shade.
In September, we planted Thibbatu around the Beira Lake. In Akuressa and Ingiriya there are more than 25,000 plants. In addition to teak, mahogany and jak trees, there are thousands of plants in nurseries. On the initiative of Bishop Oswald Gomis trees were planted around Aquinas in Colombo. There are teak, mahogany and jak trees planted in church premises around the country. Trees are grown on the side of roads in Colombo. to those who are read this column, please plant a kottamba, jak, rubber or some other valuable tree and set an example. Please plant a common herb and replenish the food supply. It is good if the practice started by President R Premadasa to plant cowpea, beans to provide midday meals to school children was re introduced.
Let everyone be happy and healthy.