Lotteries board says 'fake tickets' not 'ours'
View(s):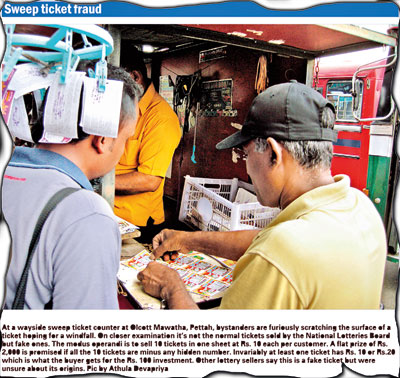 Not surprisingly, the National Lotteries Board (NLB) this week showed its true colours taking umbrage to the Business Times Page 1 picture last week captioned "Sweep ticket fraud' about a fake ticket being sold in Pettah. (Also reproduced here)  In a letter to the newspaper, the NLB chairperson Shyamila Perera said "we wish to inform you that the lottery tickets appearing in the picture does not relate to any issued lottery ticket by the National Lottery Board. Therefore your content is inaccurate and misleading."
Our story didn't say anything to this effect and in fact, said ".. On closer examination it's not the normal tickets sold by the National Lotteries Board but fake ones". Several other lottery ticket sellers said they have complained to the authorities about this fake ticket which is openly sold but no legal attempt to stop it. The NLB is missing the bigger picture and true to the expression "can't see the wood for the trees". Rather than taking action by asking the police to investigate the sale of a ticket that the public believes is legal and from the NLB, the NLB by its statement acknowledges that fake tickets are around but they are not 'ours'!