Cycling needs to be peddled as a national sport
View(s):

A majority of those involved in this sport say standards have improved but, as a sport, Cycling has no noteworthy achievements to showcase. Why?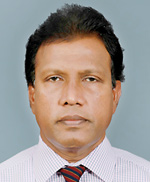 N. Karunaratne
(International Cycling 'UCI' Referee)
Actually, there is an improvement now, compared with those days of competitive Cycling. Although we did not win any medals at the South Asian Games (SAG), we did prove to be worthy opponents. Jeevan Jayasinghe who is the best sprinter in South Asia, has a good future in the sport. We had some top riders like Maurice Coomarawel, Boniface Perera and the Henderson brothers along with myself but unfortunately, then, there were no competitions to select the best sprinter.  If there were South Asian competitions in the 60's, 70's and 80's, then we could have easily won a few medals. On the present form, I would say that our Cyclists are on par with some of their counterparts from India or Pakistan. Earlier, we had the opportunity of fielding a team at the Asian Games but now, we are struggling to send a team for these tournaments. We can judge our standing if we could participate in these championships.
In fact, we are not considered for International Rankings, as we have failed to compete in major tournaments. Although I am able to officiate at some of the major international Cycling events, it is sad that Sri Lankan riders do not compete in these events. Many ask me why Sri Lanka does not field a team at these events. I have to give them the same answer over and over again. We intend to revive the sport and organise an International Invitation Cycle Race in the coming months. Riders from over 10-15 countries are expected to participate in this event. The winners will receive very attractive, handsome cash awards. As the host nation, Sri Lanka will be able to field many riders for this race. This will be a great opportunity for our Cyclists to showcase their potential, unlike competing in a foreign race. If we compete overseas, we will be able to field only about 6 or 7 Cyclists. As hosts, we can field more Cyclists to give them the much needed international exposure.
This will also enable local competitors to vie for International Rankings. However, we are yet to conduct the 2016 National Championships and the District Races. I think we have made a blunder by getting former Riders into the administration.  Although it is a good concept, every Rider will not be a good administrator. This is the same situation in some of the other sports as well. Most of the officials have got their priorities wrong and have failed to deliver the results. Their main focus has been to criticise others. We do not have a national plan. Cycling is still popular in Sri Lanka, like it is in some other top countries. We can also find willing sponsors for the races, as they would definitely benefits. We can easily overcome the challenges and move forward, if all parties would come together.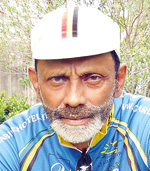 Boniface Perera
(Former National Cyclist and 3-times Tour de Lanka winner)
Cycling, the poor man's sport for many years, has now been stolen by the Tri-Forces. As a result, outstation Cycling clubs are not functioning properly. Earlier, we had quite a number of outstation clubs which produced many top Riders. There were many outstanding Riders who came from these outstation clubs. But the Tri-Forces have recruited them by providing casual employment. In our days, it was some of the private sector companies that recruited Cyclists with decent employment and all the facilities. The Riders were greatly motivated as they were representing a major company at competitions. But the Tri-Forces tend to get rid of the Cyclists once the competitor is out of form. However, we see some kind of improvement in Cycling today. It is the responsibility of the Cycling administration to carry on the good work. We see a lot of conflicts and misunderstanding among the current set of officials. As a result, we have struggled to move forward. The Cycling Federation has not been able to make any progress in the recent past. Veteran Cyclists too should be given the opportunity in administration as well.
But, one should understand that every former Cyclist cannot perform this task. Some former Cyclists believe they can make it to the administration with their past track records.  But, if they could understand their potential and contribute in what they are capable of, then there will not be any conflicts within the administration. Just because he was a good rider or, had won some events, it doesn't mean that person will be a good administrator. We are still struggling to compete with the top riders in the South Asian region. The main reason being our riders are not committed to the sport and do not follow training sessions properly. In our days, we did not have a National Coach. We had our own private coach for our training. Although we have some good Women Cyclists, there is no progress in the sport. Our women could have won more medals at South Asian level, had they displayed greater commitment to the sport. But our men are very much on par with some of the top riders from India.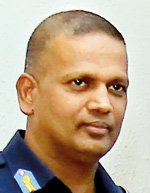 Group Captain Kithsiri Leelaratne


(Secretary- Sri Lanka Cycling Federation)
I think, this year has been very successful for Cycling, where the Sri Lanka Team emerged victorious on a couple of occasions. No doubt, we had some setbacks in the last few years but I believe, currently, we are at peak level. This is very clear, considering we were able to win 7 medals- 2 Golds 2 Silver and 3 Bronze. We were also Runners-up in the overall championship. The significant feature is that Pakistan had to be content with 3rd place in the overall championship. We could not really judge the standard of our Riders, as the SAG were held after 6 years.  We could have made more progress had the SAG been staged every 2 years. India finished on top with 6 Gold. However, we can be proud that we have produced the fastest sprinter in the region in Jeevan Jayasinghe. Our next target is to win a medal at the 2018 Asian Games in Japan. We have staged 2 top events this year, namely Tour de Air Force and SLT Speedup Savariya.
I think our Riders are at peak form at the moment, after competing in these two major events. Even the timings of some of these Riders are quite satisfactory.We are also plan to revive the Tour de Lanka Race this year. The Sports Ministry has also provided maximum support, providing the Riders with the latest Cycles and other facilities. The Tri-Forces have also provided the necessary assistance to these Riders. We have around 150 Cyclists in the National Pool.  There were 182 competitors at the Tour de Air Force and 120 riders at the SLT Speedup Savariya. We also have over 200 Cyclists registered with the SLCF, including over 40 women Riders. We have launched a 2-year plan to uplift the standard of Cycling in Sri Lanka, and are awaiting Sports Ministry approval. This is the first time that a national plan has been drawn up to develop Cycling in Sri Lanka. This national plan includes training for coaches and riders with foreign tours.
The biggest setback for Sri Lanka is the non availability of a velodrome track. If we have a velodrome track, then we can train our Riders at a lesser cost. But now, we spend a lot of funds training on the road, and with more accidents.  We have identified a location in Battaramulla to construct a velodrome. All top Cyclists made vast strides by training in velodromes. No doubt the standard of Women's Cycling has dropped in the recent past. The reason being a drop in participation of women Riders in major events. Only Riders attached to the Tri-Forces compete in these events. We also intend to draw up a plan with the Education Ministry to promote the sport in schools. If we can implement this plan, then we are certain of making vast strides in the sport. The present SLCF is open to suggestions/opinions from anyone to improve the sport. I think, that is why many believe there is conflict among the officials of the SLCF.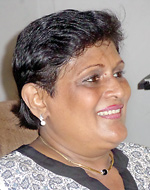 Vasantha Kahapolarachchi (Former Women's rider) 
Today, the sport is more commercialised. In our days, the main objective was to win and finish with a good timing. But today, our Riders are not keen on improving their timing, they only want to win the race. Their focus is to win prize money. Today, we have a lot of foreign tours, which we did not have in our days. Then, we toured overseas only for an Asian meet or for an invitational meet.  But the women Riders did not have much opportunities. Although I won the National Championships and the Tour de Lanka, I never competed overseas. But now, our Riders can compete at the SAG. Earlier, we were on top at South Asian level but now, we have gone down in our standards. India, Pakistan and Bangladesh have moved ahead of Sri Lanka.
Our Cycling Administration has done nothing to lift the sport in the country. The main reason for this is conflicts between the current officials. They do not have any time to improve the sport. They are spending time more on settling their own issues. They have been going on like this for a long period now. The reason is unsuitable individuals have entered into its administration. Many officials come to power, promising they would join hands for the betterment of the sport. But once they feel they are being deprived of their facilities, they start criticising each other and take sides. As a result of this, the Riders suffer without any competition. I was a competitor and have been involved as an official in Cycling, since 1974. I think the sport is surviving now because of the Tri-Forces. All talented riders have joined the Tri-Forces, and they have been provided with all facilities. If not for the efforts of the Tri-Forces, Cycling would have died a natural death.